In this article, I'm going to show you my top picks for the best garden hose.
I've tested several models to compare design, features, ease of use and price to bring you my top 6 picks.
The Best Garden Hose: My Top 6 Picks
---
If you're not interested in reading the whole of this article and you just want to know my top picks for the best hose pipe, then take a look at the table below.
You can click the buttons for more information and to buy the products or click on the 'Read My Review Links' to get my thoughts on them.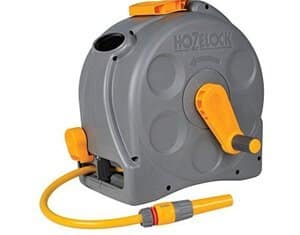 Hozelock Compact 2-in-1 Garden Hose: The Best For Most People
– Well Priced
– Easy to Use
– Can be Wall Mounted or Freestanding
---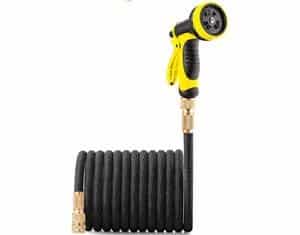 GroHoze Expandable: The Best Expandable Garden Hose
– Expands to 3x its Length
– Won't Kink, Twist or Leak
– Not Expensive At All
---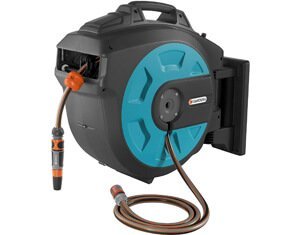 Gardena Wall Mounted 35 Roll-Up Automatic: Very Convenient to Use
– Very Easy to Use
– Frost Resistant
– Rewinds the Hose Automatically
---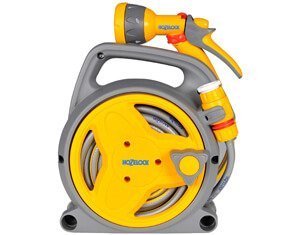 Hozelock Pico Reel: An Excellent Hose For Small Gardens
– 10 Meters of Hose
– Very Easy to Store Away
– 10 Spray Settings
---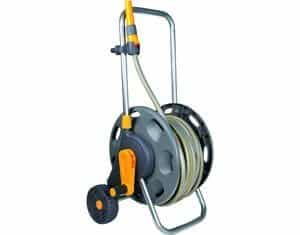 Hozelock 60 Meter Hose Cart: The Best Hosepipe For Large Gardens
– 60 Meters of Reach
– Excellent Value
– Sturdy Cart
---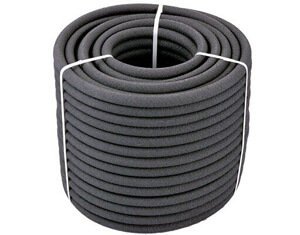 HydroSure 100 Meter Soaker Hose Kit: The Best Irrigation Hose
– 100 Meters of Hose
– Easy to Put Together
– Able to Create 2 Independent Systems
Garden Hose Reviews: A Closer Look at My Top Picks
---
In the following garden hose reviews, we'll take a close look at my top picks.
Naturally, the best hose pipe for me might not be the best one for you so I've included different products based on budget, features and quality etc.
1. Hozelock Compact 2-in-1 Reel With 25m Hose: The Best Garden Hose For Most People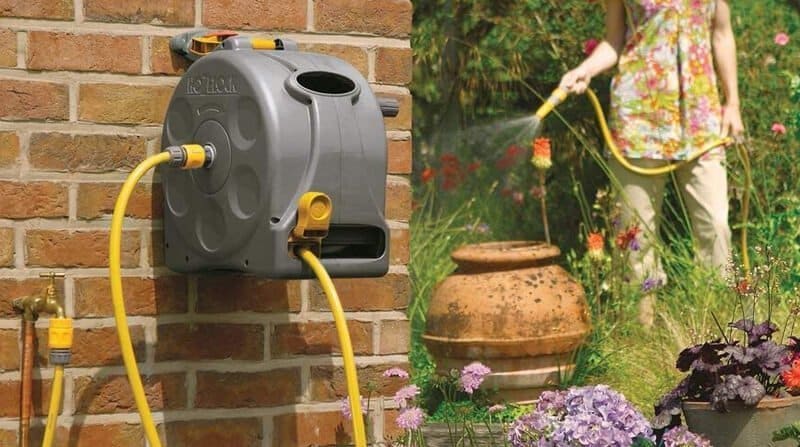 ---
I've picked the Hozelock 2-in1 Compact as the best hosepipe for most people for a few reasons.
Firstly, as gardens are getting smaller, it's 25-meter length should be adequate for most people.
It's a fairly convenient piece of kit too.
The reel in enclosed in a plastic casing to protect the hose from the elements and the whole unit can either be wall-mounted or used as a free-standing reel. This is why they call it a 2-in-1.
I prefer to keep it wall mounted during the growing season and store it in the shed during the winter.
Operation is very simple. Just pull as much hose as you need off the reel and turn on the outside tap.
Reeling it back in after use is easy too. The viewing window and manual guide which allows you to see inside the casing and reel the hose in neatly, preventing it from kinking and cracking.
It also comes with a hose nozzle, 2 connectors and tap connector. Plus, you get a 2-year warranty.
2. GroHoze Expandable Garden Pipe With Brass Connectors: The Best Expandable Garden Hose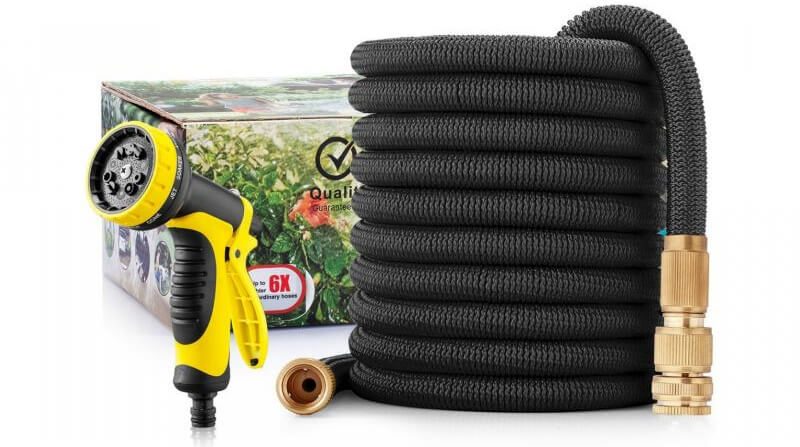 ---
I have to admit, the GroHoze Expandable Garden Hose is my favourite on this list, for a few reasons.
Firstly it comes in 3 sizes and expands to three times its original length when filled with water. You have a choice of 50ft, 75ft or 100ft.
This means it's short enough to store away easily when you're not using it but expands long enough to reach all areas of your garden when you do. You get the best of both worlds.
And because it expands, it won't kink or twist either.
The dual latex inner core makes it incredibly strong. It's able to create excellent water pressure without bursting.
The solid brass connector is incredibly strong, weather-resistant and doesn't leak.
It also comes with a 10 pattern spray gun which makes it ideal for all kinds of jobs around the garden. Not just watering the plants, but washing the car and showering your dog.
And it's cheap too, even the 100ft hose is excellent value.
In my opinion, the GroHoze is a brilliant piece of kit.
3. Gardena Wall Mounted 35 Roll-Up Automatic: The Best Wall Mounted Garden Hose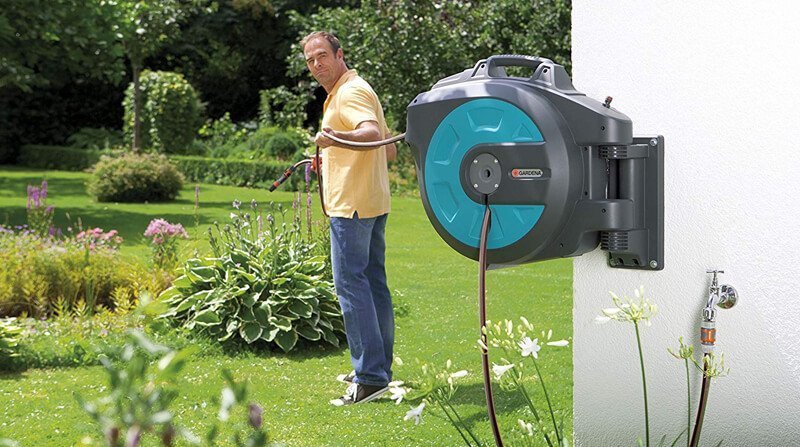 ---
If you're in need of a longer, more durable hose and you also like the sound of automatic rewinding, then the Gardena wall mounted 35 roll-up automatic is a fantastic hose kit.
Gardena is a subsidiary of Husqvarna who and make fantastic gardening products.
It has a 35-meter hose which is easy to pull out and locks out at 50cm intervals so you don't have to fight against the auto-rewind.
Pulling the hose and using it around the garden is made even easier thanks to the fact that the reel swivels through 180°.
And when you do need to reel it back in, simply pull the hose a couple of inches and the mechanism releases the lock. It'll wind the hose back in with no effort on your part.
No kinking, no snagging.
The whole reel in encased to protect it from the elements and the hose is also frost resistant it's safe to leave it outside during the winter. However, if you do decide to store it away (which I recommend) the carry handle makes moving it around very easy.
It comes with all the bits you'd expect, plus a five-year guarantee.
I really this product!
4. Hozelock Pico Hose Reel: The Best Hose Pipe For Small Gardens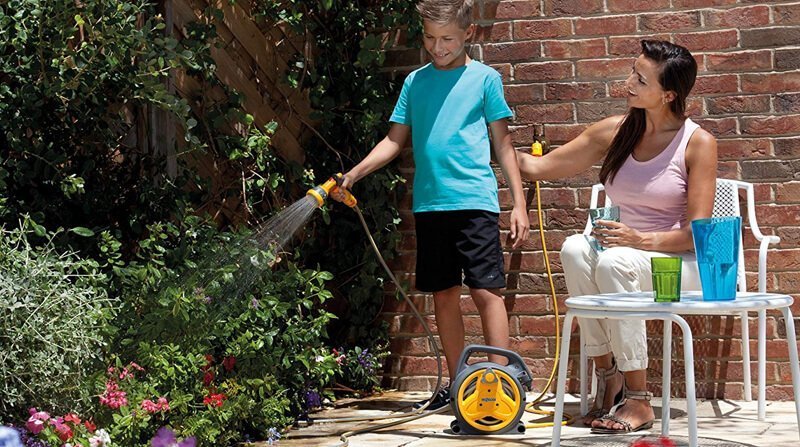 ---
If you only have a small garden then you clearly don't need a big hose.
Enter the Hozelock Pico Reel.
It's been designed specifically for those with tiny spaces like tiny gardens, patios and planted balconies.
It comes with a hose gun with 5 different settings and each setting has a low and a high volume option. This gives you a total of 10 spray settings.
You get 10 meters of hose attached to a pretty tiny reel which takes up very little storage page.
The rewind function works very well, it's easy to operate it keeps the hose from kinking or tangling.
On the whole, an excellent little hose for smaller spaces.
5. Hozelock 50m Assembled Hose Cart: The Best Cart Hose For Large Gardens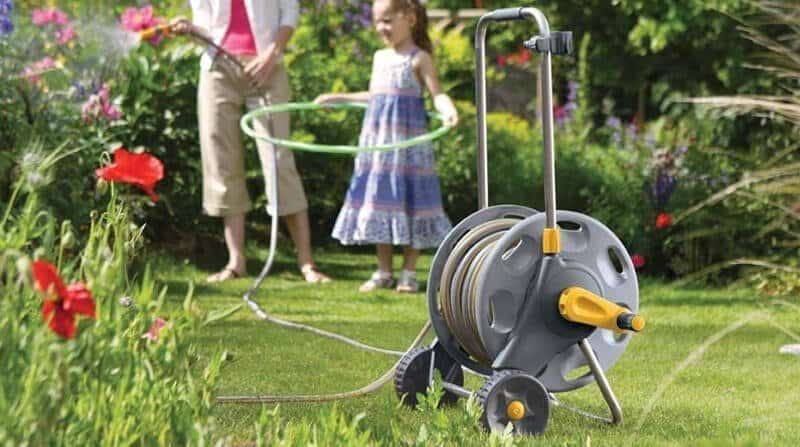 ---
If you have a large garden then getting a hose to the far corners can be tricky, especially if your tap is attached to the house.
This is where the Hozelock 50-meter Hose Cart comes in very handy.
It works like a wall-mounted hose reel but in reverse.
You attach the long hose to your outside tap and it unwinds as you wheel the cart down your garden. Then you use the shorter hose to water your lawns, borders and flower beds.
The downside to having such a long hose it that the chances of getting kinks is higher and as the hose is made from plastics, it can and probably will happen.
Also, there's not automatic rewind function so you have to manually reel in the hose in once you've finished with it. If you use the full length of hose, that's a lot to reel in while making sure it goes onto the reel neatly.
All that being said, this reel is nearly three times cheaper than a wall-mounted version so it does provide excellent value for money.
6. HydroSure 100m Soaker Hose Kit: The Best Sprinkler Hose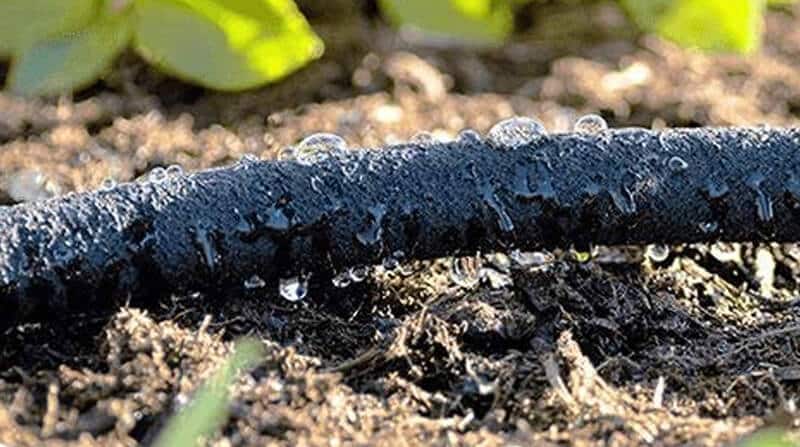 ---
If you have vegetable patches or a greenhouse to irrigate, or you want to automate the watering of flower beds, hedges and planters, a soaker hose or a sprinkler hose is a good option.
The HydroSure 100m Soaker Hose Kit is my favourite.
The kit comes with 100 meters of hose, 100 hold down stakes, 8 straight joins, 24 right angle joins, 18 T joins, 8 end plugs, 2 tap connectors and 2 back valves.
The hose itself is durable but easy to cut to size and the kit enables you to create two independent irrigation systems.
It's completely useless for regular watering jobs it's full of holes and works at a low pressure.
However, for irrigation, the Hydrosure kit excellent.
Things to Consider When Buying the Best Hose Pipe For You and Your Garden
---
On the outside, a hosepipe looks like a garden hosepipe.
However, as well as the obvious considerations like length and storage, there are different types of hoses to choose from and they're often made from different materials.
So before you rush out and blindly buy a garden hose, consider the following;
Type of Garden Hoses
There are three main types of garden hose;
Regular hoses
Expandable hoses, and
Sprinkler hoses
The type of hose you choose will depend on how you use it.
Regular Garden Hoses
Most people are familiar with the regular hose which either comes on a reel or not.
They connect to your outside tap and on the other end, you can attach a spray gun or sprinkler for watering the lawn.
Expandable Hoses
Expandable hoses are similar to regular hoses in terms of what you use them for.
However, instead of unwinding the hose from a reel for more length, they expand by up to three times their original length when filled with water. Then, it'll shrink again when not in use.
A hose that's 50ft long when filled with water will shrink down to as little as 15ft when not in use. This makes them the ideal choice if you don't have much storage space.
Sprinkler Hoses
These are hose pipes which have lots of tiny holes in them and are used for irrigating flower beds, greenhouses or vegetable patches.
You'd typically leave them in place over the growing season.
Length of Hose
Garden hoses are generally sold in 25ft increments (25ft, 50ft, 75ft etc.)
That said, some retailers do sell 'in-between' lengths.
Many people think a longer hose is better because it'll give you more freedom to move around your garden.
That said, it's worth noting that the longer the hose, the further the water has to travel, which means less water pressure.
On the flip-side, a hose which is too short is useless.
My advice is to measure the furthest point from your tap and order the next longest size. So if the furthest flower bed from your tap is 35ft away, order a 50ft hose. To improve the water pressure issue, cut the hose down to your ideal length.
What It's Made From
Garden hoses are typically made from either rubber or nylon.
Rubber hoses are typically better quality, more durable and better at handling higher water pressures. They're also much less prone to kinking which causes cracks and leaks.
As a result, they're generally on the higher end of the price bracket.
If you have a large garden and you use a hose regularly, it's worth investing the extra into a rubber hose.
Nylon hoses are a cheaper and a good option for smaller jobs and irregular use. However, they have a tendency to kink, crack and leak.
Some manufacturers use a combination of the two materials. The more durable than a nylon hose but not as expensive as rubber hoses.
Durability
Durability is a big factor when choosing the best garden hose for your needs but it's rarely given the consideration it deserves.
However, hoses come in different plies which means how many layers of rubber or nylon a particular hose is made up of.
It usually ranges from 1 to 6 with a 6 ply hose being the strongest.
If you use your hose regularly, buy the best you can afford.
In Conclusion
---
There are lots of hose pipes and kits on the market and I can't review them all.
The fact is that there are several very good products that haven't made it on my list.
I've tried to come up with a list of top picks for the best garden hose based on price, features, quality etc.
You'll notice that Hozelock products made several appearances and that's because they specialise in hose products and they're excellent.
With that said, don't take my word as fact, do your own research and find the best hose for you and your needs.
Over to You
Do you need a new garden hose?
Are you considering a product from my list or something different?
Or have you cot a question or a comment?
Let me know below.