A strimmer is an important part of a gardener's toolkit, helping to blast through thick, overgrown grass or to tidy up the edges after mowing.
But which is the best strimmer for you and your garden?
Can you get away with an inexpensive model? Do you just need something lightweight for edging your lawn? Or do you need a powerhouse to hack through thick, rough grass that's riddled with nettles and brambles?
Should you choose an electric, cordless or petrol strimmer?
Well, in this article I'm going to try and answer those questions and help you choose the best strimmer for you and your garden.
Note: If you are just interested in cordless models only, then take a look at my best cordless stimmer guide here.
---
A quick comparison
Product
Image
Product
Details

Black & Decker GLC3630L20

Fadeless Lithium-Ion Battery - Fast Recharging

Pretty powerful for cordless

Highly rated & best option for most people

Flymo Contour XT

Light & Easy to Use

Plenty of Safety Features

It's Cheap!

Worx WG163E

Up to 40 Minutes Run Time

Very 'Good Command' Feed System

Light Weight

Einhell GC-BC 52

Affordable petrol model

Easy to Use

Runs Very Smoothly

Stihl FS55 R

Built to Last

Incredibly Light For a Petrol Strimmer

Cheaper to Run Than Other Petrol Models

Ego ST1500E

Similar in Power to Petrol Strimmers

Choose From a Range of Batteries

5 Year Warranty

McCulloch TRIMMAC Trimmer

Easy to assemble & easy to start

Start Well Either Hot or Cold

It's Cheap!

Black & Decker GL7033-GB

Tackle Rough Grass and Weeds

Well Balanced

Excellent Value

Ryobi RLT1831H20 One+

Bridges the Gap Between Cordless and Electric

Adjustable Cutting Width

Easy to Handle
The Best Grass Strimmer with Reviews
Here's my list of the best grass strimmers currently available
1. Black & Decker GLC3630L20 Cordless Grass Strimmer
Power: 36 Volts;
Power Supply: Battery / Cordless;
Cutting Width: 30cm;
Edging: Yes;
Weight: 3.5kg;
Warranty: 2 Years;
Overview
If you love the idea of not being restricted by a power cord, the Black & Decker GLC3630L20 is definitely up there for the best cordless strimmer for most people.
Many of the cordless strimmers I've used in the past have battery lives that were so short, they were useless – No such problem with this Black & Decker model.
Powered by a 36-volt, 2.0Ah Lithium-Ion battery, it will give you fade free strimming for up to 3,750 linear meters on a single charge.
This equates to roughly 30-40 minutes of work which should be plenty of time to get most jobs done. But if you do run out of charge, you can fully recharge it in a couple of hours.
It has an Eco mode which you can use when stimming edges and it has the same E-Drive technology as the corded model I reviewed earlier which delivers greater torque to handle rougher areas. Should you encounter patches of rough grass and weeds, switch it to Turbo mode and it becomes a beast.
The auto-feed system works well too so if the cord breaks, it'll release more without you having to faff about.
At 3.5kg, it's in the heavier side for cordless strimmers but there is plenty of adjustment in the telescopic shaft so finding a comfortable, balanced position is easy.
If you're looking for a cordless strimmer that's a good all-rounder, you won't go far wrong with this model – It's excellent!
---
2. Flymo Contour XT - Best Budget Grass Strimmer
Power: 300 Watts;
Power Supply: Corded;
Cutting Width: 25cm;
Edging: Yes;
Weight: 2.8kg;
Warranty: 1 Year;
Overview
Lots of my clients own one of these little Flymo trimmers – That's because it's cheap!
Which isn't necessarily a bad thing.
If you have small, well cared for lawns that just need finishing off with a light strimming along fence lines and walls, the Flymo Contour XT will handle the job perfectly.
And with the push of a button, the trimmer head swivels vertically so you can trim the edges of open borders. The chunky edging wheel makes this easier and more accurate, ensuring a nice, tidy finish.
The line auto-feed works well too and it weighs in at 2.8kg but it's very well balanced so it feels even lighter. It has a 10m long power cord, which may or may not be enough but that's easily solved with an extension lead.
Don't expect too much from it though. It doesn't have the power or heavy-duty build quality to cope with unruly plots. Something else to note is that the shaft isn't adjustable which can make it a bit uncomfortable to hold for taller people.
---
3. Worx WG163E Cordless Strimmer For Light Work
Power: 18 Volts;
Power Supply: 18V Battery
Cutting Width: 30cm;
Edging: Yes;
Weight: 3.2kg;
Warranty: 1 Year;
Overview
Worx are on the budget end of the power tool market but that's not to say they're no good. Considering what they cost, they deliver excellent value for money.
The Worx WG163E is powered by an 18-volt Lithium battery that'll give you 30-40 minutes of work. Granted, it doesn't have the power or the torque of the Black & Decker so it's not so great at blasting through tough weeds.
But if your garden is well-cared for and you need a grass trimmer to just finish off the edges and tidy up, it's ideal.
It's fairly light with a fully adjustable shaft and second handle which makes it comfortable to use.
Edging is a joy to do as it features two supporting wheels for added stability and accuracy and should the line break, Worx's 'Command Feed' system keeps it coming.
If you're on a budget but still don't want to be hampered by a power cord, this strimmer should be considered.
---
4. Einhell GC-BC 52 Petrol Strimmer / Brush Cutter
Power: 52cc;
Power Supply:
Petrol Engine;
Cutting Width: 45cm;
Edging: No;
Weight: 8.9kg;
Warranty: 3 Years;
Overview
I believe the Einhell GC-BC 52 is definitely worth considering as a contender for the best petrol strimmer/brushcutter for most people.
It's affordable, German-engineered, and works well in most situations in the garden.
Powered by a 52cc two-stroke engine which produces up to 7,200rpm, it's plenty powerful enough to smash through long grass and the toughest weeds. Starting it is easy thanks to its digital ignition, quick start primer and auto choke. The engine runs very well too. It's smooth and barely vibrates at all.
You have a choice of cutting heads; you can use the strimmer head for lighter work and when you need something a bit more heavy-duty, you can swap it for the three bladed brush cutter to hack through brambles and the like.
It's well built but still light enough to be comfortable to use. It weighs nearly 9kg and the harness is very comfortable so you should have no problem tackling the jobs you need to get done.
This is a fantastic piece of kit for not a lot of money.
---
5. Stihl FS55R Petrol Strimmer - Best For Home Use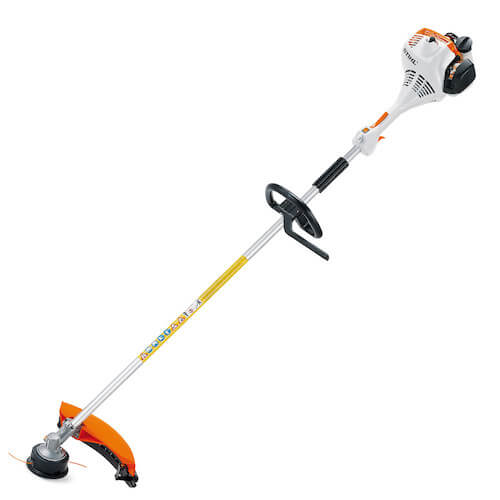 Power: 27.2cc;
Power Supply: Petrol Engine;
Cutting Width: 42cm;
Edging: No;
Weight: 5.1kg;
Warranty: 2 Years;
Overview
Stihl is one of the most recognisable brands when you think of petrol strimmers and brush cutters. Their products are sublime and their FS55 petrol strimmer is a cracking model.
At only 27.2cc it only has around half the capacity of the other two models. However, it uses it's power much more effectively as a result, it's just as effective. There are several benefits of it's lower engine capacity too.
Firstly it's not as brutal to hold so it's much easier to handle comfortably. Secondly, it's not as harsh on the environment, both in terms of noise and emissions – it'll cost less to run. And lastly, it's much more lightweight. It only weighs a smidge over 5kg which again, makes it far easier to handle.
Starting it is a cinch and when you attach it to the harness, you could work it all day without building up a sweat. It'll just keep going.
In terms of build quality, like all Stihl products, it's top of the line. It'll last you years. Top marks!
---
6. Ego ST1500E Cordless Strimmer For Heavy Duty Work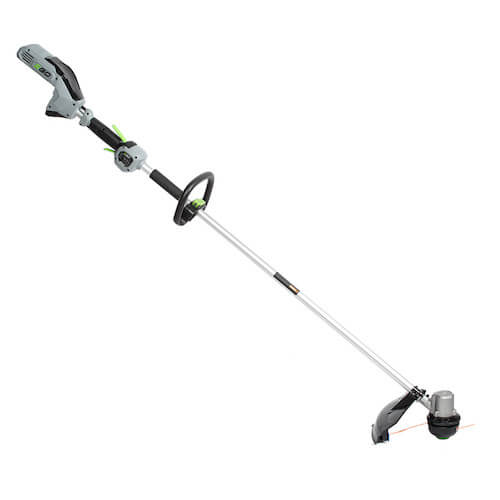 Power: Variety;
Power Supply: Cordless;
Cutting Width: 38cm;
Edging: No;
Weight: 4.7kg;
Warranty: 5 Years;
Overview
Ego only produces cordless power tools with the aim of replacing petrol tools while keeping them just a powerful. In fact, they produce Honda's cordless strimmers too.
As such, the EGO ST1500E is similar in design and is built for heavy-duty work and are pretty much the same as any Honda models you might look at. There is no option to swivel the head for edging work. If that's what you're after, choose another model.
When this beast of a machine does excel is blasting through thick, unruly areas made up of rough grass, tough weeds and even brambles.
The similarities to petrol strimmers continue with the weight, it's nearly 5kgs. So holding it can be hard without a shoulder strap. As luck would have it, this machine comes with one which makes it much easier to handle. And because it's battery-powered, noise and vibration aren't a problem.
Talking of batteries, Ego has a range of them to fit this strimmer. Starting with a 2.0Ah battery that'll give you around 20 minutes while their 7.5Ah battery will give you nearly an hour and a half. So choose your battery depending on the size of your plot.
It has a large 38cm cutting width and the cutting head has two lines of 2.4mm diameter cord which is fed out automatically when you stop and start it. This is combined with a bump feed mechanism which you can use to feed more line by banging the head on the ground. If you're used to using a petrol strimmer, you'll be familiar with this way of feeding line.
If you're looking for a heavy-duty strimmer to replace your current petrol model, the Ego ST1500E is fantastic.
---
7. McCulloch TRIMMAC Budget Petrol Grass Trimmer
Power: 52cc;
Power Supply: Petrol Engine;
Cutting Width: 40cm;
Edging: No;
Weight: 4kg;
Warranty: 1 Years;
Overview
If you need the raw power from a petrol strimmer but you're limited by budget, have a look at McCulloch TRIMMAC.
It's easy to assemble, starts well when it's cold or hot and with the addition of an interchangeable cutting disc, it'll destroy anything it's pointed at. Should the line break, the bump feed mechanism worked brilliantly.
For a heavy-duty garden strimmer, it's lightweight, weighing in at 4kg but it comes with a proper harness so you take the weight on your body instead of your arms.
The engine of the strimmer that I tested did feel a bit lumpy in the middle of the rev range but at idle and full tilt it was excellent.
The buttons, switches and other parts don't feel as good quality as other petrol strimmers and the toolkit that comes in the box is rubbish so I'd advise buying a separate one.
That said, it's made to be cheap and you get what you pay for. If you're on a budget, this is the model to choose.
---
8. Black & Decker GL7033-GB Electric Strimmer
Power: 700 Watts;
Power Supply: Corded;
Cutting Width: 33cm;
Edging: Yes;
Weight: 3.2kg;
Warranty: 2 Years;
Overview
If you're in the market for a strimmer that packs a bigger punch than the Flymo, have a look at Black & Decker's GL7033-GB.
With 700 watts of power and Black & Decker's 'E-Drive' technology (basically a gear system which generates more power), this strimmer has the torque and is plenty capable of tackling overgrown areas. And when you're faced with tough weeds like nettles and ivy, you can slot in the heavy-duty
It'll also handle the more delicate job of tidying up the edges of your lawn which is made easier with t built-in guide wheel.
Weighing in at 3.2kg it is heavier than the Flymo but then it's a heavier duty machine so it's expected. That said, the curved shaft and adjustable handle make it feel well balanced so I wouldn't say it's particularly heavy to use – especially compared to some battery or petrol strimmers.
It's probably a bit much for tiny lawns but if you have a bigger, more 'wild' area to keep on top of, it's an excellent piece of kit.
---
9. Ryobi RLT1831H20 One+ Hybrid Strimmer
Power: 600 Watts;
Power Supply: Cordless & Corded;
Cutting Width: 25-30cm;
Edging: Yes;
Weight: 3.2kg;
Warranty: 2 Years;
Overview
The Ryobi One+ system is one of the best power tool swappable battery systems on the market. In fact, their cordless mower made it into my list of the best cordless lawn mowers, largely for that reason.
Then, once you've finished mowing the lawn, simply take the battery, insert it into the strimmer and tidy the edges before putting it into the hedge trimmer.
See the beauty in this?
However, what makes the Ryobi RLT1831H20 One+ unique is that it bridges the gap between mains power and battery power. That's because it can be powered by either. As any cordless power tool use will undoubtedly know, running out of charge and not being able to finish a job is pretty infuriating.
Well, if you run out of charge, or forget to switch the socket on when charging (which I do frequently) you can plug it into the mains and complete the task.
It's powered by a 600-watt motor which is plenty for swiping through long grass and weeds and the automatic spooling releases more line when you need it.
Depending on what you're using it for, you can change the cutting width from 25cm to 30cm. So if you want to make short work of long grass, increase the cutting width. If you need to be a little more precise, reduce it.
There is lots of adjustment too.
The extendable handle is beautifully designed and you can adjust the head through three positions, all the way from horizontal to vertical for edging tasks. All this makes the 3.2kg of weight feel very easy to handle.
It cuts incredibly well and the fact that it can be powered by mains or by the battery is a master-stroke.
---
What to Consider When Buying
---
Buying a strimmer often isn't as simple as just walking into B&Q and picking the first one you see.
You often see reviews on Amazon and other shopping sites complaining about how rubbish a product is. However, when you read between the lines, many of these reviewers chose the wrong product for the wrong job.
So before you rush out and potentially buy the wrong product, consider the following;
What Jobs Do You Need it to Do?
The key to buying the best strimmer for you is to first understand what jobs a strimmer can help with. Then base your decision on that.
Lawn edging – If you only need something to tidy up the edges of your lawn a strimmer will do it, but so will other lawn edging tools, like shears which are cheaper and more often than not, produce a neater finish.
Cutting grass the mower can't reach – If you're often left with a strip of grass along the edge of your fence, around trees or garden features, a strimmer is a perfect tool to finish off.
Cutting long grass – If you have areas of meadow in your garden that need to be cut down at the end of the season, or if you're regularly faced with long, wet grass, it's best to tackle it with a strimmer before mowing.
Hacking through weeds, nettles and brambles – Only a powerful strimmer can do this.
Should You Buy a Petrol, Cordless or Electric Strimmer?
Again, this depends on the job you need it to do;
Electric Strimmers
Often, these hit the sweet spot in terms of both power and performance.
They're generally lightweight and because they're mains powered, you can use them continuously without them running out of charge.
This makes them good for edging, cutting grass the mower can't reach and getting through grass that's grown a bit thick.
However, they're limited by their power cords which are only ever a few meters long. If you have large lawns, a power cord will hamper you. There's also the risk of you cutting through them.
Cordless Strimmers
Cordless strimmers are also lightweight and in many ways, more convenient because they're not limited by power cords.
They're best for edging and finishing off along fences and around garden features.
However, using them to cut through rough grass is a sure way to run out of charge quickly. Also, if you have large lawns, half an hour of charge simply might not be enough to get the job done.
In this case, choose a model with fast charging, longer-lasting Lithium-Ion batteries.
Petrol Strimmers
If you have large lawns with lots of undergrowth to hack through, then a petrol strimmer is really the only option.
They can blast through long, wet grass, as well as weeds, nettles and brambles with ease.
However, they're bigger and heavier to use than electric or cordless models. This can make them cumbersome.
They're also environmentally unfriendly.
What Kind of Features Do You Want?
Some garden strimmers come with more features than others so again, it's worth thinking about what you want from this particular piece of garden machinery.
Lines, Blades and Feeding Systems
Most strimmers cutting actions consist of a line and spool system.
A plastic line is fed from a covered reel and breaks off against the shield (the part that prevents you from strimming your foot off) to reach the correct length.
Over time, this line is either worn down or snaps off when it hits something hard. Then, using a manual or auto-feed mechanism, the line keeps coming.
As a general rule, the thicker the line, the heavier duty the line.
The downside to a line a spool cutting system is that oftentimes the line needs to be wound onto the spool. This can sometimes be tricky and time-consuming.
Other strimmers have blades (generally made of plastic or nylon) instead of a line and spool which are much quicker and easier to replace. However, they're generally not as strong and as soon as it snaps, you'll have to stop what you're doing and replace it.
This can be annoying and the cost of replacing blades can add up.
Cutting Width
Generally, the more powerful the strimmer, the wider the cutting with tends to be.
This isn't much of a factor when finishing off around the edges of a lawn. It's more important when blastic through thick grass.
The wider the cutting width, the more you'll cut through with each sweep.
Electric and cordless strimmers can be anywhere from 20cm up to 35cm. Professional petrol strimmer can be wider than 40cm.
Edging Features
Some strimmers have edge trimming features built into them.
For example, some have pivoting heads that you can use horizontally for cutting the grass and trimming around closed edges like trees, features and fence lines. Then, when you want to trim open edges like along planted borders, you can set them vertically.
Others come with edging wheels to keep the strimmer in the right place when edging and some even have wheeled decks that turn your strimmer into a mini-mower.
How Much Do You Have to Spend?
In most cases, your budget will dictate what you'll buy.
If you have lots of long, wet grass with nettles and brambles hiding in it, you need a good petrol strimmer. Your budget needs to reflect that.
Don't buy something that isn't up to the job just because it's cheaper. You'll give yourself problems.
On the other hand, if all you need is a grass trimmer for tidying up along fences, walls and around garden features, there's no need to spend hundreds of pounds.
The bottom line is to be realistic about what you need a garden strimmer to do. Then set your budget accordingly.
Over to You
Has this article helped you pick the best strimmer for you?
Have you got anything to add about the models I've mentioned or do you have a recommendation of your own?
As always, leave your questions and comments below and I'll join the conversation.