In this article, we'll take a look at my top picks for the best cordless strimmer.
I've compared price, size, power, features, ease of use and performance to bring you my top picks.
Hopefully, you'll find a model in this list that is perfect for you and your garden.
---
A quick comparison
Product
Image
Product
Details

Black & Decker GLC3630L20

Fadeless Lithium-Ion Battery

Fast Recharging

Pretty Powerful

Ego ST1500E

Similar in Power to Petrol Strimmers

Choose From a Range of Batteries

5 Year Warranty

Worx WG136E

Comes With Two Batteries

Plenty of Power

Very Good 'Command Feed' System

Flymo Contour

Comfortable to Use

Nice Features

Well Made

Greenworks G40LTK2

Lots of Power

Quick Charging

Variable Speed

Bosch ART 26-18 LI

Comfortable to Use

Nice Features

Well Made

GTech GT3

Well Priced

Very Light

Comfortable to Use
The Best Cordless Strimmers with Reviews
Here's a list of some of the best cordless strimmers on the market in the UK today:
1. Black & Decker GLC3630L20 Cordless Strimmer - Best Overall
Power: 36 Volts;
Charge Time: 2 Hours;
Cutting Width: 30cm;
Edging: Yes;
Weight: 3.5kg;
Warranty: 2 Years;
Overview
In my opinion, the Black & Decker GLC3630L20 is one of the best cordless strimmers for most people. It has the right balance between price and features.
Powered by a 36-volt, 2.0Ah Lithium-Ion battery, it will give you fade-free strimming for up to 3,750 linear meters on a single charge.
This equates to roughly 30-40 minutes of work which should be plenty of time to get most jobs done. But if you do run out of charge, you can fully recharge it in a couple of hours.
The cutting width is 30cm which makes it a good choice for most medium-sized gardens.
It has an Eco mode which you can use when stimming edges and it has the same E-Drive technology as the corded model I reviewed earlier which delivers greater torque to handle rougher areas. Should you encounter patches of rough grass and weeds, switch it to Turbo mode and it becomes a beast.
The auto-feed system works well too so if the cord breaks, it'll release more without you having to faff about.
At 3.5kg, it's in the heavier side for cordless strimmers but there is plenty of adjustment in the telescopic shaft so finding a comfortable, balanced position is easy.
If you're looking for a cordless strimmer that's a good all-rounder, you won't go far wrong with this model.
---
2. Ego ST1500E - Cordless Strimmer For Heavy Duty Work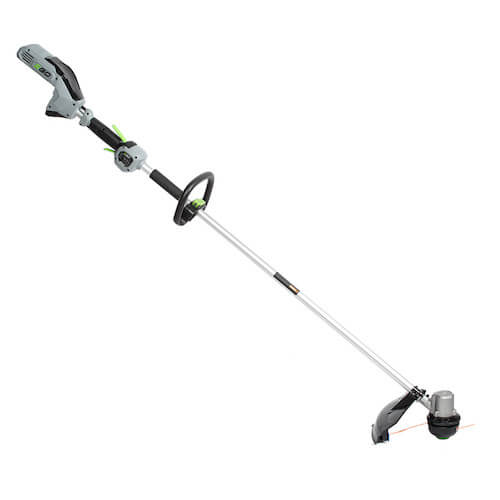 Power: 56 Volts;
Power Supply: Cordless;
Cutting Width: 38cm;
Edging: No;
Weight: 4.7kg;
Warranty: 5 Years;
Overview
If you're considering replacing your old petrol strimmer with a cordless model, the EGO ST1500E needs your consideration.
Ego only produces cordless power tools with the aim of replacing petrol tools while keeping them just a powerful.
This beast of a machine for blasting through thick, unruly areas made up of rough grass, tough weeds and even brambles.
In terms of batteries, Ego has a range of them to fit this strimmer. Starting with a 2.0Ah battery that'll give you around 20 minutes while their 7.5Ah battery will give you nearly an hour and a half.
So choose your battery depending on the size of your plot.
To make the most of the battery life, it has variable cutting speed which you can adjust depending on how thick the vegetation is.
It has a very large 38cm cutting width and the cutting head has two lines of 2.4mm diameter cord which is fed out automatically when you stop and start it. This is combined with a bump feed mechanism which you can use to feed more line by banging the head on the ground. If you're used to using a petrol strimmer, you'll be familiar with this way of feeding the line.
If you're looking for a heavy-duty strimmer to replace your current petrol model, the Ego ST1500E is fantastic.
---
3. Worx WG136E Cordless Grass Strimmer - Best Value
Power: 20 Volts;
Charge Time: 3 Hours;
Cutting Width: 30cm;
Edging: Yes;
Weight: 3.5kg;
Warranty: 2 Years;
Overview
If you're after a decent strimmer for a medium to large garden which doesn't break the bank, the Worx WG163 is a good pick.
Firstly, the Worx comes with two, 20-volt Lithium-Ion batteries, each providing you with around 35 minutes of run time.
It's fully adjustable with a telescopic shaft and adjustable second handle. So no matter how tall or short you are, you can adjust it to fit.
At 3.5kg it's not what you'd call heavy but depending on how strong/fit you are, some might find it feels heavy after using it for a while.
It does pack a punch though. It blasts through thick, rough grass and nettles without any fuss at all. I even had it smashing through brambles, although it's not really meant for that.
If you break the line, the 'command feed' function releases more line with the push of a button. This is a really nice feature!
You can rotate the head to chang it from strimmer lawn edger and it has two wheels for added stability while trimming your lawn's edges.
I think the Worx WG163 is a cracker. When you consider that it comes with two batteries which cost £30 each to buy separately, it's a cheap strimmer. That said, it's incredibly capable.
---
4. Flymo Contour 20V Li-Ion Cordless Grass Strimmer
Power: 20 Volts;
Charge Time: 2.5 Hours;
Cutting Width: 25cm;
Edging: Yes;
Weight: 3kg;
Warranty: 2 Years;
Overview
For small to medium-sized gardens that require light work, take a look at the Flymo Contour LI.
Flymo state the 20-Volt Lithium Ion battery provides you with around 20 minutes of use from a two-hour charge. That said, I've regularly got up to 30 minutes out of it.
The telescopic handle and adjustable auxiliary handle makes it comfortable to use no matter what your size or build.
At 3kg is not heavy but it does feel reassuringly well built. It's got some nice features too.
You can adjust the angle of the head when strimming under benches or trampolines by pressing on the pedal with your foot.
There's a plant guard to help prevent you from shredding your plants by mistake when near the edges of your lawn.
And the head swivels, turning the strimmer into a lawn edger by the press of a button and it has a large edging wheel for more precision when edging.
I definitely wouldn't use it for heavy-duty work but for maintaining an already nice garden, it's very good.
---
5. Greenworks G40LTK2 Cordless Strimmer
Power: 40 Volts;
Charge Time: 1 Hour;
Cutting Width: 30cm;
Edging: No;
Weight: 3.9kg;
Warranty: 2 Years;
Overview
If you're in need of a more powerful cordless strimmer and you're not fussed about a dedicated lawn edging function, the Greenworks G40LTK2 is fantastic.
Powered by a 40-volt, 2Ah Lithium Ion battery which takes a fairly quick 60 minutes to charge. It delivers some pretty serious power too, enough to blast through thick, wet grass, weeds and even small bushes.
The 30cm cutting width makes it a good choice for medium to large lawns.
You can also control how much cutting speed you apply. You can increase the speed when blasting through thick vegetation and reduce it when tidying up around obstacles or trees. This makes the most of the battery life.
It's a comfortable strimmer to use too with an adjustable, two-piece aluminium shaft and adjustable swivel handle.
Despite me saying it doesn't have an edging function, you can use it to edge your lawn buy turning it through 90 degrees so the string line spins vertically. That said, this does take some skill and requires practice to do well.
Greenworks produce some of the best battery technology around and their products are excellent. And I really like this strimmer!
---
6. Bosch ART 26-18 Battery Powered Strimmer
Power: 18 Volts;
Charge Time: 1 Hour;
Cutting Width: 23cm;
Edging: Yes;
Weight: 2.3kg;
Warranty: 2 Years;
Overview
If you have a small garden and you need a trimmer for light work, the Bosch Art 26-18 LI is worth a look.
It's a small strimmer which weighs in at just 2.3kg. Plus features like a long auxiliary handle and push-button height adjustment make it very easy to use.
The power comes from an 18-volt Lithium-Ion battery which is ready to use from an hour's charge. The only downside is that it does not come with batteries or a charger. It may be a good choice if you already have bought into the Bosch battery system.
Considering this strimmer is on the smaller side, it does pack a punch so you've got all the power you need for a small garden.
The cutting system is different than that of most strimmers in this list. Instead of using a cord or string, this model features Bosch's 'DuraBlade System' which is essentially a plastic blade. I have to say, does cut really well, especially when you turn the head and switch from strimmer to lawn edger.
That said, I wouldn't use it for tackling brambles or thick vegetation as it won't last long. Overall though, for light work in small gardens, it's a very capable product.
---
7. G-Tech GT3.0 Cordless Strimmer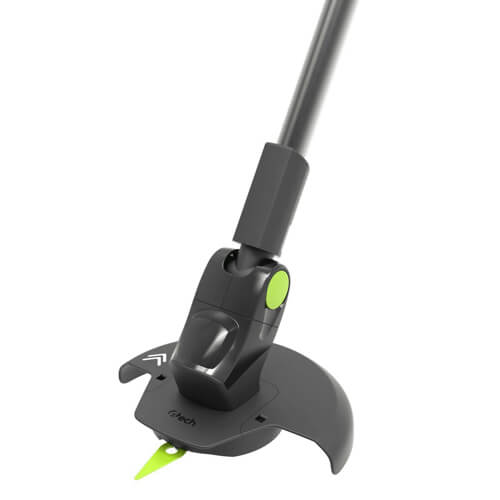 Power: 18 Volts;
Charge Time: 4 Hours;
Cutting Width: 23cm;
Edging: Yes;
Weight: 1.85kg;
Warranty: 2 Years;
Overview
If you're after a model that's backed up by hundreds and hundreds of positive reviews, take a look at the GTech Cordless Strimmer GT3.0.
Powered by an 18-volt Lithium-Ion battery which gives you half an hour of run time from a four-hour charge. And with a cutting width of 23cm, it's best for small to medium-sized gardens.
It's almost feather-light at just 1.85kg and the adjustable assist handle makes it perfectly balanced.  I have to say, this makes it very comfortable to use. GTech has designed it this way to put less strain on your neck, shoulders and back.
As a result, it's a joy to use.
With a twist of the strimmer head, this strimmer becomes a lawn edger.
And there's no line or spool to worry about either. Instead, it comes with 20 'easy fit' plastic blades. You can also buy replacements in packs of 50.
I must admit, I really like the GTech Cordless Strimmer. In an ideal world, it would charge faster but that's my only criticism really.
Also, I'd only consider this model if your lawn is in good condition. It's not built for heavy-duty use.
---
Why Choose a Cordless Strimmer?
---
The best battery strimmers bridge the gap between petrol corded electric models.
Typical electric trimmers are always limited by the length of their power cord. Most gardeners need to use an extension lead to get all the way around their gardens.
This means wresting with cables which can be dangerous, either by causing a trip hazard or the potential of cutting through them.
Petrol strimmers have their issues too.
Firstly, they can be expensive. Not only to buy but ongoing costs like fuel and servicing add up over time. They're also noisy, produce fumes and can vibrate.
Cordless strimmers are typically cheaper to buy than petrol strimmers. They can be up to 75% cheaper to run because you don't need to buy petrol and service them and because they don't use petrol, they're much better for the environment. They don't vibrate nearly as much either.
Why You Might Not Choose a Cordless Strimmer
As good as cordless strimmers are, try might not be the best choice in every situation.
Firstly, if you have a tight budget it might not stretch far enough to buy one. ou might have to make do with a corded electric model as cordless strimmers are typically more expensive.
Also, if you have a tiny garden, a corded electric strimmer might do just fine – especially if you have an outside power point. In which case, there's no need to spend the extra money.
On the other hand, if you have large areas which have been overgrown with lots of thick grass, brambles or nettles, a cordless model might not give you enough battery life to get the job done without having t stop to recharge the battery.
Petrol strimmers ore often a better choice in these circumstances because they give you constant power. If you run out of fuel, just top it up.
In Conclusion
---
Ultimately, the best cordless strimmer for you depends on your budget and the features you want or need.
Battery technology is constantly improving and as a result, there are lots of decent models on the market. I've picked my top 7 best battery strimmers based on price, features, ease of use and performance.
I hope you find a model in this list which suits you perfectly.