In this article, I'm going to show you my top picks for the best lawn scarifier.
Then I'll cover the different types of scarifiers and why you might choose one over the other.
I'll then offer my thoughts on which one you should invest in.
---
A quick comparison
Product
Image
Product
Details

Hyundai HYSC210

Excellent build quality

Blasts through thatch and moss

Super easy to use

Alko 38P Combi-Care 2-in-1

Well Built

Blasts Through Thatch and Moss

Very Easy to Clean

Bosch AVR 1100 Verticutter

Can be used through the growing season

Easy to Manoeuvre

4 Height Settings

VonHaus 2-in-1 Scarifier/Lawn Rake

Well-Priced

Easy to Manoeuvre

Works Well

Wolf Garten Thatch Removal Rake

Very Well Built

Simple to Use

10 Year Warranty

Alko 38E Combi-Care

Smaller Petrol Model

Blasts Through Thatch and Moss

Very Easy to Clean
The Best Lawn Scarifier with Reviews
Here's a list of some of the best lawn scarifiers I found on the market:
1. Hyundai HYSC210 210cc Petrol Lawn Scarifier & Aerator Push
Power Type: 210cc Petrol;
Functions: Scarifier and Lawn Rake;
Bag Capacity: 45 Litres;
Weight: 38kg;
Warranty: 2 Years;
Overview
If you're in the market for a petrol scarifier, then for me, the Hyundai HYSC210 is one of the best domestic models out there.
Powered by an easy to start, 210cc 4-stroke engine, it offers powerful raking and de-thatching.
It comes with two cartridges, a 17 bladed de-thatching cartridge for removing lawn thatch and a 16 spring tined cartridge for removing moss and dead foliage.
Setting the height is very easy. Simply turn the dial on the front of the machine you can choose from 5 height settings, ranging from +5mm down to -15mm.
That said, it's a pretty powerful machine so use the height adjustment sensibly. When you first use it, set it to its highest setting and see how much material it removes. Don't just set it to its lowest and go, you might find that it shreds your lawn.
The working width is 40cm and the collector holds 45 litres of material, which, if you scarify regularly is a decent size.
However, if you've never scarified before or if there's a lot of thatch or moss in your lawn, the collector will be useless. It just isn't big enough for the sheer volume of material the machine extracts.
I found it was easier to just eave the bag off and rake up the moss and thatch by hand. Apart from that, I don't have any complaints. It's well-built, easy to works and works brilliantly.
---
2. Alko 38P Combi-Care 2-in-1 Small Petrol Lawn Scarifier & Rake
Power Type: 53cc Petrol;
Functions: Scarifier and Lawn Rake;
Bag Capacity: 55 Litres;
Weight: 20kg;
Warranty: 2 Years;
Overview
The AL-KO 38P Combi-Care is a smaller machine than the Cobra but AL-KO claim it's suitable for lawns up to 1,200m².
The engine is quite small at 53cc which, I have to admit, could be tricky to start from cold every now and again. That said, despite only being 53cc, it produces an impressive 6,100rpm which handles even thick thatch and moss ease.
The fact that it's smaller also means it's nearly half the weight of the Cobra so if weight is a concern, this is the model to choose.
It has 5 working depths, a slightly smaller working width at 38cm but the collector is bigger at 55 litres. Again though, if it's your first time scarifying, or you don't do it that often, I don't care how big the collector is, it won't be big enough.
And if you do use it, the added weight at the rear can cause the machine to 'wheelie' on the very small rear wheels. I found it was just better to never use the collector and rake up the debris by hand. When I removed it completely, the machine was a joy to use.
And cleaning is incredibly easy as AL-KO has made the underside completely smooth. There's ribs of crevices for soil and debris to hide in which is a brilliant idea.
Overall, I like the AL-KO. It's well built and although it can be tricky to start, it works well and it's light.
---
3. Bosch AVR 1100 Verticutter Electric Lawn Scarifier
Power Type: Electric;
Functions: Verticutter;
Bag Capacity: 50 Litres;
Weight: 9.9kg;
Warranty: 2 Years;
Overview
Technically, the Bosch AVR 1100 isn't a scarifier or lawn rake, it's a verticutter.
That said, verticutting is technically a type of scarification. It removes moss, the top layer of thatch and it discourages shallow rooting weed grasses and creeping weeds.
Verticutting also prunes the roots of the grass plants which encourages new growth of desired grasses.
Verticutters have more blades and don't cut as deeply as a traditional scarifier. The benefits are;
That they're much gentler on your lawn, and
You can use them right the way through the growing season
So instead of attacking thatch build up all at once and damaging your lawn, you can reduce it gradually over the year.
That said, it still removes a surprisingly large amount of both thatch and moss.
The Bosch has 4 height adjustments which range from +5mm down to -10mm and 14 pivoting blades which won't break in tough patches or if they hit hard debris.
It also features what Bosch calls their 'Jet Collection System'.
This is just a fancy name for an airflow system that sucks the debris into the 50-litre collection box. I have to say it does work pretty well and if you use it every fortnight between April and September, 50 litres is decent capacity.
It weighs in at 9.9kg so it's easy to manoeuvre and carry. And when you've finished with it you can store it away easily thanks to its double folding handle and stackable storage box.
If you prefer to control moss and thatch by scarifying little and often, the Boch AVR1100 is the machine for you.
It's reliable, easy to use and it does an excellent job.
---
4. VonHaus 2-in-1 Electric Lawn Scarifier & Lawn Rake
Power Type: Electric;
Functions: Scarifier and Lawn Rake;
Bag Capacity: 28 Litres;
Weight: 9.9kg;
Warranty: 2 Years;
Overview
If you're in the market for a powered scarifier but you're on a budget then the VonHaus 2-in-1 Scarifier and Aerator is a good alternative.
It's around £60 cheaper than both the Bosch and AL-KO but t's still backed up by a two-year warranty.
It does feel a bit cheap but it's still sturdy and also pretty powerful at 1,500 watts. It rips up moss and works its way through thick thatch with no problem. In fact, it extracted a huge amount of material when I tested it.
Like the Bosch, it has four height settings which are set very easily by a lever. As always though, I'd recommend you start on the higher settings and lower them as you go to avoid ruining your lawn.
Manoeuvring it is also easy as it weighs in at less than 10kg. As you'd expect for the money though, it's not perfect.
The collector is only 28-litres which is useless. Again, I found it best to remove it completely. The power cord is only 10 meters too.
The instruction manual is pretty rubbish and the underside isn't easy to clean due to the way it's been constructed.
Still, for a cheap scarifier, it's pretty good!
---
5. Wolf Garten Multi-Change Thatch Removal Rake
Power Type: Manual;
Functions: Scarifier;
Bag Capacity: N/A;
Weight: 1.7kg;
Warranty: 10 Years;
Overview
If you're on a budget and/or you've got a small lawn, Wolf Garten's Multi-Change Moss Removal Rake is, in my mind, the best hand scarifier.
However, in order to use it, you must also buy the handle which comes separately. Unless you already own the Wolf Garten handle.
This is because it's a 'Multi-Change' tool, meaning you can buy different tools for the same handle. For example, you can buy the scarifier head for removing thatch and a rake head to rake it up. Then turn right around and attach a hoe head for hoeing your borders before changing it for a brush head to sweep up any mess.
While this isn't a criticism per se (I think it's actually a good idea), you should know that you'll need to buy the handle too.
However, it works well, cutting into the turf and removing excess thatch very reliably. The higher you lift the handle, the deeper the blades go, meaning you can scarify more deeply.
The build quality is excellent. It feels solid, very well made and it also comes with a 10-year guarantee which gives you the confidence to work it hard.
---
6. Alko 38E Combi-Care 2-in-1 Electric Scarifier & Aerator
Power Type: Electric;
Functions: Scarifier and Lawn Rake;
Bag Capacity: 55 Litres;
Weight: 14kg;
Warranty: 2 Years;
Overview
The AL-KO 38E Combi Care is the baby brother to the petrol model I reviewed as part of this article.
It has many of the same features;
Dethatching and raking cartridges
55-litre collection bag
5 working depths
38cm working width, and
2-year warranty
The only real differences are that it's electric and limited by a 12m power cable. It's around 6kg lighter too.
And it's half the price of its petrol counterpart!
It performs just as well in my test and removed an immense amount of thatch, even on the highest setting.
And just like the petrol model, the underside is completely smooth so cleaning is dead easy.
Again, though I found it was easier to use without the collector
---
How to Choose the Best Lawn Scarifier For You
---
There's no real secret when it comes to choosing the best scarifier you or your lawn.
The best one for you will be dictated by the size of your lawn, your budget and whether or not you're a sucker for punishment.
Hand-Held Scarifiers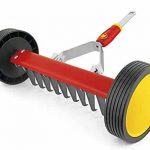 If you've got a tiny lawn and a small budget, a hand-held scarifier might be your best choice.
That said, scarifying even a small lawn of 30 square meters with a handheld scarifier can take a few hours.
You'll feel it the next day too!
Sore stomach muscles, an aching back and blistered hands are common.
That said, if you're fit and willing to put the work in, scarifying with a manual scarifier is gentler on your lawn than a powered machine.
Hand-helds are only a viable option for small lawns. Anything over 30 square meters and not only will you punish yourself but the job will take forever.
Electric Scarifiers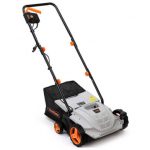 Often sold as powered scarifiers, electric scarifiers, electric lawn rakes.
They're relatively cheap and most are nothing more than electric lawn rakes.
Some, however, (the ones that I recommend) come with interchangeable cassettes. A wire cassette for raking out moss and a blade cassette for scarifying or de-thatching.
This makes them ideal for home use.
They're perfect for small to medium-sized lawns from 30 square meters up to 100 square meters. Any bigger than that though and they can become hampered by their power cords.
Even on small lawns, I prefer to use a powered scarifier and lawn rake. It's just quicker and easier.
Petrol Scarifiers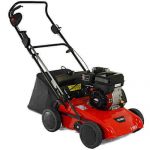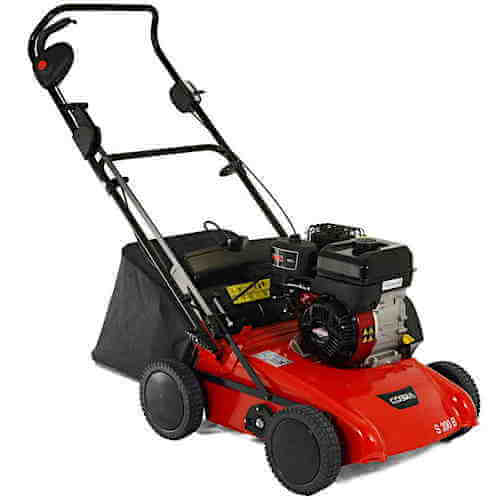 Starting at around £300 and going up into the thousands for a professional machine, petrol scarifiers are the most expensive.
But if your lawns are bigger than 100 square meters you'll need a machine that isn't limited by a power cord.
In which case, a petrol scarifier is really the only option.
They're especially worth the investment if you're serious about lawn care.
And like the electric versions, the best petrol scarifiers come with interchangeable cassettes for raking and scarifying.
Popular read: Cordless Strimmers – Recommended Picks
In Conclusion
---
Choosing the best lawn scarifier for you and your lawn will save you a ton of time and potentially back-breaking work.
The old adage is true, you get what you pay for so my advice would be to buy the very best machine you can afford. That said, you don't have to spend hundreds of pounds on a machine that'll be used on 30 square meters of lawn.
Hopefully, my recommendations will steer you in the right direction.