Even the most beautiful, well cared for lawns are often let down by crooked, uneven or messy edging.
Edging a lawn with edging shears or a half-moon cutter is one of those things that takes practice to get good at.
If you get it wrong, well, it just looks rubbish.
So in this article, I'm going to show you some of what I think are the best lawn edging ideas and products.
In order to qualify for inclusion, the products had to:
Create permanent lawn edges and
Take away the need for re-cutting edges and strimming.
---
A quick comparison
Product
Image
Product
Details

Ribbonboard: The Best Plastic Lawn Edging

Excellent Quality

Create Shaped Lawn Edges

Cheap Compared to Other Materials

Flexi Border - Best Rubber Lawn Edging

No digging needed

Very Highly Reviewed

Create Curved Lawn Edges

EverEdge: The Best Metal Lawn Edging

Very Easy to Install

Create Curves as Well as Shapes

No as Expensive as You Might Think

Railway Sleepers: The Best Wooden Lawn Edging

Excellent For Create Straight Edges

Age and Weather With Your Garden

Will Last For Years

Block Paving: The Best Stone Lawn Edging

Create Any Lawn Shape

Different Style, Colours & Sizes

Very robust and will last for years
Best Lawn Edging Ideas
Here's a closer look at what I think are the best lawn edging products
1. Ribbonboard - The Best Plastic Lawn Edging
Extremely flexible and durable
Make aggressive curves as well as straight sections
Kit includes everything for installation
Can be used as a paver edging for bracing rock, sidewalk bricks & patio pavers.
Good alternative to metal, concrete, steel, and brick garden edging
Overview
Granted, Ribbonboard isn't the cheapest plastic lawn edging you can buy – That said, I really like it.
What's Good About DIY Garden No Dig Lawn Edging
It comes in 10m strips which you can either lay straight or shaped around your lawns curves. You can even make circles with it which is ideal if you have plants, ornaments or other features in the middle of your lawn.
The fact that you can create different shapes with this lawn edging is a big benefit. Often times, plastic lawn edging is rigid which means you can only create straight lines or you're dictated to by the shape and size of a piece of plastic.
Laying it is very easy too – Simply lay the strips down along the edge of your lawns and secure them to the ground by knocking in the pegs provided.
If you need to trim a piece to size, a junior hacksaw will do the trick!
Because it's made from plastic, it is strong. It'll hold back block paving, stones, pebbles, gravel and mulch in place to create crisp, defined edges that give a garden that wow factor.
It'll stand up to the even the best strimmer too, some plastic lawn edging is thin and brittle. As a result, it can be smashed to pieces when the strimmer wire hits it. No such issue with this product.
What's Not So Great
As much as I like this plastic lawn edging, there are a few issues in my opinion;
Because it comes in a 10m roll it snakes when you unravel it. As a result, creating perfectly straight edges can be tricky. The way I got around it was to butt it up against a long, straight piece of timber before knocking in the pegs.
Speaking of the pegs, they're plastic too. If you knock them in with a mallet and they hit stone or something hard under the soil, they have a tendency to bend or break. It's best to use an old screwdriver to create a pilot hole first and make sure there's nothing in the soil that might cause the pegs to break.
There is no way to join the ends of each strip so if you're making a circle or you want to join two strips together, you'll have to butt the two ends together and make sure you knock the pegs in as accurately as possible to make sure the join is neat.
What Other Users Think
DIY Garden No Dig Lawn Edging is pretty highly reviewed by users.
Reviewers comment on the fact that it's strong while still being flexible, easy to use and quick to install. Although many agree that the pegs can be damaged.
No-one has complained about the fact that you can't connect the ends. Maybe that's just me!
Overall Thoughts
I really like this product and I have used it on a few occasions.
Like I said, it's not the cheapest plastic lawn edging but in terms of value for money, ease of use etc, I think it's worth every penny.
---
2. Flexi Border Review: The Best Rubber Lawn Edging
Flexible design up to a 70° angle.
Great for making curved beds, pathways and other garden features
Lawnmover safe so the wheels travel along & cut to the edge of the lawn
Robust enough to handle strimmers
Eco friendly as it is made entirely of recycled rubber
Overview
I think Flexi Border is an excellent product. In fact, I have used it on several projects.
What's Good About Primrose Flexi-Border
It comes in 1 meter long sections you can join together by pushing each piece together onto two connecting rods to create a seamless joint.
Because it's made from rubber it's very flexible and will bend up to 70° to create nice, modern curves. You can create straight edges too but because it's flexible, my advice would be to butt them up against the length of a straight piece of timber as you lay them to make the edge as straight as possible.
It fixes to the ground via anchoring pegs as you can see in the image above. Unlike some plastic pegs, these are incredibly strong. You get plenty too!
Cutting it down to size is easy with either a panel saw or powered mitre saw. Because it's made from rubber it can move with the back and forth motion of hand sawing which can result in a less than perfect edge. For this reason, I prefer to use a powered mitre saw.
What I also like is that each one-meter length is split into 5x 20cm bricks which makes it look like stone.
When it's been laid it not only separates areas of your garden with a modern look, it also acts a mowing strip so there is virtually no lawn edge maintenance needed. Just roll your lawn mower right over the top of it and you're done.
What's Not So Great
For me, there just a couple of problems;
You can't create right angles with it. Well, you can, but in order to do it, you need to cut a 45° angle into the ends of two pieces and butt them up together the best you can. In this case, you really do need to use a powered mitre saw because hand sawing will make a mess of the joint.
It's not really possible to create smaller circles so if you have little features in your lawn or garden and you want a little circle of edging, this won't do it. It's perfect for larger curves though.
What Other Users Think
Primrose Flexi Border is well-liked among other users too.
The thing users comment on most is just how quick and easy Flexi Border is to lay with many users saying 'It's the best lawn edging I've used'.
Negative comments are very few and far between but they reflect my own about the inability to create tight curves or right angles.
Overall Thoughts
At approximately £10 per meter, Flexi Border doesn't come particularly cheap. That said, I wouldn't say it's expensive either, especially considering the quality, how easy it is to lay, how easy it makes maintaining the edges of your lawn and the length of time it'll last.
Like I said at the beginning, I've used this on several projects and I love it.
---
3. EverEdge Review: The Best Metal Lawn Edging
Very Easy to Install
Extremely flexible - Create Curves as Well as Shapes
Can be cut to size with either a hacksaw or a grinder
Manufactured from almost 100% recycled material using British Steel
No as Expensive as You Might Think
Overview
If it's metal lawn edging you're in the market for then EverEdge gets my top recommendation.
What's Good About EverEdge
Firstly, the cost. At around £35-£40 for a pack of 5 meters, it works out at between £7-£8 per meter. This really isn't as expensive as you might have thought – especially when compared to some other the products I've reviewed on this page.
Everedge lawn edging also comes in 3 different heights:
7.5cm
10cm
12.5cm
The price I mentioned above is for the smallest size so if you go larger, the price will go up. Still, I think the price is very reasonable.
The spikes are 9.5cm long so even the smallest size should be good for most people.
Something else about the sizes: They're all compatible which means if you do need to connect a 12.5cm piece to a 7.5cm piece, you can. All the connectors are at the same height from the top edge so you can connect them all flush.
This galvanised lawn edging comes in a choice of powder-coated colours; Black, Brown, Dark Green, Slate and Galvanised. Choosing a colour to either blend in or create contrast shouldn't be too difficult.
You can also choose their COR-TEN version. This comes in 10cm height and features a special coating that weathers and creates a rusty look over time. Because it's the coating itself that weathers, the integrity of the metal isn't compromised.
Fitting Everedge is really easy too.
The strips slot together very simply and the can be knocked into the ground with a mallet. Although, make sure you place a piece of wood on top of the edging and hit that when installing it. This will prevent you from damaging it.
Because it's only 1.6mm thick, Everedge is very flexible. You can create curved edges with ease. You can even create right angles, although the metal will need to be physically bent using a vice.
EverEdge even creates Lawn Edging Rings which can be used to create perfectly circular edges around any features in your lawn.
What's Not So Great
Honestly, this is one of the rare occasions where I can't really fault a product.
It really is very good!
What Other Users Think
That said, there are a pretty vast number of reviews online for EverEdge and other users seem to be of the same opinion as me.
Most of the complaints (of which there are very few) are generally about the delivery companies a supplier uses, not about the product itself.
But if there's one thing that one or two people have mentioned. It's the fact that they struggled to join the strips together. Although I didn't experience this at all.
Overall Thoughts
I love EverEdge Lawn Edging.
It's quality, strength, ease of use and versatility make it, to me at least, probably the best dedicated lawn edging product you can buy.
---
4. Railway Sleepers: The Best Wooden Lawn Edging Idea
Green Tanalised Treated Softwood
Excellent For Create Straight Edges
Age and Weather With Your Garden
Will Last For Years
Overview
There's not really a lot to be said about railway sleepers but they make brilliant wooden lawn edging.
What's Good About Railway Sleepers
Railway sleepers are perfect for creating straight edges to your lawns. You can buy them in different sizes and in different types of wood depending on the kind of look you want to create in your garden.
Reclaimed railway sleepers are made from oak and are often black, covered in old oil or tar and are split or banged up which give them a really worn, rustic look.
On the other hand, you can buy pressure treated sleepers with straight edges for a newer, more modern finish.
Also, these kinds of railway sleepers will last years.
What's Not So Great
What follows aren't really criticisms, it's more a case of these are the things you need to consider when using railway sleepers to edge a lawn.
Firstly, they're more complicated to lay than plastic, rubber or metal lawn edging that can be secured to the ground by simply knocking pegs into the soil. You'll need other tools to cut the wood, join sleepers together and anchor them to the ground.
You also the need to know how to work with wood. If you're not very handy on the DIY front, you might need to hire a landscape gardener which of course, adds to the cost.
What Other Users Think
Many people I have spoken to love the railway sleepers in their gardens. Not only because of the look they create but also because of how easy they make the fiddly parts of lawn care.
The only downsides people talk about is the fact that you can only create straight edges.
Overall Thoughts
I really like railway sleepers! They generally cost more than plastic or rubber lawn edging and yes, you can only create straight edges.
In my mind though, wood looks more at home in the garden than plastic or rubber. And like all natural products, I think they look better as they age and weather.
---
5. Block Paving: The Best Stone Lawn Edging Idea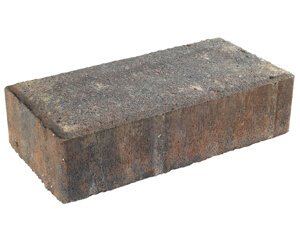 Create Any Lawn Shape
Different Style, Colours & Sizes
Very robust and will last for years
Overview
When it comes to stone lawn edging, my absolute favourite products are block paving stones.
What's Good About Block Paving
What makes block paving the perfect stone lawn edging material is the fact that it's so versatile.
Block pavers come in a huge range of colours, styles and sizes. That not only means you can find a style and colour to suit the overall look of your garden, but you can also create pretty much any shape you want.
Also stone is a strong material that will last for years and it'll also weather and age with your garden.
It's easy to clean too.
A blast with a good power washer and it'll come up like new.
And the biggest benefit is the fact that they make maintaining lawn edges super easy. Just roll your lawn mower right over the top of them and that's the edges cut!
What's Not So Great
Again, these aren't really criticisms, just more a case of what's involved when working with building materials, which some people might think of as bad points.
Firstly, the cost of block paving starts with the bricks. Then you need to buy sand and/or cement, as well as the tools for the job if you don't already have them.
Block paving (any stone lawn edging in fact) is probably the most complicated material to lay. It involves digging out channels, pouring a cement base and laying the bricks level and in a way that flows with the contours and slopes of your garden.
If you're pretty good at DIY you can do it yourself by following a YouTube guide.
If not, this might mean you need to hire a landscape gardener or builder to do it for you. All this adds to the cost.
What Other Users Think
Many gardeners love the look that block paving gives to their gardens. A lot of DIY gardeners also say that laying them isn't that difficult either.
The only downside really is the cost. It probably the most expensive lawn edging idea.
Overall Thoughts
I think block paving is one of the best lawn edging ideas there is.
Yes, it's the most expensive way to edge your lawn – especially large lawns. Still, the sheer choice in colours, styles and sizes, the fact you can create any shape you want and that it makes maintaining the edges of a lawn a complete doddle, makes block paving an excellent option.
---
Why You Should Consider Lawn Edging
---
There are two main reasons you might want to consider edging your lawn with a material or product;
Practicality
Aesthetics
The Practical Benefits of Lawn Edging
From a practical standpoint, many lawn edging ideas help make lawn care maintenance quite a lot easier.
Without installing a lawn edging solution, you'll need to maintain the edges of your lawn yourself. You'll do this with edging shears and a half moon lawn edging tool.
While using shears to neaten up the grass at the edges after mowing the lawn is pretty easy, cutting and shaping the edges of your lawn with a half moon cutter takes practice.
Get it wrong and you'll ruin the look of the whole lawn.
A good lawn edging product will create a permanent edge that's easy to look after and maintain. You'll remove the need for cutting and shaping and in some cases, trimming the edges with shears too.
As well as the maintenance side of things, lawn edging creates a distinct barrier between the lawn and any borders. This prevents the grass from your lawn growing into areas you don't want it to.
The Visual Benefits of Edging Your Lawn
A well-designed lawn edge can have a huge impact on the overall look of your garden by creating separation between areas.
And like I have already said, making a mistake when shaping your lawn with an edging tool can severe disfigurement. The use of a lawn edging material removes this risk.
Popular read: Best Cordless Strimmers on the Market
Things to Consider When Choosing The Best Lawn Edging Ideas For Your Garden
---
There are several things to think about when considering which are the best lawn edging ideas for your garden.
I have seen garden owners install a lawn edging solution only to realise later that they either don't like it or that they might have been better choosing a different product.
So, take your time to think about the following;
Your Budget
The type of lawn edging solution you choose is limited (or not) by your budget.
Some edging solutions are really cheap while others can get fairly expensive pretty quickly.
If you've only got £100 to spend but you want to edge your lawn with railway sleepers, you'll need to save up for longer! However, if you're only looking for a cheap solution then £100 might be plenty.
The Material
Lawn edging products come in a range of materials.
In most cases, the type of material you choose is dictated by the overall look you want to create in your garden.
Because there are a range of materials to choose from, you shouldn't have too much trouble choosing a product that works in your garden setting.
Providing it's within your budget, of course.
Plastic Lawn Edging
Plastic lawn edging is the most common type, for a few reasons. It's;
Cheap
Durable, and
Versatile
Firstly, in many cases, plastic lawn edging is the cheapest type of lawn edging you can buy.
However, just because it's cheap doesn't necessarily means it's rubbish.
Sure, there are a lot of products that I wouldn't recommend but there are a few very good options.
Secondly, plastic is one of the most durable products you can buy, it doesn't rust, rot and it's one of the few materials that can handle sea water and sea air. If you live on the coast, plastic could well be a good option.
That said, plastic isn't perfect. It can fade when exposed to lots of direct sunlight and it can also melt or warp if that sunlight is hot (although this is rare). It can also become brittle over time.
Lastly, plastic lawn edging is versatile. You can buy it in all kinds of shapes and colours that mimic stone, terracotta, block paving – there are so many options.
Rubber Lawn Edging
Rubber lawn edging offers many of the same benefits as plastic.
It's strong, it won't rot or rust but the main difference is that it's often softer and more flexible.
Metal Lawn Edging
Metal lawn edging is becoming more and more popular – especially in commercial landscaping.
It's malleable so it bends easily which means you can shape it around pretty much anything and it's strong too – it'll last years. Unlike wood or plastic, it won't warp or swell, even in the most extreme weather.
That said, it'll only last years if it's stainless or galvanised so it won't rust.
The downside to metal lawn edging is the cost, it's probably the most expensive material you can use.
Wooden Lawn Edging
A natural product that looks at home in nearly all gardens.
For as long as humans have been gardening, we have used wood to edge our lawns and borders.
At first, it was only used by the wealthy but wooden lawn edging has become cheaper (although it's still not 'cheap') and as a result, more popular.
Apart from looking good, wood is much more hardy to extreme weather and temperatures than plastic. That said, it will expand and contract in extreme temperatures which can cause it to split. This isn't necessarily a bad thing, it all adds to the natural look of wood.
However, if it's constantly exposed to water it can get into these splits. In turn, the wood can swell, bloat and rot from the inside. The way to combat this is to buy pressure treated wood. They can also suffer from mildew.
Most wooden lawn edging comes in the way of sleepers. Either brand new, pressure treated ones, or solid oak sleepers from railway lines. If they fit in with the look of your lawn and your budget, used railway sleepers are much hardier.
Stone Lawn Edging
Stone, or brick, or block paving is another very good material to use for lawn edging and mowing strips.
It's very strong, it won't rust, rot, turn mouldy and it won't warp, twist or swell either.
Also, because stone, bricks and block paving are small singular blocks, you can create whatever shape you want from square corners to rounded edges and even obscure shapes.
You can also find them in hundreds of different colours, styles and looks. They're incredibly versatile.
The only downside with stone (especially dark stone) is that they can absorb and hold onto heat. In extreme temperatures, this can dry out the edges of the lawn where it comes into contact with the stone creating a border of dry, brown, even dead grass.
Ease of Installation
Many of the best lawn edging products are very easy to install.
Some products you can just stake into the ground with a rubber mallet, other products will require some work.
More specifically, wood and stone.
With these materials, many people prefer to hire a landscape gardener because laying them is either outside of their skill set or they don't have the tools or the knowledge to do it themselves.
All this adds to the overall cost of a project, as well as the time it takes to complete it.