Feeding your lawn can become very complicated very quickly. Professional greenkeepers have a huge range of fertilisers at their disposal for all kinds of applications.
It's no wonder then, that for many gardeners, choosing the best lawn feed can be confusing.
So in this article, I'll let you know which I think are the best products based on price and effectiveness.
Not only that, but I'll also explain why you might use one type of fertiliser over another and when to use one type in combination with another to keep your lawn lush and green all year round.
---
A quick comparison
Product
Image
Product
Details

Rolawn GroRight

Very Reputable Company

Ideal For New Lawns

Can Be Applied as a Top Feed

Evergreen 4-in-1

Complete Feed & Weed Solution

Highly Recommended by Users

It's Fairly Cheap

Westland Safe Lawn

Child and Pet-Friendly

Chemical Free

Made From Organic Ingredients

Miracle-Gro

Green the Grass Very Quickly

Very Well Reviewed by Users

Low Scorch Risk

Scotts Lawn Builder

Excellent Quality

Easy to Apply

Available For All Seasons
The Best Lawn Feed in the UK with Reviews
Important Note: I have written these lawn feed reviews with the assumption that your lawn is already in pretty good shape. If it's in poor condition, not even the best lawn feed will improve it.

Soil compaction and excessive thatch will prevent lawn feeds and fertilisers from getting into the soil and root zone of the grass. As a result, they will be useless and you'll have wasted your time and money.

If your lawn is full of moss or thatch and the soil is compacted, you need to deal with these issues first.

With that said, here's a list of the best lawn feed you can buy today:
1. Rolawn GroRight® Lawn Fertiliser - Best Fertiliser New Lawns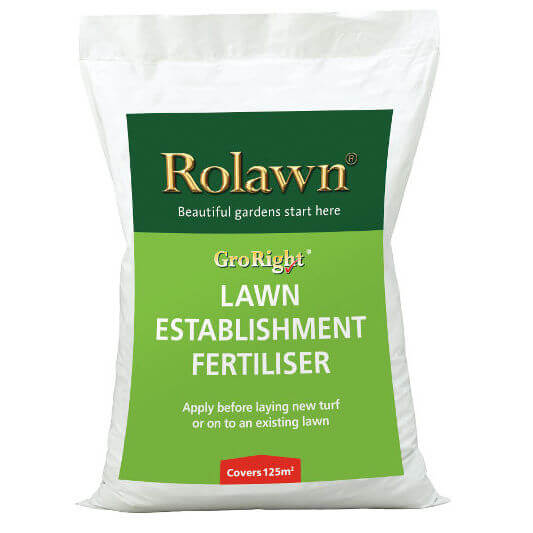 Promotes rapid root growth
Improves drought tolerance
Feeds for up to 4 months
Fast lawn establishment
Improves disease resistance
Protection from root rot
Overview
Feeding a brand new lawn is different from feeding an established lawn.
If you're replacing or creating a new lawn, either by laying new turf or sowing grass seed, it's best to spread the fertiliser directly into the soil.
By doing this you put all the nutrients are exactly where they need to be, giving the new grass everything it needs to grow strong roots and establish itself as quickly as possible.
In which case Rolawn's GroRight® Lawn Establishment Fertiliser gets my top recommendation.
It's a slow-release fertiliser that'll keep the soil full of nutrients for up to 4 months.
Compared to other lawn feeds, the Nitrogen content is quite low at just 7%, but the Phosphate percentage is higher at 10% with added Sulphur and Magnesium. This is to help the roots develop as quickly as possible and improve the grasses resistance to drought and disease.
What I really like about Rolawn's GroRight® is that you can apply any excess as a top feed.
For new lawns, you'd normally have to wait 6 months before applying a regular lawn feed as the high nitrogen content could damage the new grass. However, because the Nitrogen content is so low in this product, you can apply it without damaging the new grass and it'll keep improving that all-important root development.
It's not the cheapest product on the market but then again, you get what you pay for.
If you want the best fertiliser for new lawns, this is the one to choose.
---
2. Evergreen 4 in 1 Complete Lawn Feed
Creates a thicker, greener and healthier lawn whilst killing weeds and moss
WaterSmart formula helps absorb water and nutrients more effectively, helping to protect your lawn against drought and stress
Use from April to September
Overview
If you're looking for an all-in-one lawn feed, weed and moss killer then Evergreen's 4 in 1 Complete Lawn Feed gets my recommendation.
It has plenty of Nitrogen to help with growth and Potassium to aid root development for a thicker lawn. In fact, Evergreen claim their product has a higher Nitrogen content than other brands of feed, weed and moss killer. The benefit is that it'll make your lawn greener than the competition.
This higher Nitrogen content does have its risks though. It can scorch your lawn if applied in long periods of hot, dry weather. Which means you need to be careful about when you apply it.
Also, it's only meant to be applied twice a year, so I'd apply it in April and September when there's plenty of moisture and conditions for growth are at their best. It's easy to apply but needs watering in so if it doesn't rain, you'll want to get the sprinklers on.
You should see results pretty quickly when you apply Evergreen 4 in 1 to your lawn. Especially when it comes to how green your lawn gets. It'll be noticeably greener in just a few days.
If your lawn has moss in it you'll see it start to turn black. This blackening can also affect the grass but this seems to be temporary.
You might notice that weeds will grow quite quickly after application. This is due to the Nitrogen and Potassium but they will soon twist up and die so don't worry if you see rapid growth.
Ideally, you should remove these weeds and moss when it's all dead.
That being said, don't use this product thinking it'll fix your unhealthy lawn. It's designed to keep weeds and moss in check, it's not a magic bullet to fix those issues.
However, if your lawn is in good shape and you want to keep it that way with minimal effort, then Evergreen 4 in 1 Complete is an excellent product.
---
3. Westland Safe Lawn - Best Lawn Feed for Kids & Pets
Organic fertiliser with added lawn seed, made with only natural ingredients
Grass seed will germinate to fill gaps and help create a lusher, thicker lawn
As the grass becomes stronger it will start to outcompete weed and moss
Pack will cover 150 m2
Overview
Chemical lawn feeds have warnings on them stating that kids and pets should be kept off the grass until it has been watered in.
They're not good when ingested and some also have high iron content which can stain skin, clothing and paving.
If you're worried about applying a lawn feed because you have pets and kids then Westland SafeLawn Natural Lawn Feed is the answer.
It's a completely natural product, based on chicken manure. It also contains plant nutrients as well as healthy bacteria which;
Encourages strong root development in the grass. The grass plant grows more shoots and runners which sprout more grass leaves to create a denser sward and therefore outcompetes moss and weeds.
It helps in the breakdown of dead organic material. This prevents the build-up of lawn thatch.
However, because it's a manure-based fertiliser, it can stink a bit. Some batches smell more than others. And although it's safe for kids and pets, some pets are attracted to the smell and protein content so it's best to water it in once you've applied it. This will eliminate much of the smell.
It also takes a little longer to work than chemical-based products.
Westland SafeLawn contains grass seed which helps to fill in any sparse areas and create a denser sward. The grass seed blend is made up of creeping red fescue and dwarf perennial ryegrass which is ideal for most home lawns.
That said, if you have an ornamental lawn which is purely made up of bents, browntops and fescue grasses, you'll probably want to avoid using this product so you don't introduce ryegrass into your lawn.
However, if you're concerned about the safety of your kids and pets after feeding your lawn, or if you prefer to use organic lawn feed over chemical fertilisers, give Westland Safe Lawn a try.
---
4. Miracle-Gro Liquid Lawn Food
Dissolved nutrients lowers the risk of scorching
Easy to apply using the Miracle-Gro Feeder or mixing in a watering can
Use from March to October
Overview
Most granular lawn foods and fertilisers require a minimum of 3 months between applications. But with the help of water-soluble lawn feeds like Miracle-Gro Lawn Food, you can give your lawn that extra boost when it needs it.
Rather than penetrating the soil so the grass plant can consume the nutrients via its roots. Soluble lawn feeds like this are different.
The food is sprayed onto the grass and enters the plant through the leaves. As a result, the grass gets an almost immediate shot of Nitrogen. This gives it a good boost of lush, green colour.
It works really well too!
The total Nitrogen content is 36% which is pretty high. That said, because it's a soluble product the risk of scorching the grass is fairly small.
Still, you'll want to make sure mix it accurately and don't apply it in long periods of hot, dry weather.
It's designed to be applied once a month to top the grass up with nutrients. Miracle-Gro state that if your lawn is in poor health, apply it every two weeks.
I personally don't like this advice.
The term, 'Poor Health' is vague. There could be any number of reasons for an unhealthy lawn like; soil compaction, excess moss, lots of thatch etc.
In order for this fertiliser (and any other product) to deliver the best results, you first need to understand why your lawn isn't as healthy as it should be and take steps to fix those issues.
This is an excellent product for giving your lawn a boost of nitrogen when it needs it. However, I wouldn't use it as my main fertiliser because the Nitrogen content is too high.
I'd recommend you use it in conjunction with a slow-release fertiliser.
If your lawn is simply lacking in nutrients, apply a good quality, slow-release fertiliser first. Use this product to give your grass a boost as and when it needs it.
---
5. Scotts Lawn Builder Granular Lawn Feed
Available For All Seasons
Lawns stay thicker and greener for up to eight weeks
Slow release and water smart formula - no surge growth
No scorch fertiliser and no need to water in;
Coverage of up to 100 m sq
Overview
If you're looking for a straight-up, seasonal granular lawn feed then Scotts Spring/Summer Lawn Builder Lawn Food and Autumn/Winter Lawn Food has to be my favourite.
As a professional groundsman, I have always used granular lawn fertilisers and each season requires a different percentage of Nitrogen, Potassium and Phosphate, as well as other nutrients.
Scotts Lawn Builder Lawn food is the one that comes closest to that style of lawn feeding.
Scotts have developed a high Nitrogen lawn food for spring/summer when grass growth is at its best. They also have a high Potassium autumn/winter food for strong root development to strengthen the lawn against the stresses of winter.
Both fertilisers are slow-release, which means they'll release nutrients into the soil slowly, giving your grass a steady supply of nutrients for up to 8 weeks.
This prevents surge growth where the grass absorbs all the nutrients at once and grows too quickly.
It's easy to apply and has an anti-scorch formula to prevent it from scorching the grass and turning it brown. That said, you still need to be sensible about how and when you apply it. Don't over-apply it or do so in drought conditions.
Overall, Scotts Lawn Builder is an excellent product, both as a spring/summer and autumn/winter feed.
---
In Conclusion
---
When it comes to feeding your lawn, things can get super complicated.
But the fact is, it doesn't have to be.
We're talking about creating a nice green lawn, not maintaining an internationally award-winning golf course.
You can choose from thousands of different lawn feeds, depending on how simple or scientific you want things to be.
Out of the thousands of products you can choose from, I've picked what my experience tells me are 5 of the best lawn feed products for maintaining a beautiful lawn at home.
Popular read: Top rated cordless strimmers in the UK