In this article, I'm going to take you through my Garden on a Roll Review.
Last year I re-turfed my friend's lawn and this gave me a chance to review Rolawn, the turf supplier.
Well, over the winter he decided he wanted to add a planted border to his garden. However, he's not even a little bit green-fingered and wanted a 'ready-made' border to be designed and planted.
Enter Garden on a Roll.
Who is Garden On a Roll?
---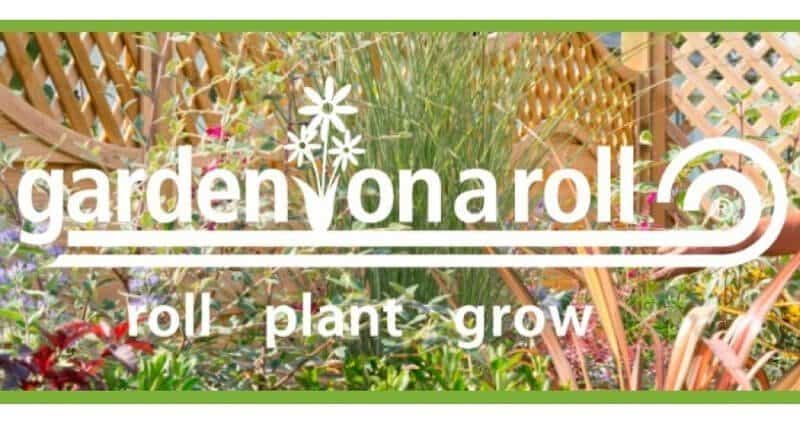 Garden on a Roll is designed for garden owners who have no idea of how to plant borders.
Choosing what to plant where and with which other plants can be utterly confusing.
This is why millions of gardens all over the country have bare patches of soil where there should be plants that add colour and attract wildlife.
That said, plants don't come cheap so if you get it wrong you'll waste money, potentially a lot of it.
Why Not Hire an Expert?
Well, hiring a garden designer or plant expert will set you back at least several hundred pounds. And that's before you've bought a single plant.
Garden on a Roll bridges that gap.
It's owned and run by Antony Henn, a garden designer who has been designing gardens since 1992.
His clients include Sir Paul McCartney and he's worked on TV shows including the BBC's Gardeners World and ITV's Roots and Shoots.
The concept for Garden on a Roll came to Antony in 2009 when he was helping to plant a school garden. He drew circles and letters and numbers on the back of wallpaper to show the kids what to plant where.
A real 'planting by numbers' approach.
After a couple of years of product development and testing, Garden on a Roll was launched on QVC in 2011.
Since then they have been featured in a whole load of publications and even on Alan Titchmarsh's TV show.
Video below:
They have also won many innovation awards since launching and supply Homebase with their border kits.
Garden on a Roll Review
---
I'm going to tackle this Garden on a Roll review in two parts;
Their customer service
The products itself
Customer Service
When my friend, Ben, asked me to help him plant his new border, I asked him to email Garden on a Roll and ask some basic questions.
This was to see;
a) If they bothered to respond to emails, and
b) To see how long it took them
The reason we did this is that you'd be surprised at how many companies don't respond to basic questions. Despite that person having money to spend.
So, how did they do?
Well, Ben emailed them on the 20th March: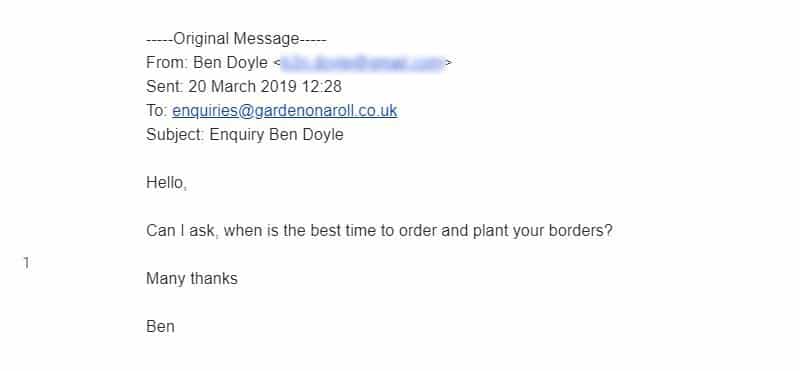 He got a response on the 21st which came with an apology for such a late response;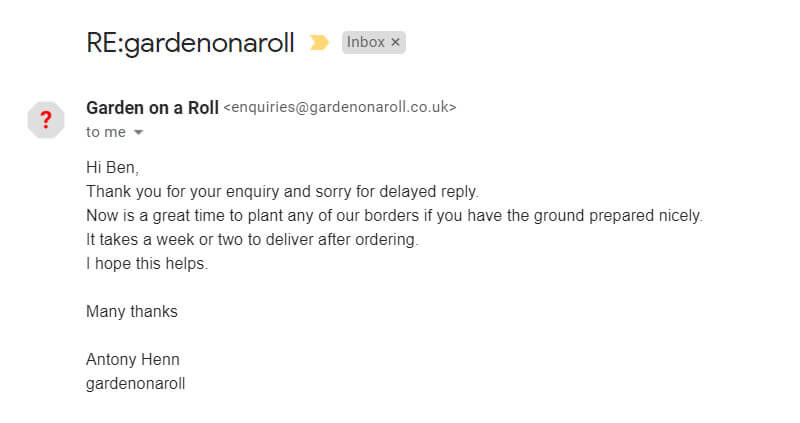 I didn't think was a late response at all considering how busy this type of company gets in the run-up to Spring.
The Order Process
We placed an order on the 25th March and the ordering process was very easy.
We chose the 'English Cottage Border'.
All we had to do was select the length and width, select whether the border was against a fence or could be seen from all sides. Then we selected what gloves and tool we wanted to include in our package. We opted for men's gloves and a cultivator;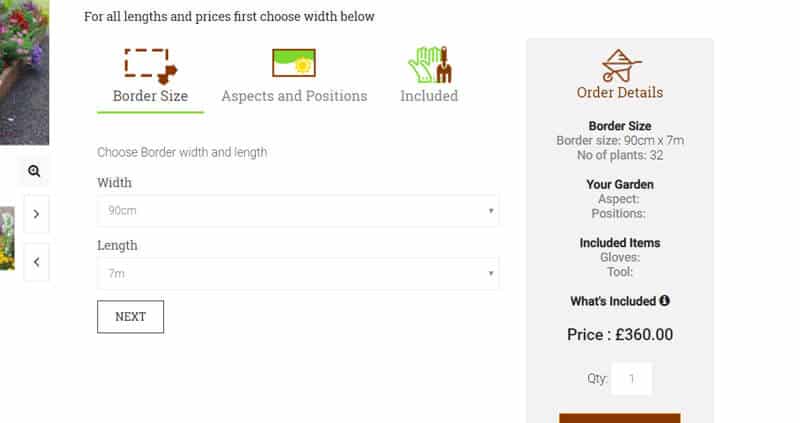 As you can see, our border was 7 meters by 90cm and the cost came to £360.
Within half an hour of placing an order, we received an email confirming delivery of the border on the 4th April;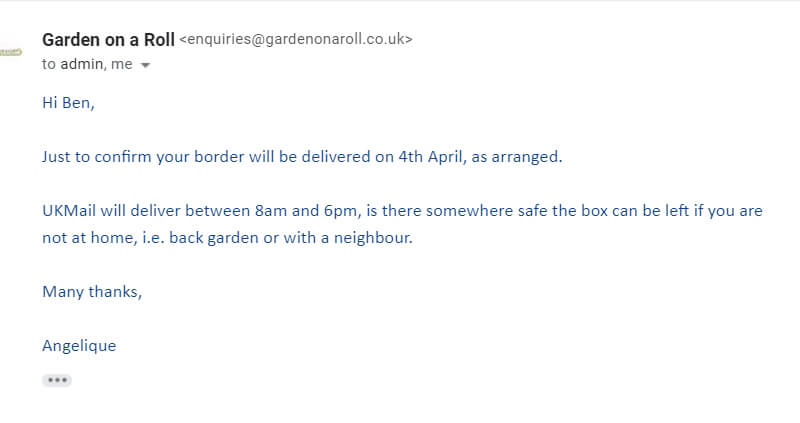 Two large boxes arrived on the 4th April as promised;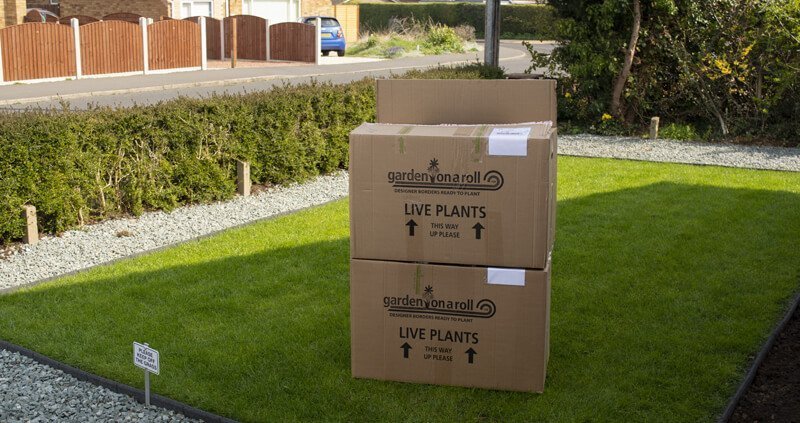 The whole order process was very straight forward, we couldn't really fault it.
The Products
I have to admit, unpacking the boxes was pretty exciting!
There are 32 plants which were very well packaged and all in good health;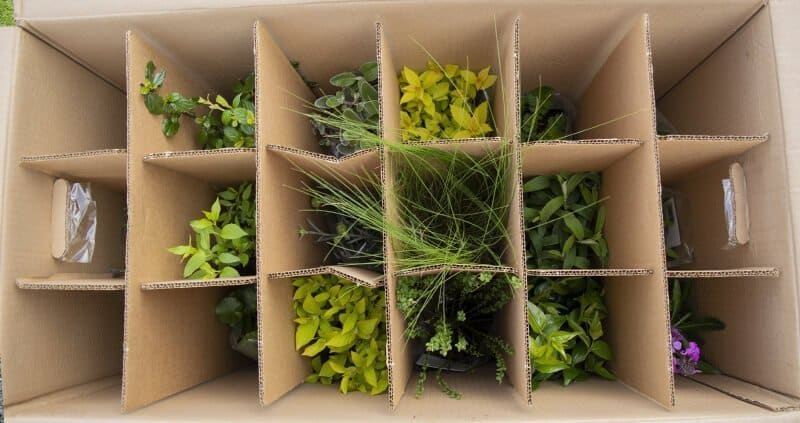 Also included in the package was;
The planting plan, designed by Antony and pegs
A simple planting guide
Our gloves and cultivator
A bag of fertiliser
We also received a kneeling pad and a pair of secateurs. We weren't expecting these to come so that was a nice surprise!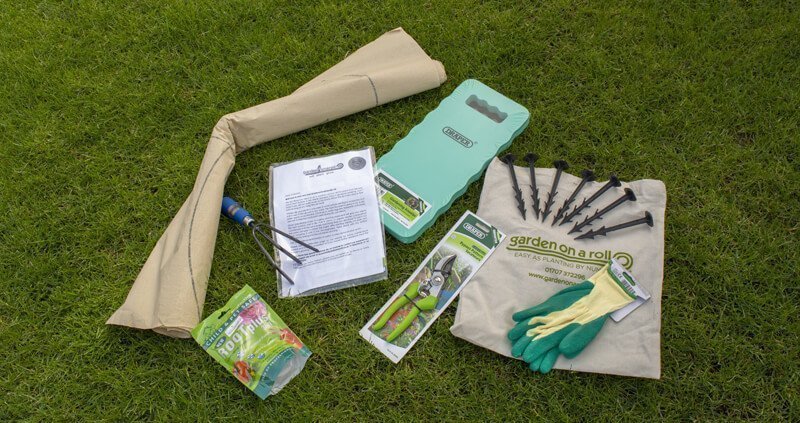 The tools weren't crappy cheap ones either, which would be easy to supply considering they're 'freebies'. They were all made by Draper which makes decent stuff.
A Cause For Concern
As luck would have it, the temperature dropped the day after delivery of the plants. We were concerned that some of the plants would die if we planted them now.
So Ben emailed Garden on a Roll to see whether we should acclimatise the plants to the weather.
Antony replied and told him to just get the plants in the ground. They're hardy enough to withstand the colder temperatures;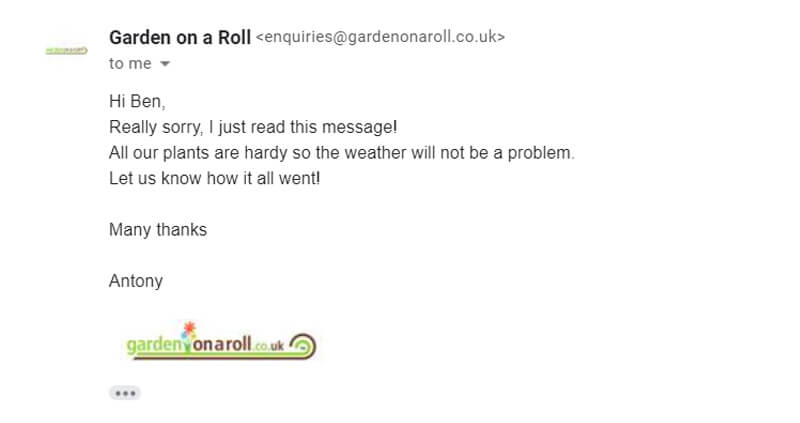 With that being said, we went ahead and planted the border.
Planting a Garden on a Roll Border
---
Planting a Garden on a Roll Border is a really fun process!
To start with, I prepared the soil which was fairly lacking in nutrients and quite hard. It had been under a weed suppressing membrane and half a ton of stone chippings for over a year so it needed some work.
I dug it over and added 6 x 60-litre bags of Westland Multi-Purpose Compost with added John Innes.
We probably didn't need this much but it was there, so we used it.
At the same time, I removed any large stones and raked it fairly level. The result was a nice dark border that was rich in organic material;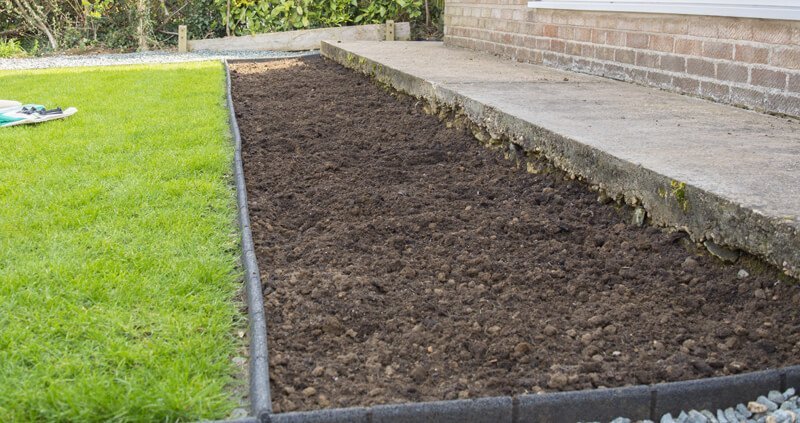 With the soil prepared, we laid out the planting the scheme that Antony had designed and pegged it to the ground.
Then we positioned the plants.
Each plant has a letter or number stuck to the pot. All you have to do is find that letter or number on the plan and match them together.
Within 10 minutes we had our border laid out;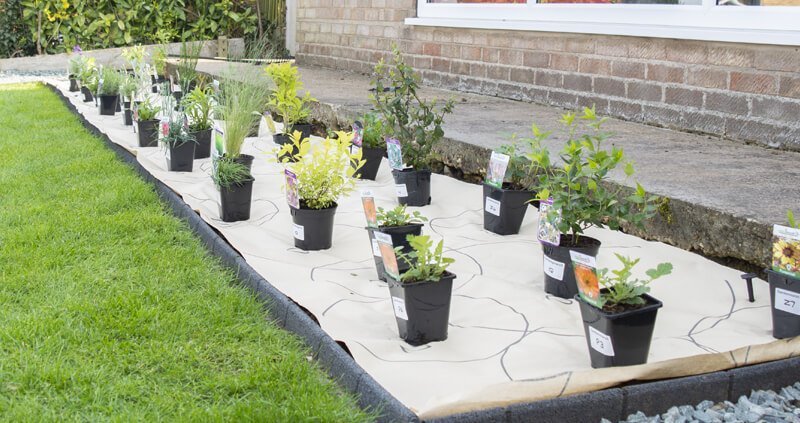 Once we knew where all the plants were to be planted, we cut holes in the bio-degradable paper, dug a hole in the soil and planted the plants.
We then covered the paper in a couple of inches of compost and there we had it, a professionally designed and planted garden border;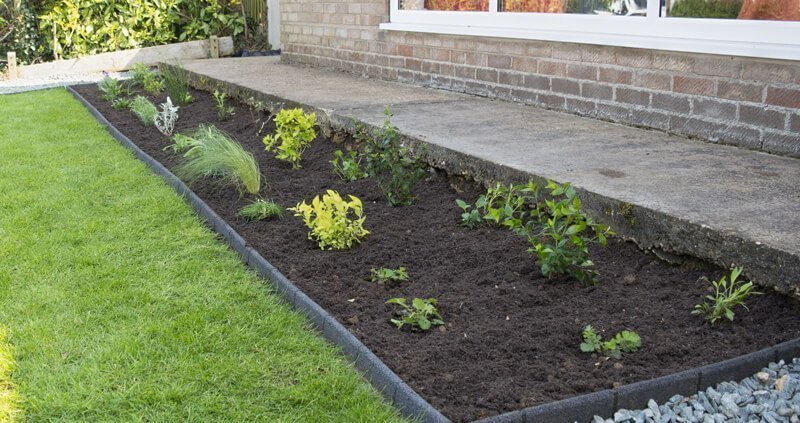 From preparing the soil to having a completed border took around two and a half hours. A good hour of that was preparing the soil.
Granted, it doesn't look that impressive now but give it a few months to a year and the plants will, grow, mature and explode with colour.
In theory anyway!
After Two Months
After two months I'm happy to say the plants have grown significantly and started to flower;
Overall, I'm really pleased with the way the border has started to develop and some the flowers are beautiful.
The only plant I'm slightly concerned about is the Stipa tenuissima, ornamental grass.
It's not as green as I'd like;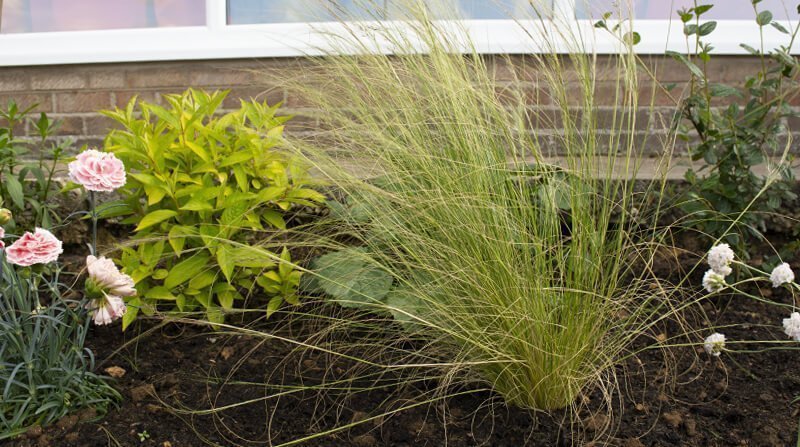 So I may replace it, we'll see how it goes going into next year.
My Overall Garden on a Roll Review
---
If you want beautiful garden borders but don't have the foggiest idea about what to plant where and with what other plants, Garden on a Roll gets my highest recommendation.
From our initial contact, to ordering, to delivery and planting, things couldn't have gone more smoothly.
Only time will tell how the plants perform and I'll keep this review updated and show you how things develop over the coming months.
What About You?
Have you used Garden on a Roll or a similar service?
Are you thinking of making a purchase?
If you have any questions or have something to say, leave a message below and I'll just in and join the discussion.