In this article, I'm going to show you (what I think at least) is the best electric lawn mower, or lawn mowers.
I've been cutting grass for more years than I care to count now and I've used everything from the big ride on mowers to more recently, robotic lawn mowers.
As you can imagine, I've used hundreds of machines which means I'm able to test and review all kinds of lawn mowers from a position of experience.
The words 'best electric lawn mower' means different things to different people. So I'm going to review several models, highlight the good points and the bad points about each one, and suggest when you might pick one model over another.
---
A quick comparison
Product
Image
Product
Details

Cobra MX46SPE

Self-Propelled

Works Well on Different Terrains

Collect, Mulch or Side Discharge

Bosch Rotak 34

Very good 1,300 Watt Motor

Very Easy to Use

Excellent Striped Finish

Bosch Rotak 32

Ticks the boxes for a small garden

Large grass box

Excellent reviews

Flymo Speedi-Mo 360

Very popular model

Handles Long Grass Well

Fairly Wide Cutting Width

Mountfield Princess 38

Very Comfortable to Use

Collect, Rear Discahrge or Mulch

Rear Roller For Striped Finish

Allett Sandringham 14E

Very High Quality

22m Power Cable

Leaves a Beautiful Striped Finish
The Best Electric Lawn Mower with Reviews
Here's a list of some of the best electric lawn mowers I found on the market:
1. Cobra MX46SPE - Ideal For Larger Lawns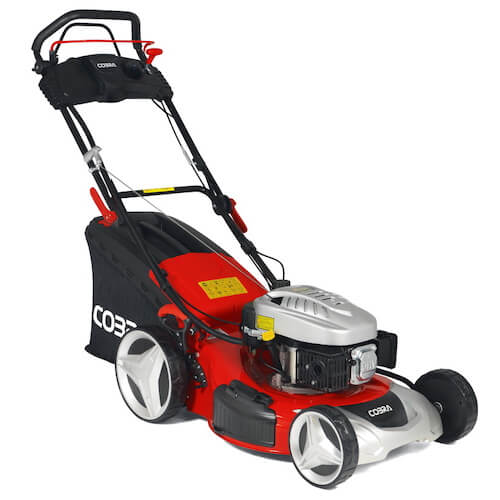 Motor: 1,800 watt;
Cutting Width: 46cm;
Grass Box Capacity: 60 Litres;
Weight: 31kg;
Cable Length: 15m;
Warranty: 2 Years;
Overview
If you're dead set on a corded electric mower for a larger lawn, the Cobra MX45SPE gets my recommendation.
Not only does it look like the racing car of the electric lawn mower market but it also comes with many features associated with more expensive models.
Sat atop the steel cutting deck is a powerful 1,800-watt motor that delivers enough torque to blast through long, coarse and wet grass.
It's a self-propelled lawn mower too which makes manoeuvring thet 31kgs of weight over uneven ground and up inclines pretty easy.
The 46cm cutting width combined with a massive 60-litre grass collector makes reduces the time it takes to mow larger areas.
The Cobra doesn't just collect grass clippings, you can also discharge long or wet grass from the side or rear. For more formal lawns, attach the mulching plug and mulch the clippings back into the turf.
You've got 7 cutting heights to choose from which go as low as 25mm and as high as 75mm.
For an electric mower, the Cobra MX46SPE is a beast and I have to say, I really like it.
The only thing that bugged me is the fact that the 15-meter power cord isn't long enough to tackle the size of lawn this mower is designed for without an extension lead.
---
2. Bosch Rotak 34 Electric Lawn Mower with Roller
Motor: 1,300 watts;
Cutting Width: 34cm;
Grass Box Capacity: 40 Litres;
Weight: 11.1kg;
Cable Length: 10m;
Warranty: 2 Years;
Overview
Bosch lawn mowers often find their way into my list of the best electric mowers and the Rotak 34 is another.
It's simple to unbox and put together and powered by a 1,300-watt 'PowerDrive' motor which delivers high torque to easily cut through long, wet and thick grass. This is combined with Bosch's 'Airflow Technology' which they claim ensures 99% collection of grass clippings.
I'd say that's a pretty accurate claim as the clippings get pretty well packed into the 40-litre collection box.
As well as the large grass box, the Bosch has a fairly wide 40cm cutting width and 6 height settings which range from 20mm to 60mm.
The Bosch also features grass combs which are designed to guide grass at the edges of the lawn into the cutting deck to reduce the amount of time spent tidying up the edges of the lawn with a grass strimmer or lawn edging tool.
The quality of cut is excellent too and the rear roller leaves a nice striped finish.
OK, it does feel a bit cheap as there's a lot of plastic on it but that also means it's lightweight, weighing in at a little over 11kg.
For the money though, I think the Bosch Rotak 34 a decent mower. It's easy to use, cuts well and leaves a very nice, striped finish to your lawn.
---
3. Bosch Rotak 32R Small Electric Mower with Roller - Budget Pick
Motor: 1,200 watt;
Cutting Width: 32cm;
Grass Box Capacity: 31 litres;
Weight: 6.8kg;
Cable Length: 10m;
Warranty: 2 Years;
Overview
Another Bosch on the list and this time it's a budget model – The Bosch Rotak 32 is excellent.
It's powered by a 1,200-watt motor which has the same 'PowerDrive Technology' as the Rotak 34 I reviewed earlier.
It weighs just 6.8kg so moving it around is so easy it's a joy, even around tight curves and sharp corners. Again though, its light weight comes down to the fact that it's very plasticy and as such it does feel cheap.
It has a narrow 32cm cutting width but considering the size of the machine, the 31-litre grass box is pretty impressive. Plus it has the grass combs and a rear roller which make light work of keeping the edges tidy. It handles bumpy lawns surprising well too, leaving a pretty decent finish.
That said, despite having a rear roller the striping effect it creates isn't great. Because this mower is so light, it doesn't really bend the grass enough on the shorter settings to create that effect.
If you cut the grass a little higher the effect will be more visible but still, it's not great. This only really matters if you like the striped finish though. If you're not bothered, then my comments are irrelevant.
For a small, light, cheap mower, the Bosch Rotak 32 is pretty good.
---
4. Flymo Speedi-Mo 360C Corded Lawn Mower
Motor: 1,500 watt;
Cutting Width: 36cm;
Grass Box Capacity: 40 Litres;
Weight: 11.5kg;
Cable Length: 12m;
Warranty: 2 Years;
Overview
If you're looking for a decent lawn mower that's easy to use, that'll cut a larger area and won't break the bank, then the Flymo Speedi-Mo 360 is a very good option.
It gives you 1,500 watts of power which should be plenty to slice through longer, damp grass and the 36cm cutting width means you can get through job quicker.
It weighs in at 11.5kg so it's easy to move around and the power cord is 12 meters in length. Chances are you'll still need to use an extension lead but 12 meters is better than 10, which is the standard.
You've got a 40-litre grass collector and 5 height adjustments. They range from 20mm for a more formal finish to 60mm when you want to have the grass on the high side. Adjusting the height is really easy with a single lever near the rear wheels.
The solid grass collector takes 40 litres of clippings and the mower does a good job of compacting them too so you get more in. This reduces the number of times you need to stop to empty it.
I have to say, I was surprised at how nice the finish was, even with the lack of a rear roller. The Flymo is built to be a low-cost machine so as you'd expect, it does feel a bit cheap.
Overall though, I think the Flymo Speedi-Mo 360 provides excellent value for money.
---
5. Mountfield Princes 38 Electric Lawnmower with Rear Roller
Motor: 1,600 watts;
Cutting Width: 38cm;
Grass Box Capacity: 40 Litres;
Weight: 13kg;
Cable Length: 15m;
Warranty: 1 Years;
Overview
If you want something a little more robust and/or with a few more features, take a look at the Mountfield Princess 38.
It both looks and feels sturdier than the Rotak 34 and it's a very nice mower to use.
The large rear wheels make it easy to manoeuvre and the handles are really quite comfortable.
It has a 38cm cutting width and 40-litre grass collector. The grass deflector flap has a window so you can see into the grass collector to check how full it is.
You can also choose from 6 cutting heights ranging from 25mm to 75mm.
There's an anti-scalp comb on the underside of the cutting deck. This not only prevents you from scalping any high spots on your lawn but it also directs air which aids in the collection of clippings.
That's providing you want to collect the clippings. If you prefer you have the option of discharging longer cuttings from the rear, or, for shorter grass, you can turn it into a mulching mower by attaching the mulching plug and put the clippings back into the turf.
And if you like a nice striped finish, the Mountfield Princess 38 has a rear roller which is very effective.
It also has a longer power cord than most corded mowers at 15 meters.
Overall, this is a cracking little lawn mower and has also made it onto my list of the best lawn mowers for medium-sized gardens.
---
6. Allett Sandringham 14E Electric Cylinder Mower For Ornamental Lawns
Motor: 420 watts;
Cutting Width: 35cm;
Grass Box Capacity: 32 Litres;
Weight: 28kg;
Cable Length: 15m;
Warranty: 2 Years;
Overview
If you have formal or ornamental lawns then you really need a cylinder mower and the Allett Sandringham 14E get my highest recommendation. For me, Allett make some of the top cylinder mowers in the game.
Powered by a 420-watt motor the Allett Sandringham is a self-propelled lawn mower which is a dream to manoeuvre and turn, despite its 28kg weight.
Now, compared to some of the other models on this page, 420 watts seems pretty low. However, when your mowing fine, ornamental grasses to lengths between 6mm and 32mm, anything more is a waste.
It features a 35.6cm hardened steel cutting cylinder with 5 blades that cut the grass like scissors instead of using a machete type action that you get from a rotary mower. This prevents the ends of the grass from becoming damaged and bruised. It also produces a more even cut. In fact, this machine will give you 88 cuts per meter.
The beautifully striped finish is achieved thanks to the front and rear rollers and behind the front roller, there's a spring-loaded rake which stands the grass up right before it's cut to produce an even finish.
The grass box will hold 32 litres of grass clippings which is more than enough for an ornamental lawn.
And unlike any other lawn mower on this page, it has a 22m meter power cord so it's rare that you'll need an extension lead.
If you own ornamental or formal lawns up to 150m2, the Allett Sandringham 14E has to be worth considering. The quality of cut is beautiful – by far the best on this page.
---
Why Choose An Electric Lawn Mower?
---
Why wouldn't you find the best cordless lawn mower instead of buying a machine with a power cord that you'll have to wrestle around the garden?
Well, there are a couple of reasons;
The first reason is budget.
Aside from push mowers, electric lawn mowers are generally the cheapest type of lawn mower you can buy. This makes them attractive to people with limited budgets.
That said, the very best electric mowers cost hundreds of pounds and cut grass beautifully. So they're not all 'cheap and cheerful'.
Secondly, traditional electric lawn mowers plug straight into the mains. They don't have a battery that needs charging before you use it. That's one less thing you need to do.
Not only that, the batteries on cordless lawn mowers deplete, sometimes cutting the mowing time shorter than the grass. Which means you'll either have to;
Recharge the battery so you can finish the job, which takes time, or
Buy another battery and keep that charged too, which costs more money
Just because most electric mowers are on the cheaper end of the price scale, it doesn't mean they're no good.
Why You Might Not Choose an Electric Lawn Mower
The main problem with electric mowers (and this is true for even the best hover mowers too) is that they're limited by the length of their power cables. If you have areas of lawns that are far removed from a power point, it'd probably be better to invest in petrol mower.
Not only that, but they can also be dangerous if you're not careful. People have died from electrocution after mowing over their lawn mower's power cord.
If this worries you, a cordless or push mower might be a better option.
In Conclusion
---
There are thousands of electric lawn mowers on the market and the fact is, I can't possibly review them all.
So what I've tried to do is to find and test certain products and use my experience. I've compared power, size, price, ease of use, build quality and reliability to select what I think are 6 of the best electric lawn mowers.
However, there are lots of excellent electric lawn mowers from brands I haven't mentioned in this guide, like Cobra, Hayter, Honda, Webb and Mountfield.
So use this article as a guide rather than a definitive 'this is the best electric lawn mower for you' type of article. What's good for me might not be the best for you so take your time and shop around.
Also read: Cordless Strimmer Reviews – Top UK Picks