In this article, we'll take a look at my tops picks for the best petrol lawn mower.
The term 'best petrol mower' means different things to different people, depending on their wants, needs and budget.
With that said, I've compared price, size, features, ease to use, and performance to bring you 7 of my top recommendations. So hopefully, you can find the best one for you.
---
A quick comparison
Product
Image
Product
Details

Hyundai HYM460SPE

Cheaper Alternative to the Hayter Harrier

High quality build

Six Height Adjustments

Hayter Harrier 48

Award-Winning Lawn Mower

Incredible Build Quality

Delivers a Beautiful Stripes

Einhell GC-PM 46S

Cheap, Self-Propelled Mower

Large 46cm Cutting Width

Robust Machine

Mountfield SP41

Excellent value for the money

Easy to Start

Leaves an Excellent Cut

Cobra M41C

One of the cheapest around

Well reviewed by users

Lightweight & easy to handle

Frisky Fox 20

Very Cheap

Well Reviewed by Users

Lightweight

Honda IZY HRG 466 SK

Very Reliable

Excellent Build Quality

Durable

Allet Classic 14L & 17L

British Made and Very High Quality

Ideal For Close Cutting

Leaves the Most Beautiful Striped Cut
The Best Petrol Lawn Mower with Reviews
Here's a list of some of the best petrol lawn mowers I found:
1. Hyundai HYM460SPE Petrol Lawn Mower
Engine: 139cc, 4-stroke;
Cutting Width: 51cm;
Grass Box Capacity: 70 Litres;
Weight: 43kg;
Warranty: 2 Years;
Overview
If the Hayter Harrier is too big and expensive, an excellent alternative is the Hyundai HYM510SPE.
It's similar in a lot of ways but it costs more than half that of the Hayter and has many of the same features.
As a medium size mower, it's ideal for those who have lawns to cut up to around 2000sq. ft (185sq m).
It's a self-drive, rotary mower powered by an ever so reliable Hyundai 139cc engine. It's also very easy to start with a push-button unlike a lot of cheaper petrol models with a recoil only instead.
The 46cm cutting width is plenty wide enough. It has six cutting heights which range from 25mm to 75mm. Adjusting the height is easy using the big lever to the left of the grass collector.
Talking of the grass collector, it weighs in at large 70-litres, making it suitable for medium to larger lawns.
The Hyundai HYM460SPE has 43 ways of dealing with grass cuttings;
It can collect it via the collection box/li>
You can remove it and discharge it out of the back
Discharge from the side or
You can use the mulching plug to mulch it and blow the tiny, nutrient-rich back into the turf.
The only downside to this model is that there is no roller, meaning you can not create a stripey finish to lawn… if that's important to you.
Other than that, it's one of the most popular petrol lawn mowers in the UK at the moment and that is reflected by large amount of happy users.
---
2. Hayter Harrier 48 Petrol Lawn Mower with Roller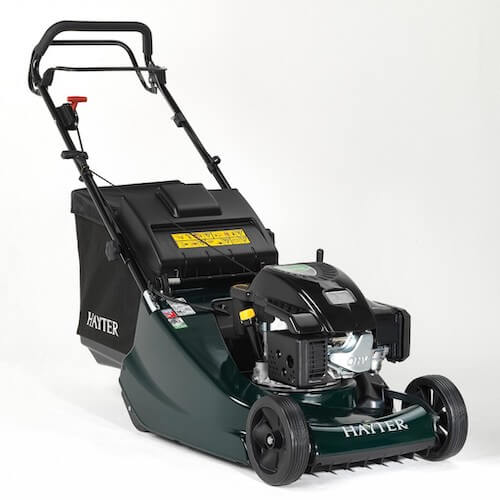 Engine: 163cc, 4-stroke;
Cutting Width: 48cm;
Grass Box Capacity: 70 Litres;
Weight: 44kg;
Warranty: 5 Years;
Overview
If creating the most vivid lawn stripes is important to you, the Hayter Harrier 48 is one of the best petrol mowers you can buy.
It's powered by a 163cc 675iS Briggs & Stratton engine making it ideal for large lawns. The electric start features ReadyStart® technology so it's very easy to get going. Just press the starter button and off you go.
It's quiet too thanks to a 'performance muffler' designed for low noise operation.
A 48cm cutting deck and massive 70-litre grass collector makes it suitable for medium to large lawns.
You've got 7 height settings to which you can adjust via a single lever. The heights range from 60mm right down to 13mm.
This mower is fitted with Hayter's 'AutoDrive' technology. The drive comes from the split differential, ribbed rear roller for better traction and turning. This is also what creates the striped finish that the Hayter Harrier is well known for.
Also, the cutting deck is wider than the wheelbase. This means you can mow right over the edges of your lawn without worrying about scalping it.
You can change the ground speed too between 1.8mph-3.3mph. This means you can set it to suit your preferred walking speed.
Plus, it has an easy wash port so you can attach your hose and spin the blades so it pretty much washes itself.
All this comes with the peace of mind of a 5-year warranty so you can be confident of excellent for many years.
For more detailed information, read my Hayter Harrier 48 Review.
---
3. Einhell GC-PM 46S Petrol Lawn Mower for Large Gardens
Engine: 139cc, 4-stroke;
Cutting Width: 46cm;
Grass Box Capacity: 50 Litres;
Weight: 34kg;
Warranty: 2 Years;
Overview
If you have a large lawn but still don't want to break the bank, the Einhell GC-PM 46S is a good choice.
Firstly, it's powered by a 4-stroke, 139cc Briggs & Stratton engine which better in longer, wet grass than the previous models.
It's a self-drive mower, driven by the rear wheels which can be disengaged if needed so you can use it like a push mower.
The cutting width is pretty wide at 46cm and 50-litre grass bag can tackle a large lawn without issue.
There are nine cutting heights ranging between 30mm to 80mm. The cutting height adjustment is made easy via the lever at the rear wheel.
It has a powder-coated steel deck too which makes it very robust and it's reassuringly heavy at 34kg.
The drive feature works well in the open but is a little quick when working in tight spaces. This is why you can disengage the drive from the rear wheels but it does it feel a bit heavy.
Overall though, it works well and this mower offers excellent value for money.
For more detailed information, read my full Einhell GC-PM 46 S review.
---
4. Mountfield SP41 100cc Lawn Mower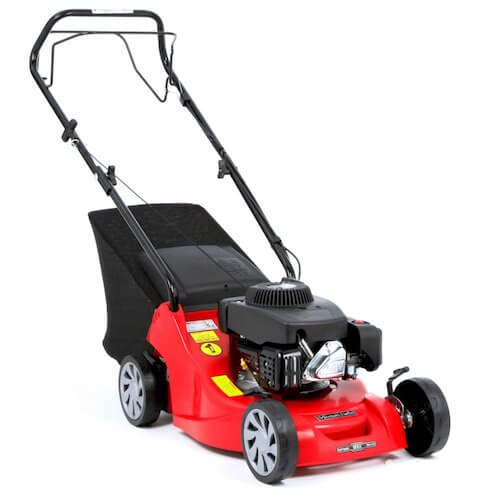 Engine: 100cc, 4-stroke;
Cutting Width: 39cm;
Grass Box Capacity: 40 Litres;
Weight: 20kg;
Warranty: 2 Years;
Overview
If you consider the best petrol mower to be easy to use, does a job well and reliable, all without breaking the bank, then the Mountfield SP41 is an excellent choice.
It feels reassuringly well built and is powered by a very reliable (and quiet) 100cc OHC petrol engine which started first time, every time in my tests.
The cutting width is 39cm and it has five cutting heights, ranging from 25mm-70mm. It's also a self-drive model which, to me at least, makes it perfect for lawns of up to 400sq meters.
How you deal with grass clippings is up to you. You can;
Collect them in the 60-litre grass collector
Rear discharge long grass
It's not perfect though. The self-drive is set to a single speed so you'll either have to keep up with it or slow down for it, depending on how quickly (or slowly) you walk. and it won't leave a striped finish.
That said, it is very well priced, very easy to use and leaves an excellent finish
For More Information, read my full Mountfield SP41 Review.
---
5. Cobra M41C Budget Petrol Lawn Mower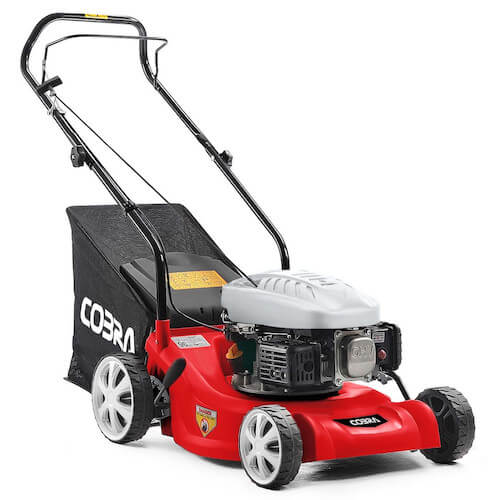 Engine: 98.5cc, 4-stroke;
Cutting Width: 41cm;
Grass Box Capacity: 50 Litres;
Weight: 19kg;
Warranty: 2 Years;
Overview
Whoever said petrol mowers had to be expensive?!
If you're on a fairly tight budget, then the Cobra MC41C gets my recommendation.
Of course, cheap products are rarely the best products and you can definitely say the same here because it's not perfect.
However, it's 98.5cc Cobra DG350 OHV petrol engine is easy to start and plenty powerful enough to tackle a medium-sized garden of up to 400sq meters in size, provided they're in semi-decent condition.
It has a 41cm cutting width and 7 cutting heights which range from 25mm-75mm. That, combined with the 50-litre fabric grass bag means you should be able to get through the job fairly quickly.
If your lawn resembles more of a paddock though, it'll struggle. It's just no powerful enough to cope with that kind of demand.
At 19kg it's lightweight and easy to manoeuvre too. Which is a good job because it's a hand push mower and lacks the driving features of other mowers in this list.
That being said, it's reliable, easy to use and the cut is better than I expected.
Another big benefit is that it comes with a 2-year warranty which is pretty much unheard of for a mower of this price.
---
6. Frisky Fox PLUS 20″ Petrol Lawn Mower
Engine: 173cc, 4-stroke;
Cutting Width: 51cm;
Grass Box Capacity: 50 Litres;
Weight: 35kg;
Warranty: 2 Years;
Overview
Granted, Frisky Fox might not be a brand that jumps straight to mind when looking for a petrol mower. However, trust me when I say, this mower is absolutely packed with features while still being very affordable.
Powered by a heavy-duty 5.5hp, 173cc Wolf 'Dynamic' 4-stroke OHV petrol engine, the Frisky Fox also gives you full control over the ground speed. That means you can cut the grass at a speed that suits you.
It also provides enough power to blast through tough, long or wet grass and the steel cutting deck gives you the confidence that it'll last.
With a 51cm cutting width and 50-litre grass bag, it's better suited for medium to large lawns.
You don't just have to collect the grass cuttings either. You can also discharge them from the side (good when mowing long grass) or mulch them back into the turf (to recycle the nutrients).
You can choose from 7 cutting heights which range from 25mm – 75mm and to top it all off, it comes with a lawn striper in form of a thick rubber strip at the rear of the machine.
OK, the striping effect isn't as good as you'd get with a rear roller but still, it works pretty well.
As I said, Frisky Fox isn't a name you'd think of when shopping for a petrol lawnmower but like I say, it's packed with features and comes in at an affordable price.
---
7. Honda IZY HRG 466 SK Lawn Mower
Engine: 160cc, 4-stroke;
Cutting Width: 46cm;
Grass Box Capacity: 55 Litres;
Weight: 32kg;
Warranty: 5 Years;
Overview
If you're in the market for a petrol mower that'll really stand the test of time, the Honda IZY HRG 466 SK is a cracker.
It's powered by Honda's GCV160 OHV, 4-stroke petrol engine which, like all Honda engines, has a reputation for incredible reliability.
It starts first time, every and just keeps going and going.
The mower itself is incredibly well built while at the same time, being light enough to manoeuvre easily. Of course, it's a self-drive mower that helps.
It features a powder-coated cutting pressed steel deck which is resistant to corrosion and UV abrasion.
Mowing features include a 46cm cutting blade in combination which will make light work of less than immaculate grass. This is combined with a large 55-litre grass collector and six cutting heights, ranging from 20mm – 74mm.
It is fairly expensive when compared to other mowers but in my opinion, it's definitely an investment worth making. As I said, it'll keep on keeping on for many years after other mowers break down.
For more information, read my full Honda IZY HRG 466 SK Review
---
8. Allett Classic 14L & 17L Petrol Lawn Mower For Ornamental Lawns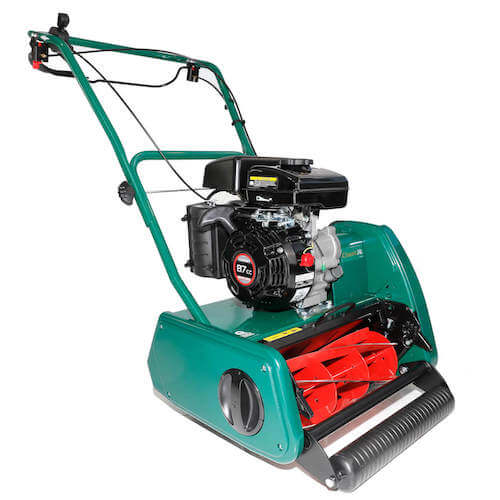 Engine: 87cc, 4-stroke;
Cutting Width: 35cm / 43cm;
Grass Box Capacity: 32 Litres / 40 Litres;
Weight: 38kg / 41.5kg;
Warranty: 1 Year;
Overview
If you have ornamental lawns that look like bowling greens, then a cylinder mower is the best type of mower for you.
Enter the Allett Classic 14L and Classic 17L. To me, Allett is the Rolls Royce of domestic cylinder mowers.
It's powered by a Loncin 87cc, four-stroke engine with recoil start. The engine is air-cooled to prevent overheating.
You have 5 cutting heights to choose from by turning the single dial on the side of the mower. You can cut as close as 6mm for a bowling green finish and as high as 32mm if you like a bold striped effect.
The 5 bladed cutting cylinder which delivers 66 per meter.
A nice feature of the Allett Classic is that the cutting cylinder is a 'Quick Cartridge'.
This means you can remove it for cleaning but also to replace it with a scarifier cartridge (sold separately).

The smaller Allett comes with a 32-litre capacity grass box and the larger, model has a capacity of 40 litres.
As you'd expect for the cost, this is a self-propelled mower, powered by the rear roller.
Speaking of rollers, the Allett has two. A polyethene roller on the front and a steel roller at the rear. It's these rollers that give your lawn the most beautiful striped finish
Like I said, I own an Allett Classic and I have to say, I love it.
Not only does it make my front lawn look incredible but it makes me look good doing it!
For more detailed information, read my Allett Classic Review.
---
Why Choose a Petrol Lawn Mower?
---
Like battery lawn mowers, petrol mowers have one big advantage over regular electric mowers and hover mowers. That's the fact that they don't have a cord that restricts them to a power source.
That said, cordless models rely on batteries that run out of charge.
As such, if you have a larger area to mow, a petrol lawn mower is your best option. It won't be restricted by a power cord or a battery that needs recharging. As longs as you've got petrol, you're good to go.
Also, if you need the power to get through long, thick or damp grass, petrol lawnmowers will give it to you. Cordless and electric models that have a tendency to cut out and give up when presented with that kind of challenge.
All that being said, petrol lawn mowers do come with their downsides too.
Related Read: Best self-propelled Lawn Mowers
When You Might Not Want to Choose a Petrol Mower
Firstly, compared to mechanical mowers and even electric and cordless models, petrol machines are noisy.
They can be heavy too. Although, some are self-propelling which means you don't need to push them. You just guide them in the direction they need to go in.
Still, a large petrol mower will cumbersome on small lawns where even a good push mower will do the job.
If you're not able to push a lawn mower around for whatever reason, you might even consider a robot mower.
However, if you have a lot of land, even a large petrol model might not be enough. In which case, you'd be better off investing in one of the best ride-on mowers.
Also, maintaining a petrol lawn mower is much more involved than maintaining other types.
For most lawn mowers, maintaining them just involves keeping it clean and keeping the blade sharp.
However, there's more to do with petrol machines.
For starters, with many petrol mowers, you need to change the oil after the first five hours of use. You'll also need to do it again after each season.
Then there's the spark plug and air filters which need changing from time to time.
On top of that, you'll need to visit the petrol station with your fuel can whenever it needs fuel.
Despite all this, petrol lawn mowers are still the best choice for many lawn owners.
In Conclusion
---
I hope you have found my list of petrol lawn mower reviews and buyers guide useful.
I have tried to choose the best petrol lawnmowers for different circumstances, for all applications and in a range of price brackets. This is what helped me narrow my top picks down to just 7 models.
However, the fact is that there are lots of really good petrol lawnmowers on the market from brands that I haven't even mentioned.
Like, AL-KO, Husqvarna, Cobra, John Deere etc.
So use this article as a guide and make your own decision. You might even choose a completely different model to the ones I have mentioned in this article.