Do you want to create a lawn that resembles the world-famous striped tennis courts of Wimbledon?
For a lawn that, you'll need a cylinder mower.
So in this article, we're going to look at the best cylinder lawn mowers for the job.
Now, the term, 'best cylinder mower' means different things to different people which is why we're going to look at 7 different models.
The main aim is to help you choose the best lawnmower for you and your lawn.
---
A quick comparison
Product
Image
Product
Details

Allett Classic 12E

Highly rated

Ideal for most lawns

Lightweight & manoeuvrable

Webb WEH12R

Large Grass Collector

Easy to Adjust Blade Cylinder

Creates an Excellent Striped Finish

Webb H30 'Autoset'

Very Easy to Use

Self Adjusting Blade Cylinder

Cuts Beautifully

Spear & Jackson 32cm

Very Cheap

Large Grass Collector

Front and Rear Rollers

Allett Sandringham 14E

Very High Quality

22m Power Cable

Leaves a Beautiful Striped Finish

Allett Liberty 43

For Lawns Up to 500sq Meters

Packed With Features

Cuts Incredibly Well

Allett Kensington 20K

For Large Lawns

A Feature-Packed Mower

A Very Popular Machine
The Best Cylinder Lawn Mower with Reviews
As I said at the beginning of this article, the best cylinder lawn mower means something different depending on who you ask.

As such, I've picked 7 models, based on price, power type, size and features.

You'll see that Allett dominate these results. That's purely because their cylinder lawn mowers are the best you can buy.

Hopefully, there is a model here to suit you and your lawn.
1. Allett Classic 12E Review - Best Push Electric Cylinder Mower
Power: Electric
Cutting Width: 30.5cm
Grass Box Capacity: 32 Litres
Self-Propelled: No
Weight: 21.7kg
Warranty: 1 Year
Overview
If your lawn is a little large for a push mower, or you want to step up your lawn care game, the Allett Classic 12E is a fabulous choice.
However, there is a significant jump in price.
That said, if you're serious about caring for your lawn, it's worth every penny.
Allett is a British company and manufactures some of the best cylinder mowers on the market. Both for domestic use and home and professional groundsmen football, rugby and cricket clubs.
The Allett Classic 12E is their entry model.
You can feel how well-made it is when you take it out of the box.
It's powered by a 340-watt motor, has a 30.5cm cutting width and 5 cutting heights ranging from 6mm – 32mm. Selecting the cutting heights is super simple thanks to the big red dial on the side.
Combine that with its 32-litre grass box and 15m power cord and you've got a lawn mower that'll cut medium-sized lawns beautifully.
The Classic 12E features a front and rear roller which produces beautiful stripes and it weighs in at 21.7kg which makes them even bolder.
And it doesn't just mow the grass. The cylinder blade can be swapped out for a scarifier cartridge. The scarifier cartridge is an optional extra but it does mean you can scarify your lawn without having to buy a scarifier.
If you're taking that next step and you want to get a bit more serious about lawn care without spending thousands on a cylinder mower, the Allett Classic 12E is a fantastic machine.
---
2. Webb WEHR12R Roller Hand Mower - Best Push Mower For Most People
Power: Manual
Cutting Width: 30cm
Grass Box Capacity: 18 Litres
Self-Propelled: N/A
Weight: 11.1kg
Warranty: 2 Years
Overview
If you're in need of a small lawnmower, the Webb WEH12R is a fantastic little machine.
Webb is a British company that produce high-quality products and this little reel mower is no different.
In fact, I own one of these myself!
Assembly takes just minutes and involves putting the handles together with the provided bolts and wing nuts. Putting the grass collector can be a little fiddly though.
While we're talking about the grass box, it'll hold 18-litres of grass clippings which is more than enough for a small lawn.
It features a 5 bladed cylinder that produces a stellar cut and when it needs adjusting, simply turn the two adjustment nuts and you're done.
Height adjustment ranges anywhere between 13mm – 23.5mm. Adjusting the mowing height is different from many other lawn mowers in that you do it by loosening the wingnuts and adjusting the height of the front roller.
Speaking of which, there are two rollers on this machine. There is a hard-wearing, zinc plated front roller and a large rear roller.
The rollers, combined with the 11.kg weight help this little mower create some of the best, striped finishes I have ever seen from a hand push mower.
---
3. Webb H30 'Autoset' Mechanical Lawn Mower - Best Budget Push Mower
Power: Manual
Cutting Width: 30cm
Grass Box Capacity: 17 Litres;
Self-Propelled: N/
Weight: 9.1kg
Warranty: 2 Years
Overview
For those with small lawns who don't want to blow the budget, the Webb H30 'Autoset' is a decent little cylinder mower.
It's dead easy to put together, you just need to attach the handles and for such a simple piece of machinery, it feels remarkably well built.
The 17-litre grass box needs no assembly as it's a solid piece of plastic which is very robust. Also, 17 litres in capacity is more than enough for a small lawn.
It has a 30cm cutting width and four height setting to choose from, ranging from 10mm to 40mm. Adjusting the height is also very easy.
A really cool feature of this mower is the 'Autoset' cutting cylinder. Every so often, a cylinder mower needs adjusting to make sure the blades cut properly. However, the blade cylinder is self-adjusting so you never have to worry about it.
At 9.1kg, manoeuvring this little mower is a piece of cake. That said, it's not really heavy enough to leave defined lawn stripes.
Speaking of which, the three-piece roller is also pretty useless for creating a striped finish. The three pieces are tiny and cover the whole width of the mower.
So don't expect to create a striped lawn with this mower, it won't do it.
That said, it cuts very cleanly and leaves a beautifully manicured finish.
---
4. Spear & Jackson 32cm - Best Cheap Electric Cylinder Mower
Power: Electric
Cutting Width: 32cm
Grass Box Capacity: 23 Litres
Self-Propelled: N/A
Weight: 13.5kg
Warranty: 1 Years
Overview
Trying to find a cheap electric cylinder mower that I could recommend in good conscience was really quite difficult.
Firstly because there are very few cheap electric mowers on the market, as soon as you add any form of power to a cylinder mower, they start to get expensive. Secondly, nearly all cheap models are utter rubbish.
The best one I could find is from Spear & Jackson, who, let's be fair, isn't a brand name you'd expect to see in a list of the best cylinder lawn mowers.
However, for a cheap electric cylinder mower, it's not bad.
Assembling it is easy enough although the grass collector is a bit of a pain. The handle has quick-release catches which make folding it down and storing it away dead easy. It even has a nice soft grip to make it comfortable to use.
The cutting width is 32cm and it has a 23-litre grass collector which is fairly big for a small lawn. That said, the cutting height ranges from 18mm – 38mm which is fairly high for a cylinder mower so chances are, you'll need 23 litres of capacity to hold the longer grass clippings.
It features a front and rear roller which will give you that striped finish and because it cuts on the higher side, the striping effect will be more prominent.
The mower is pretty easy to manoeuvre too. It only weighs 13.5kg so pushing it around is easy.
I would have liked it to be a little heavier as this would make the striping effect even bolder. But it's made from plastic which keeps it light and also makes it feel a bit cheap.
That said, it is cheap.
And as I said, for a cheap product, it's not bad at all.
---
5. Allett Sandringham 14E Review: The Very Best Electric Reel Mower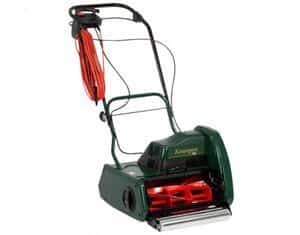 Motor: 420 watts
Cutting Width: 35cm
Grass Box Capacity: 32 litres
Weight: 28kg
Warranty: 2 Years
Overview
The Allett Sandringham 14E is the Classic 12E's big brother.
For the additional cost, you get self-propulsion, a wider cut, extra striping prowess and a longer reach.
It's a tank of an electric mower.
It's 420-watt motor and 28kg weight, combined with the front and rear rollers flatten the grass to create the best lawn stripes you can possibly get from an electric mower.
You might think that 28kg is a lot to push around but don't worry, it's a self-propelled mower, driven by the rear roller. This makes manoeuvring it, even around wavy lawn edging a piece of cake.
The hardened steel, 5 bladed cylinder provides a cutting width of 35.6cm and 88 cuts per meter.
Like the Allett Classic, there are 5 pre-set cutting widths to choose from ranging from 6mm – 32mm.
The grass box is 32-litres and you also have the option to buy the scarifier cartridge.
You should have plenty of range around your garden too as the power cord is 22 meters long.
---
6. Allett Liberty 43 Review - Best Self-Propelled Cordless Cylinder Lawn Mower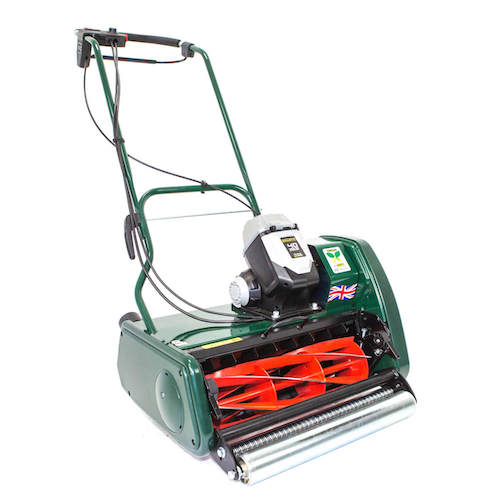 Power: Battery - Run Time: 40 Minutes
Charge Time: 100 minutes
Cutting Width: 43cm
Grass Box Capacity: 62 Litres
Weight: 38.5kg
Self-Propelled: Yes
Warranty: 2 Years
Overview
If you don't want to be restricted by a power cable, then the Allett Liberty 43 is an incredible machine for lawns of up to 500sq meters.
Expect to pay for excellence though, this mower isn't cheap!
It's the top model in Allett's Liberty range. They also produce the Liberty 35 and the Liberty 30.
The 410-watt motor is powered by a 10A 40V Lithium-Ion battery which gives you around 40 minutes of run time from a 100-minute charge.
The cutting cylinder has 6 blades which provide 79 cuts per meter and has a cutting width of 43cm. Plus 5 cutting heights which range from 6mm – 32mm, along with a massive 62-litre grass box.
For creating a beautiful striped finish, there are two rollers
A front roller, behind which sits a fixed grass rake to stand the grass up prior to being cut, and
A split rear roller with geared differential to make manoeuvring its 38.5kg weight incredibly easy.
As you'd expect, this is a self-propelled machine with variable speed controls which enables you to set it at a speed which you find comfortable.
The Allett Liberty 43 is also capable of more than just mowing the lawn.
It'll take any of Allett's additional cartridges (these cost extra) so you can; aerate, scarify, verticut or swap the 6 bladed cylinder for a 10 bladed upgrade.
This is an incredible lawn mower!
---
7. Allett Kensington 20K Review: Best Self-Propelled Petrol Cylinder Lawn Mower For Large Lawns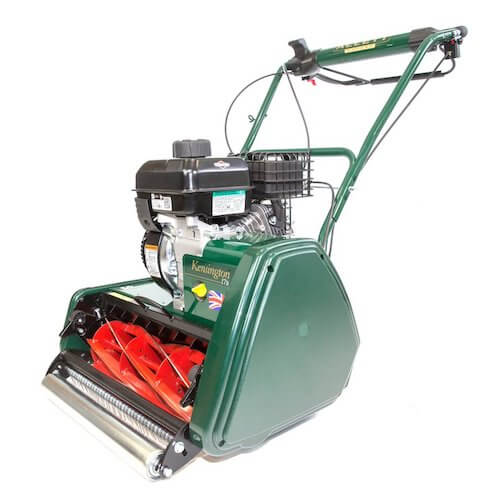 Engine: 98cc, 4-stroke
Cutting Width: 50.8cm
Grass Box Capacity: 70 Litres
Weight: 54kg
Self-Propelled: Yes
Warranty: 2 Years
Overview
If a cordless machine doesn't give you enough time to mower your large lawns, a petrol machine is your only option.
Enter the Allett Kensington.
It comes in three sizes;
The Kensington 14K has a cutting width of 35.6cm, the Kensington 17K has a 43.2cm cutting width, and the Kensington 20K has a cutting width of 50.8cm
It's one of Allett's most popular models and like the Liberty 43, it takes all of Allett's accessory cartridges. You can brush, scarify aerate, etc. so you can take care of all major lawn care tasks with one machine.
Powered by a 98cc Kawasaki engine with 'Easy Start' technology the Kensington is indeed very easy to start. It's also incredibly reliable.
The six-bladed cutting cylinder gives you 79 cuts per meter. The cutting height, like all of Allett's mowers, range from 6mm – 32mm. However, you can create micro-adjustments to the heights instead of just using pre-determined settings.
To ensure all of the grass blades are cut there is a tined rake which sits just behind the front roller. This stands the blades of grass up just before they're cut, ensuring a beautiful cut every time.
The whopping 70-litre grass box gathers all of the clippings.
And the two rollers ensure a perfect, classic striped finish.
The rear roller is where the self-drive comes from and it's also split with a geared differential to make turning and manoeuvring super easy.
Which is a good job, this beast of a mower weighs 54kg.
In my mind, the Allett Kensington has to be considered as one of the best cylinder lawn mower for large lawns.
---
Why Choose a Cylinder Mower?
---
If you dream of creating a lawn which resembles the world-famous striped tennis courts of Wimbledon, then a cylinder mower is your only choice.
Cylinder mowers are perfect closely cut formal and ornamental lawns.
Their horizontally mounted cylinder blades slice grass against a fixed bottom blade in a scissor-like action.
This produces a beautiful, clean cut.
Compare this to a typical rotary mower, even the best mulching mowers, which uses what is essentially a swinging blade which hacks at the grass. Similar to a machete.
The swinging cutting action of a rotary blade is much rougher on the grass doesn't cut nearly as cleanly as a cylinder mower.
If you look closely you'll often seed the tips of grass cut with a rotary mower are quite jagged instead of a nice clean, straight cut.
This causes significant stress to the grass, (especially if the blade is blunt) and is why you sometimes see the tops of freshly cut blades of grass turn brown. Which, let's face it, ruins the finish.
Not only that, but this stress makes the grass more susceptible to disease.
Cylinder mowers come in all power types too.
For small lawns, you can buy a hand push mower. If you prefer a powered version they come in electric and cordless models or for large lawns, there are lots of petrol versions available.
When NOT to Choose a Cylinder Mower
Cylinder mowers aren't for everyone though.
They only really perform well on level, already well-cared-for lawns.
If your lawn is bumpy, full of coarse meadow grasses or resembles more of a paddock than a lawn, don't even think about a cylinder mower. A petrol rotary mower, or, if you have lots of land, a good ride on mower would be a better fit.
You'll wreck it.
Another reason you might not choose a cylinder lawn mower is the weight.
Smaller, hand push mowers are fairly lightweight and easy to move around. However, cordless and especially petrol models can be heavy.
This weight is a deliberate feature and improves the striping effect of the grass and many also have self-drive features which make cutting the grass easy.
That said, you still have to the mower from the shed to the lawn in the first place. If you're not very fit and able-bodied, this can be difficult.
If moving a lawn mower around is a challenge for you, the best hover mowers feel very light because they float on a cushion of air. Or better still, the best robotic lawn mowers cut the grass automatically, without any input from you at all.
In Conclusion
---
If you really want a striped lawn that looks like Wimbledon's tennis courts, a cylinder mower really is your best choice.
You can create stripes with rotary mowers but they don't cut the grass anywhere near as cleanly as the best cylinder lawn mower.
Now, there are many more options than the ones I've listed in this article. However, I've tried to create a list based on the best cylinders mowers depending on lawn size, power type and budget.
So hopefully there will be something in this list for you.