In this article, I'm going to show you my top picks for the best garden vacuum.
I've tested and reviewed several models to compare design, features, build quality and cost to give you 6 of my top picks.
---
A quick comparison
Product
Image
Product
Details

VonHaus 3-in-1

Very Cheap

Easy to Use

Works Incredibly Well Given the Price

Black & Decker GWC3600L20

Well Priced

Quick to Charge

Selection of Power Modes

Q-Garden QBGV2500

Very Cheap

Easy to Use

Works Well When Leaves Are Dry

McCulloch GBV322

Well Priced

Easy to hold in One Hand

Particularly Good a Blowing

Echo ES-250ES

Easy to Start and Use

Made For One-Handed Use

Performs Brilliantly

Billy Goat KV601

Incredibly Powerful Suction

Picks Leaves, Small Branches and Litter

Brilliant On Lawns and Hard Surfaces
Best Garden Vacuum with Reviews
Here's a list of some of the best garden vacuums I found on the market:
1. VonHaus 3-in-1 Garden Vacuum - Best Value
Power Type: Electric 3,000 Watts;
Vacuum: Yes;
Blower: Yes;
Mulcher: Yes;
Bag Capacity: 35 Litres;
Weight: 3.5kg;
Warranty: 2 Years;
Overview
If you can stretch your budget by around a fiver, the VonHaus 3-in-1 leaf blower, garden vacuum and mulcher is a better machine than the Q-Garden.
OK, the collection bag is only 35 litres compared to the 45 litres of the Q-Garden but the VonHaus is better in all other departments.
It's powered by a 3,000-watt motor so clearing up leaves and other debris is quicker. And at 3.5kg it's almost half the weight too. It has a shoulder strap but also a set of wheels on the end of the blower tube so working for prolonged periods of time is very comfortable.
Working between the vacuum and blower is super easy by flicking the big orange switch. The VonHaus performs surprisingly well too, given its bargain price.
Its leaf blower function is impressive and when you switch it to vacuum mode it picks up leaves with ease. It even handles wet leaves fairly well and mulches them brilliantly.
That said, if you bury the nozzle in a pile of leaves it has a tendency to block as it sucks too many at once. But by keeping the nozzle on the outside of the pile I had no problems at all.
As an added bonus, it comes with a two-year warranty.
Again, if you have a massive area to clear, this Vonhaus 3-in-1 leaf blower might not cut it, mainly because you'll be limited by its 10-meter power cord.
However, for most regular-sized gardens it's a fantastic piece of kit. And it's not just me that thinks so, it comes very highly rated on Amazon too.
---
2. Black & Decker GWC3600L20 Cordless Garden Vacuum
Power Type: Cordless 36-Volt Lithium-Ion Battery;
Vacuum: Yes;
Blower: Yes;
Mulcher: Yes;
Bag Capacity: 17.5 Litres;
Weight: 4.9kg;
Warranty: 2 Years;
Overview
If you don't like the idea of being limited by a power cable and you don't want a petrol leaf blower, a cordless model is an excellent compromise.
The Black and Decker GWC3600L20 is powered by a 36-Volt 2.0Ah Lithium-Ion battery which takes around an hour to charge fully.
You have two power modes to choose from;
Turbo Mode – Works well for stubborn wet leaves stuck to the ground. You'll get around 20 minutes of run time.
ECO Mode – Which is perfect for lighter tasks and also gives you more run time.
At 4.6kgs it's pretty light and easy to use.
It also comes with two tubes; One has a narrower nozzle which is for blowing leaves and the other has a wider nozzle for sucking them up.
The collection back is also fairly small at 17.5 litres. That said, it mulches fairly well so 17.5 litres goes quite a long way.
The main downside is that it's just not that powerful. It's pretty good for light use when conditions are dry but because it lacks the grunt of even the cheaper, electric models in this list, it's pretty useless when leaves are wet.
Don't get me wrong, the Black and Decker is a decent cordless garden vacuum for light use in dry conditions.
However, if you don't want to be lited by a power cord but you want the power, take a look at my next picks.
---
3. Q-Garden QBGV2500 Garden Vac
Power Type: Electric 2,500 Watts;
Vacuum: Yes;
Blower: Yes;
Mulcher: Yes;
Bag Capacity: 45 Litres;
Weight: 6kg;
Warranty: 1 Year;
Overview
If budget is your main priority then the Q-Garden QBGV2500 has to be worth considering. You'll probably not recognise the brand but for the very cheap price, you get a lot of machine.
It's easy to assemble and use and at 2,500 watts, the motor is pretty powerful. I found it to be fairly lightweight too. It only weighs 6kg and it comes with a shoulder strap which makes it easier to swing side to side as you go.
It's a 3-in-1 machine so you can use it as a leaf blower or garden vac and it'll mulch the leaves too.
Switching from vacuum to blower is as simple as flicking a switch and I have to say, I was pretty impressed with its mulching capabilities. It creates quite a coarse dust which is perfect for mixing into the compost pile or soil to add nutrients.
Emptying the 45-litre bag is easy too. Just undo the zip and tip out the contents.
Naturally, though, there are a couple of issues;
Firstly, although the vacuum function works well when sucking up dry leaves, it's not great when the leaves are wet. It can either fail to pick them up at all and if it does, it has a tendency to block.
Secondly, the tube length is quite short so if you're on the taller side you might find yourself having to bend over slightly while using it. This might not sound like a big deal but it can be quite painful on your back.
Overall, if you have a fairly limited budget, a small garden, and you don't see yourself using a leaf blower or garden vacuum all that often, the Q Garden QBGV2500 is a decent machine.
However, if you have a larger garden which you intend to keep free of fallen leaves you might want to consider a different machine.
---
4. McCulloch GBV 322 VX Petrol Garden Vacuum
Power Type: 25cc 2-Stroke Petrol Engine;
Vacuum: Yes;
Blower: Yes;
Mulcher: Yes;
Bag Capacity: 45 Litres;
Weight: 4.25kg;
Warranty: 2 Years;
Overview
If you need the freedom of a cordless model and more power, a petrol garden vacuum is your best bet.
The McCulloch GBV322 is a decent, well-priced option.
Powered by a 25cc 2-stroke engine it'll blow up to 320km/h, making short work of blowing away even wet leaves.
Like the Black & Decker, changing it from a leaf blower to vacuum involves changing the tube. A benefit to this is that it stores away nice and compact.
That said, it's preferable to vacuum any leaves when they're dry or damp. Despite being more powerful than the cordless and electric models, I still found it had a tendency to jam when sucking up a lot of wet leaves, although it's simple enough to unblock.
Considering it has a petrol engine, it's surprisingly light at 4.25kg. I found it to light enough to hold in one hand, although it does get heavier the more you fill the 45-litre collection bag.
There are a couple of issues;
Firstly, I found it pretty to be pretty loud and secondly it vibrated a lot which made my hand feel like it was numb.
Overall, the McCulloch GBV322 is a decent garden vac for the money. Just remember though, it is fairly cheap so it's not perfect.
---
5. Echo ES-250ES Shred 'n' Vac Garden Vacuum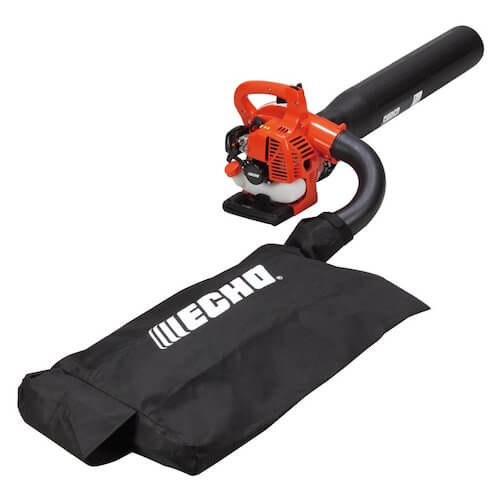 Power Type: 25.4cc 2-Stroke Petrol Engine;
Vacuum: Yes;
Blower: Yes;
Mulcher: Yes;
Bag Capacity: 45 Litres;
Weight: 5.6kg;
Warranty: 5 Years;
Overview
If build quality and performance are more important to you than cost, then the Echo ES-250ES Shred 'n' Vac is a fantastic machine.
And although it's more expensive than other machines on this list (around £250 at the time of writing), it still not overly expensive.
The build quality is exceptional which is reflected in the fact that it comes with a 5-year domestic guarantee.
It's very easy to start and use. It performs excellently as both a leaf blower or garden vac, even when the leaves are wet. And it'll mulch leaves are a ratio of 12:1, meaning you can pack loads of leaves into the collection bag.
The whole thing weighs 5.6kg and is designed to be used in one hand. All the controls are grouped together so you can get to them with your thumb. It also features a throttle lock so you don't need to keep the trigger pressed which often tires your hand.
When I tested this machine it didn't fail me once. It started every time, never blocked and it made quick work of tidying my garden.
Out of all of the models I've tested, the Echo ES-250ES Shred 'n' Vac that's still in my shed. For me, it's the best garden vac on this list.
---
6. Billy Goat KV601 Commercial Garden Vac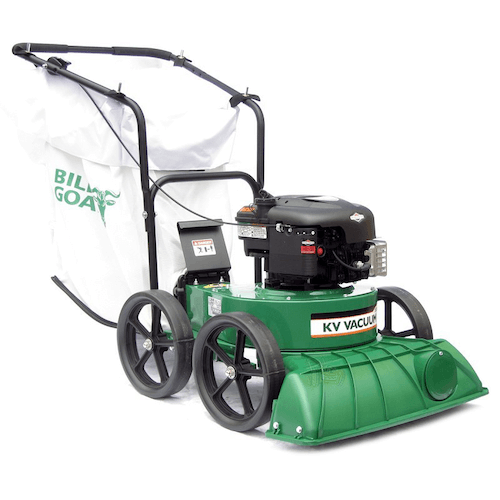 Power Type: 190cc 6hp Petrol Engine;
Vacuum: Yes;
Blower: No;
Mulcher: No; Bag Capacity: 151 Litres;
Weight: 53kg;
Warranty: 5 Years;
Overview
I should start by saying that investing in the Billy Goat KV601 only makes sense if you have large areas of lawn and lots of trees. It's far too big and much too expensive to use in regular gardens.
However, if you live in a manor house or stately home with lots of land then the £1,000 price tag makes much more sense.
It's a beast and is really more of a light commercial garden vacuum.
It doesn't convert to a blower and it doesn't mulch the leaves it collects. It purely acts as a vacuum at which it performs incredibly well thanks to the 6hp engine which generates enormous suction power.
And it doesn't just pick up leaves. This thing makes short work of twigs, small branches, mulch and litter. The front 'head of the vacuum is 27″ wide so it hoovers a decent area at once.
4 twelve-inch wheels make it suitable for most terrains too, including lawns and hard surfaces. That said, it's powerful enough to suck up stones off a gravel path so use it on these areas with caution.
The image above features a big green hose for reaching into flower beds, this is an optional extra so expect to pay more for it.
The collection bag holds 150 litres of leaves and debris. The redesigned bag is equipped with nautical fasteners instead of a zip which was prone to bursting when full of wet leaves.
As I said, the Billy Goat is more of a light commercial vehicle and that means it's built like a bit of a tank, weighing 53kg. That said, it's meant for pushing, not hand-holding so the weight shouldn't be too much of an issue.
If it is, you do have the option to upgrade to the self-propelled version.
It's fairly loud too at 88db so if you plan on using it for extended periods of time, it's advisable to wear some kind of ear protection.
But for large areas, the Billy Goat KV601 and/or its self-propelled big brother are among the best you can get for large areas.
---
Why You Need a Garden Vacuum
---
Clearing fallen leaves and light debris from your garden can sometimes be a monstrous task. Especially during the autumn when the trees are shedding their leaves.
It not uncommon to clear your garden of leaves on the morning only to find it's full of them again in the afternoon. It often seems to be an unwinnable battle.
Why it's Important to Clear Leaves From Your Garden
The National Wildlife Federation says you shouldn't collect fallen leaves. That you should let them stay where they fall as they provide mini-ecosystems for a whole range of wildlife.
This is true, and if you want to use the fallen leaves in your garden as a habitat for wildlife you most definitely can. By allocating an area in your garden for the leaves that you collect, you can clear most of the garden while keeping a bit back for the wildlife.
Still, there are several reasons why it's important to clear leaves from (most of) your garden and I'll cover the mains ones here;
They're Not Great For Your Lawn
It's not a good idea to leave fallen leaves on your lawn for a couple of reasons.
Firstly, worm activity increases during the autumn and the worms in your lawn will come up to the surface looking for food.
And fallen leaves are food.
The increase in worm activity near the surface of your lawn will mean you'll see more slimy worm casts in your grass. These casts are super fertile and they're actually good for your lawn.
That said, they make a terrible mess and can cause your lawn to become bumpy and uneven.
Not only that but if you live rurally, the increase in worm activity can cause an increase in mole activity because worms are moles primary food source. And having moles in your lawn can be a nightmare!
By clearing leaves from your lawn, you take away a source of food which, in turn, reduces worm activity. Then their casts will be less of a problem and you'll be less likely to have a mole problem.
The second reason is that fallen leaves can cause diseases like Rust or other problems like moss invasions.
This is because they cover the grass, trapping moisture and creating a perfect environment for fungal diseases and moss to spore.
They Block Gutters and Drains
Another reason for getting rid of fallen leaves from your garden is that they have a nasty habit of block gutters and drains.
Gutters and drains are designed to funnel rainwater and wastewater away from your house.
When they get blocked they can create all kinds of problems, including;
Gutter and drain damage which can be expensive to fix
Damp, which causes bacteria to multiply and mould to form which can be really bad for your health
Leaks which can cause damp and even structural damage to walls, windows and insulation
Foundational damage which can lead to subsidence
Granted, some of those examples sound a bit dramatic but they're a real danger.
All caused by a few fallen leaves.
They Can Cause Paths to Become Slippery
As fallen leaves become wet they start to break down and as they do this they can become very slippery.
This can become a safety issue, especially on inclines and also if you're not great on your feet as it is.
They Just Look a Mess
One of the big reasons why I like to clear fallen is because they ruin the look of my garden, they just look a mess.
I work hard in the spring and summer months to make my lawn look as beautiful as I can. I still want it to look it's best during the winter too.
They Make An Excellent Addition to the Compost Heap
As you can see, fallen leaves sitting and decaying in your garden can cause problems, safety issues, and on top of that, they look a mess.
But there's one place they're fantastic for, and that's the compost heap.
The best garden vacuums mulch leaves into tiny pieces as they suck them up. When you add them to the compost pile, they break down quickly, adding nutrients which you can then add to the soil in your flower beds and borders the following year.
Things to Consider When Choosing the Best Garden Vacuum For You
---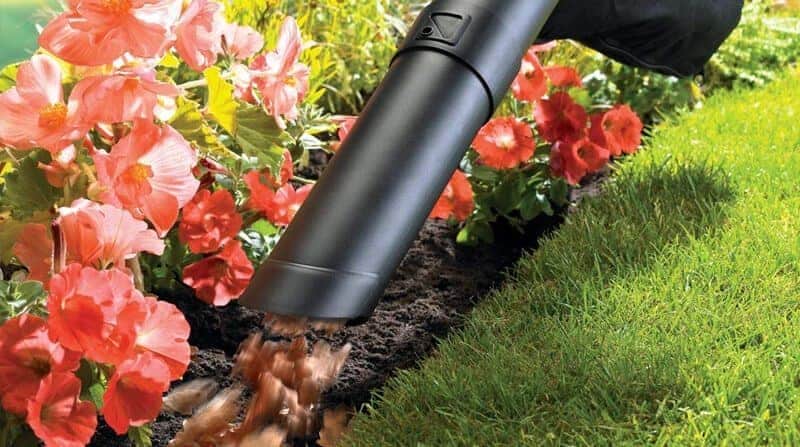 The term 'best garden vacuum' means different things to different people, depending on several factors.
Before you rush out and buy a garden vac it's worth taking the time to consider the following beforehand to make sure you buy the right model for you and your garden.
The Size of Your Garden
The size of your garden will dictate the type of garden vac you choose and therefore the budget you need to allocate.
For example, if you only have a small garden then in most cases, an electric garden vac will work well. Just remember though, electric models are limited by the length of their power cords so you might need an extension lead.
If you have a medium-sized garden and you don't want to be limited by a power cord, then choose a cordless model.
For larger areas, a petrol model is your best bet. Electric models are no good because of their power cords and the batteries in a cordless model are unlikely to give you enough run time (although you can buy extra batteries to get around this). They're also more powerful and will get the job done quicker.
Do you have acres of garden with lots of trees?
Then the only viable option is to invest in a wheeled garden vacuum which you push around like a lawnmower. They're driven by a petrol engine and capable of picking up hundreds of litres of leaves and light debris. Some are also self-propelled so you don't have to physically push them.
How Much Weight Can You Handle?
This is something which many people don't consider, only to realise they can't operate their chosen model because it's too heavy.
Most garden vacuums are fairly light but remember, cordless models are generally heavier than electric because they have a battery attached to them.
And petrol garden vacuums are generally heavier still because they're powered by an engine.
So consider the weight carefully.
Other Features
Some garden vacuums have other features built-in.
Many models allow you to switch between suction and blowing which is ideal if you have different types of surfaces in your garden.
For example, you wouldn't want to suck the leaves of a stoned or gravelled path. You risk sucking up stones and damaging your garden vac. By being able to switch it to blow, you can blow the leaves on stone pathways to your lawn when you can then suck them up.
It's also worth considering a garden vacuum that'll mulch the leaves as it hoovers them up. This has two big benefits;
Mulched leaves take up far less room in your garden waste bin, and
They break down much more quickly if you prefer to compost them
Your Budget
The old saying 'buy cheap, buy twice', is a true one. So it's always best to buy the very best you can afford.
But you also need to be realistic about what you can afford.
You can't buy a top of the range petrol garden vacuum for the price of a cheap electric version.
This sounds obvious but many people expect this.
If you need a top-spec petrol version, make sure you allocate the budget for it.
On the other hand, there's no need to spend hundreds of pounds on a petrol model when an electric version will suit you just fine. In fact, you may find you've got more machine than either you or your garden can handle.
Warranty
By law, all products must come with a statutory 12-month guarantee.
Some come with just that, others come with a 2-year warranty while others are covered by a 5-year warranty.
If the warranty is important to you, make note of how long you get before you buy.
In Conclusion
---
There are many garden vacuums available to buy, more than I can realistically review.
Some are excellent models that I haven't included in this list.
What I've tried to do is come up with the best garden vacuums based on price, features, ease of use, and performance.
So use this list a guide only and do your own research. You might find the best model for you isn't on my list.