Over the last few years, mulching grass cuttings while mowing the lawn has become more and more popular.
As a result, many of the best lawn mowers mulch grass clippings and leave them on the lawn to decompose and recycle those nutrients back into the turf.
And like other types of lawn mowers, there are hundreds to choose from. You can buy dedicate mulching mowers as well as regular rotary mowers that mulch.
So how do you pick the best mulching lawn mower for you and your lawn?
This article will (hopefully) steer you in the right direction.
---
A quick comparison
Product
Image
Product
Details

Stiga Multiclip 47 SQB

Very Well Built

Mulches Well

Leaves an Excellent Cut

Weibang Virtue 53 SMP

Incredible Build Quality

Super powerful to mulch through long grass

Mow Anything From Lawns to Paddocks

AL-KO 468P-A

Built Well

Mulch or Side Discharge

Well Priced

Mountfield Princess 38

Ideal For Small Lawns

Includes a Mulching Plug

Rear Roller For Striped Finish

Greenworks G40LM35K2

No Power Cord & No Fumes

Mulch or Collect Grass Clippings

Good For Medium-Sized Lawns

Ego Power LM2024E-SP

As Powerful as a Petrol Mower

Mulch, Side Discharge or Collect

Best For Larger Lawns

Mounfield SP535HW

Really Well Built

Mulch or Collect Grass Clippings

Very Well Reviewed By Users

Frisky Fox Plus Quadcut

4 Blades For Finer Cutting

Mulch, Side Discharge or Collect

Produces a Nice Finish
The Best Mulching Lawn Mower with Reviews
If you are not sure what type of mulching mower you need, then I recommended jumping to buying guide to find out more.

Here's a list of the best mulching lawn mowers I found on the market:
1. Stiga Multiclip 47 SQB Dedicated Mulching Mower - Best Value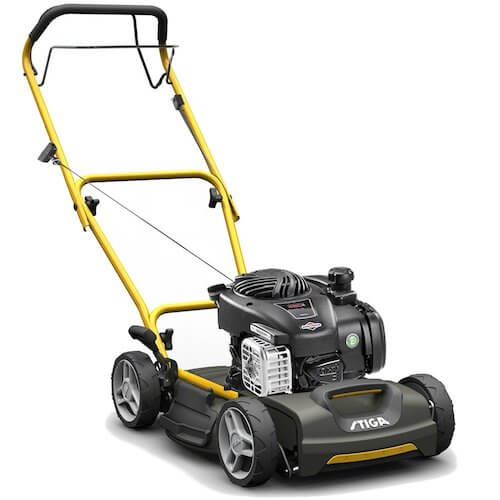 Power Type: 125cc petrol engine;
Cutting Width: 45cm;
Grass Box Capacity: N/A;
Weight: 26kg;
Self-Propelled: Yes;
Warranty: 5 Years;
Overview
Stiga makes some of the best mulching mowers out there and the Multiclip 47 SQB is a fantastic model.
It's built to last with its powder-coated steel cutting deck, ball bearing mounted wheels and Briggs & Stratton 450E Series 125cc engine. Which is very easy to start.
It's a self-propelled mower which is driven by the front wheels which, I have to say, does take a bit of getting used to. That said, when you do, it's incredibly manoeuvrable. It also makes the 26kg weight feel light as a feather.
The operator presence control is a nice safety feature which cuts power to the spinning blade when you let go of the handle.
Cutting long, rough grasses is easy too as the Stiga comes with 5 cutting heights to choose from 30mm – 80mm. The finish is excellent with the mulched clippings are barely visible.
Really the only downside for me is the fixed drive speed. At 2.5mph some might find it a bit quick. It would have been nice to have variable speed but then, that would add to the price.
Overall though the Stiga Multiclip 47 SQB is a brilliant mulching lawn mower which will serve you well for years. All backed up with a 5-year warranty for not as much money as you might think!
---
2. Weibang Virtue 53 SMP Self-Propelled Commercial Mulching Mower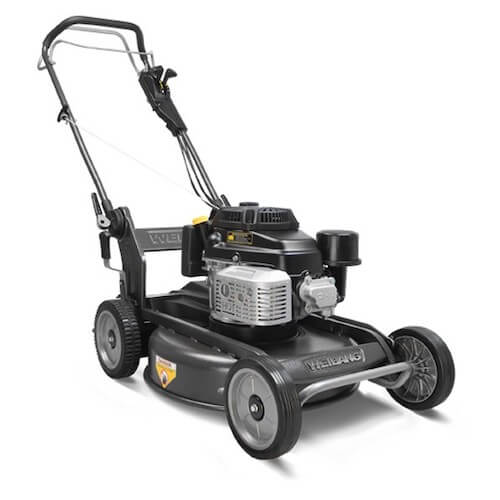 Power Type: Kawasaki 179cc FJ180 petrol;
Cutting Width: 53cm;
Grass Box Capacity: N/A;
Weight: 55kg;
Self-Propelled: Yes - 3 speeds;
Warranty: 5 Years;
Overview
If nothing but the best will do for you, then the Weibang Virtue 53 SMP is the mulcher mower for you.
It's bigger and more powerful than the Stiga in almost every way.
Powered by the very easy to start Kawasaki 179cc FJ180 petrol engine, it has the torque to blast through even really rough paddock grasses.
The engine sits on top of a deeply domed 53cm 13-gauge steel cutting deck which has a rolled lip for added strength. Under which resides John Deere's specially designed mulching blade which has 4 cutting blades to deliver the best mulching of any machine I've used.
It's completely smooth underneath too which makes cleaning it after use as easy as you could wish for.
As you'd expect, this is a brilliant self-propelled mower with 3-speed gearbox and self-propelled drive from 0.8 to 1.2 m/s. Which makes mowing across varying terrains smooth and effortless
There are 7 cutting heights, ranging from 15 – 76mm with single lever adjustments so no matter what condition the grass is in, there's a cutting height to suit.
Weibang are known for making premium garden machinery and they've brought all that build quality to this lawn mower.
Expect to pay for all that quality though. It's more than double the price of the Stiga.
---
3. AL-KO 468 P-A Mulching Mower - Cheap Pick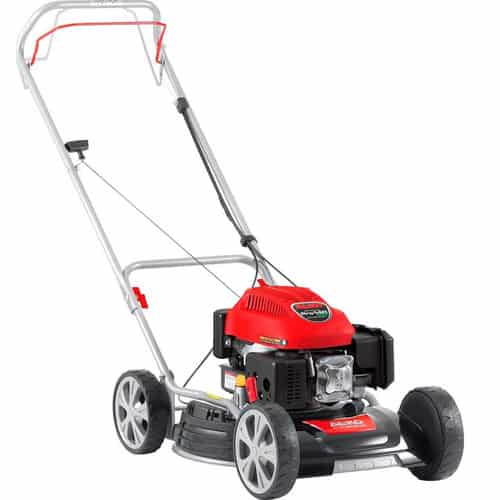 Power Type: 123cc petrol engine;
Cutting Width: 46cm;
Grass Box Capacity: N/A;
Weight: 26.4kg;
Self-Propelled: No;
Warranty: 5 Years;
Overview
If you really like the idea of a mulching lawn mower but you're on a smaller budget, the AL-KO468 P-A Bio Mulch is a good choice.
It's powered by Al-KO's own 123cc engine which uses QSS (quick start system) for easy starting while overhead valve technology increases performance and reliability.
As it's a cheaper machine it isn't self-propelled so you'll have to push its 26kg weight around yourself. That said, the wheels are mounted on ball bearings so it's smooth to push and easy to manoeuvre so the weight didn't bother me personally. Although it might start to feel heavy if you have to push it up inclines.
The ULTRAMOW steel deck and cutting width is fairly wide at 46cm and it has 4 height settings which range from 30mm – 85mm. As such, so it'll tackle large lawns with thick grass without issue.
It deals with grass clippings in two ways;
Regular mulching for regular lawns, and
Side discharge for cutting long, thick meadows and paddocks
Overall, I quite like this AL-KO mulching mower for medium-sized gardens. Although for larger lawns, I'd prefer to have self-drive.
---
4. Mounfield Princess 38 Electic Mower That Mulches
Power Type: Electric;
Cutting Width: 38cm;
Grass Box Capacity: 40 Litres;
Weight: 13kg;
Self-Propelled: No;
Warranty: 1 Year;
Overview
Dedicated mulching mowers are generally petrol-powered which makes them pretty useless for small gardens.
If that's the situation you find yourself in, then take a look at the Mountfield Princess 38.
It's a corded electric lawn mower that has a mulching plug attachment as well as a 40-litre grass collector. This means you get to choose whether you mulch or not.
Of course, the quality of mulch isn't that of a dedicated mulcher mower. However, if you cut the grass regularly, the clippings will be small enough to quickly decompose back into the turf.
It has a cutting width of 38cm and six cutting heights which range from 25mm – 75mm. And if you like a nice striped finish when you mow, it has a rear roller.
The power cord is a decent length too at 15 meters.
---
5. Greenworks G40LM35K2 Cordless Mulching Mower
Power Type: Cordless Electric;
Cutting Width: 35cm;
Grass Box Capacity: 50 Litres;
Weight: 15kg;
Self-Propelled: No;
Warranty: 1 Year;
Overview
If you'd rather not wrestle with a power cord, the Greenworks G40LM35K2 is a small cordless mower that mulches grass clippings via a mulching plug.
It mulches fairly well and for those times when you'd rather collect the clippings, it comes with a large 50-litre grass collector.
Powered by a 40v lithium battery, it'll give you 40 minutes of run time which is enough to cut a lawn up to 400sq meters.
You have five cutting heights to choose from between 25mm – 80mm so there's plenty of adjustment.
The whole thing is made of plastic so I must admit, it does feel a bit cheap. That being said, it makes it lightweight and easy to more around smaller gardens.
Again, when it comes to cordless mulching, choice is a bit limited but the Greenworks is pretty good.
---
6. Ego Power LM2024E-SP Mulching Cordless Mower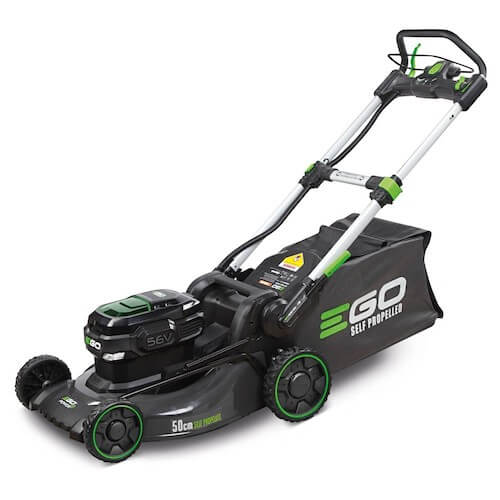 Power Type: Cordless Electric;
Cutting Width: 50cm;
Grass Box Capacity: 60 Litres;
Weight: 30kg;
Self-Propelled: Yes;
Warranty: 5 Years;
Overview
If you're into cordless technology but you need some bigger and frankly, better than the Greenworks, the Ego Power 2024E-SP is superb!
On top of the 50cm steel cutting deck sits a powerful 56v Lithium-Ion battery which packs the performance of some of the best petrol lawn mowers. Without the noise, fuel and fumes or problematic starting.
A single charge provides up to 60 minutes of run time, depending on the conditions of the grass you're mowing. The variable-speed motor delivers more power to the rotary blade when you face tough, coarse or wet grass and back it off when it's not needed.
Like all of the mowers in this article, the Ego mulches grass clippings.  Very well, in fact, considering it's not a dedicated mulcher mower. You can also side discharge long grass or collect it in the large 60-litre grass collector.
Cutting heights range between 25mm – 95mm which makes the Ego suitable for family lawns as well as unruly areas of grass.
And it's a self-propelled mower too so despite its size, it's very easy to handle.
If you're into cordless technology, the Ego Power range of lawn mowers is hard to beat.
---
7. Mountfield SP535HW Petrol Mower For Mulching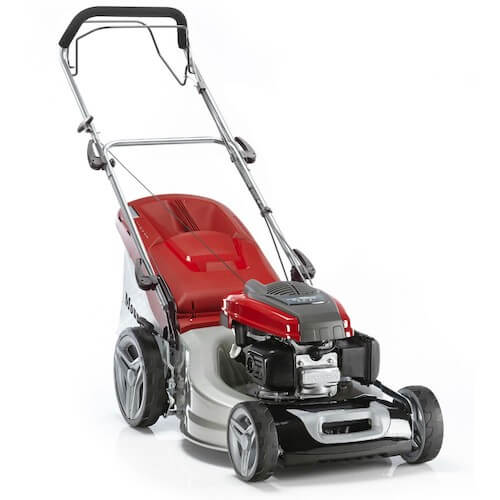 Power Type: 160cc Petrol Engine;
Cutting Width: 53cm;
Grass Box Capacity: 70 Litres;
Weight: 37kg;
Self-Propelled: Yes;
Warranty: 5 Years;
Overview
If you'd rather a petrol mower which enables you to bag grass clippings as well as mulch them, the Mountfield SP353HW is worth considering.
Sat atop of the 53cm steel cutting deck sits a Honda 160cc OHC engine which is not only very easy to start, but incredibly reliable too.
Combined with its wide 53cm cutting width it has a massive 70-litre grass collector so it's designed for those with fairly large lawns.
If your lawns are in good nick, it Mountfield does a very decent job at mulching the clippings back into the turf.
It weighs in at 37kg but the self-drive takes care of any issues with the weight. As a result, it feels light and manoeuvrable.
You have six height setting to choose from which range from 26mm – 87mm which is easily adjusted by a single lever.
For the safety-conscious, it also features operator presences control which stops the blade from spinning as soon as you release the handle.
It even has a hose connection for easy cleaning.
I have to admit, I really like this petrol mower!
---
8. Frisky Fox PLUS 20″ Quadcut Mulcher
Engine: 173cc, 4-stroke;
Cutting Width: 51cm;
Grass Box Capacity: 50 Litres;
Weight: 35kg;
Self-Propelled: Yes;
Warranty: 2 Years;
Overview
If you don't have the budget for the Mountfield, take a look at the Frisky Fox.
OK, it might not be a brand that jumps to mind when looking for the best mulching lawn mower but it mulches very well thanks to 4 blades inside the cutting deck which delivers twice the number of cuts than a regular mower.
If you decide not to mulch, you can either collect the grass clippings in the 55-litre grass collector or side discharge.
It has many of the features you'd get from more expensive models including variable speed self-drive, and if you like a striped finish, it'll do that too.
For the money, the Frisky Fox is excellent.
---
Difference Between Dedicated Mulching Mowers & Lawn Mowers That Mulch
Yes, there is a difference between dedicated mulching mowers and lawnmowers that mulch. Understanding it will better help you choose the right type of machine for you and your lawn.
Dedicated Mulching Mowers
The following video explains how dedicated mulcher mowers work:
Dedicated mulching mowers come in many types, from a typical mower style to the best riding mowers.
All robot mowers are mulching mowers by design.
Whichever format they come in, they have specially shaped rotary blades which double cut the grass into tiny pieces before depositing them back into the turf.
Because they're specifically designed for mulching, they don't have a grass collection bag.
Lawn Mowers That Mulch
On the other hand, some of the best rotary mowers, from regular to ride ons, mulch grass clippings.
However, not in the same way a dedicated mulching mower does.
They don't double cut the grass into tiny clippings. Instead, you fit an attachment called a mulching plug which simply redirects the grass clippings (which have only been cut once) into the turf instead of the grass collector.
Can You Use Other Types of Mowers For Mulching?
You can, but only if you mow regularly to keep grass clippings really small and cut the grass on dry days.
Golf course groundsmen use the best cylinder mowers to cut the grass on a daily basis. Because grass clippings are so tiny, they rarely use grass collectors, choosing instead to leave the clippings where they lie.
Also, some of the best hover mowers or manual lawn mowers don't have grass collectors. If you mow regularly with a hover mower, you can leave the clippings on the lawn.
So Which Type Should You Choose?
It depends.
Because dedicated mulching mowers lack a grass collector, it does take away a certain amount of flexibility in how you mow your lawn.
For example, if you have weeds in your lawn, you'll obviously mulch them too and potentially spread them all over.
If you had a mower with a grass collector you could collect the clippings and avoid spreading the weeds.
That said, the only way for a regular mower to mulch as well as a dedicated machine is if you cut the grass at least every 5 days, maybe every 3 days depending on quickly the grass is growing. That way the clippings will be tiny anyway.
So…
Choose a Dedicated Mulching Mower If;
You hate running back and forward to the green waste bin or compost heap
Your lawns are large and you can't dispose of the clippings
You consider yourself an organic gardener and you prefer not to apply chemical lawn feed
You don't want to cut the grass every couple of days
Choose a Rotary Mower That Mulches If;
You prefer to choose when you mulch or dispose of grass clippings
Mowing more regularly suits your style of lawn care
Choose Another Type of Mower If
You're happy mow on a very frequent basis
In Conclusion
---
I hope you have found my list useful in finding the best mulching lawn mower for you.
Remember, the best mulching mowers are dedicated machines which use special blades rotary blades. The downside to that is the fact that they don't have the option of a collection bag.
Regular lawn mowers don't mulch as effectively unless you cut the grass more often to keep the grass clippings small. The benefit is that you get the flexibility of collecting the clippings when you want to.
The type of machine you choose will ultimately depend on whether you place more value on the ability to collect clippings or the quality of mulch and the time savings that mulching provides.