If you have acres of land which is too much to handle with a typical lawnmower, then you're going to need to invest in a ride on mower.
Ride-on lawn mowers aren't cheap so it's worth doing your research before taking the plunge.
You need to make sure it does all of things you want before spending your money on the wrong machine.
I've written this article to show you what I think are the best ride on mowers, based on product testing and experience in the trade.
Not only that, but I've also written a buyers guide to help you understand if a sit on mower is the best choice of mower for you, the different types and other things you need to consider to make sure you buy the best ride on lawn mower for your needs.
---
A quick comparison
Product
Image
Product
Details

Snapper ZTX110

Turns On the Spot

Very Comfortable

Mows a Large Area Quickly

Mountfield 1530M

Very Well Priced

Packed With Features

Massive Grass Collector

Mountfield 827M

Well Priced

Very Manoeuvrable

Leaves an Excellent Cut

Lawnflite 76SDE Mini Rider

Tiny Turning Circle

Mulch or Side Discharge

A Joy to Use

Mountfield 1538M SD

A Lot of Mower For the Money

Mulch or Side Discharge

Easy to Use

Stiga Park 220

Best For More Formal Lawns

Under Hedges

Incredibly Manoeuvrable

Cub Cadet XT3QS127

Very Powerful

Lots of High-End Features

Does So Much More Than Cut Grass
Best Ride On Lawn Mower with Reviews
Here's a list of some of the best ride on lawn mowers I found:
1. Snapper ZTX110 Zero Turn Ride-on Mower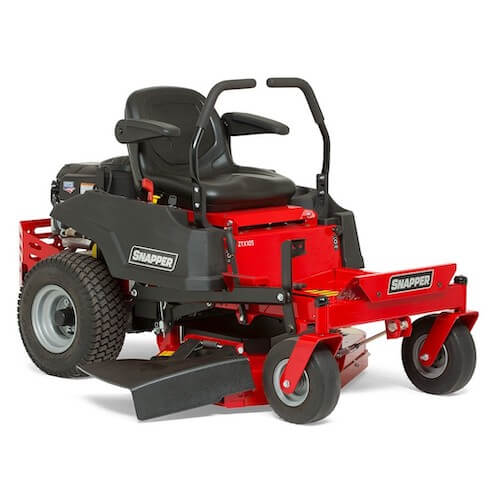 Engine: 656cc Petrol Engine;
Transmission: Dual Hydro-Gear;
Cutting Width: 107cm;
Grass Box Capacity: N/A;
Garden Size: 10,000m2;
Warranty: 3 Years;
Overview
If you have lots of lawn to mow, the Snapper ZTX110 will mow up to 10,000 square meters – quickly.
It's built like a tank and powered by a powerful Briggs & Stratton 7200-Series v-twin cylinder engine with key start. It starts first time, every time.
With dual hydrostatic transmissions and the fact that it's a zero-turn mower, it spins on the spot. So in terms of manoeuvrability, no other ride mower can match it.
The steering levers are perfectly placed and the very comfortable seat has armrests to reduce tiredness in the arms. When I tested it, I rode it for hours on end it was comfortable the whole time.
It's quick and cuts well to so you can cover a lot of ground quickly and negotiating obstacles is incredibly easy. I could zip around trees in seconds and realigning at the end of every run was very quick.
The cutting width is 107cm and you have 12 height adjustments which range from 42mm – 96mm. So you can mow family lawns as well as paddocks and meadows while discharging the clippings from the rear. That said, if you prefer a closer, more formal cut, 42mm might not be enough.
It can mulch or collect grass clippings but that comes as optional extras.
I have to say, of all of the ride on mowers I 've tested, I've had the most fun with the Snapper ZTX and it performed perfectly.
---
2. Mountfield 1530M Ride On Mower with Rear Collector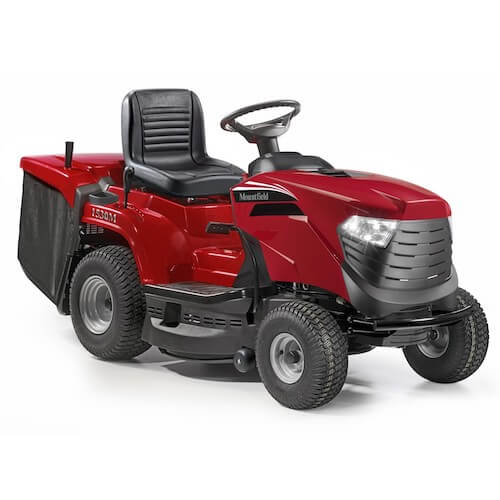 Engine: 452cc Petrol Engine;
Transmission: Manual;
Cutting Width: 84cm;
Grass Box Capacity: 240 Litres;
Garden Size: 5,000m2;
Warranty: 5 Years;
Overview
For lawns of up to 5,000m2, a smaller ride on mower probably won't cut it. In which case, you'd be better off investing in a lawn tractor and the Mounfield 1530M is a brilliant machine.
Firstly, despite its overall size, it's still narrower than most garden gate. It's driven by Mountfield's 452cc 7750 engine. Easy to start, smooth and quiet, it delivers the best performance in its class.
Getting on and off is super easy, thanks to its step-through design and while you're on it, it's a comfortable machine to use. It features a padded and very comfortable high-backed seat and all of the controls are exactly where you'd expect them to be in easy reach.
It has an 84cm cutting width which features twin blades for a smoother, more efficient cut than other models in its class.
You've got plenty of height adjustment too. You can lower it to 25mm for a more formal cut or for long, rough grass, you can raise it up to 80mm. The airflow created by the twin blades helps the collection of grass in the massive 240-litre grass collector, which beeps to let you know it's full. Another feature other models don't have.
The large wheels aid stability, no matter how rough the terrain and it handles well on slopes. Also, the rear wheels are larger than the front which creates a tighter turning circle. And it has powerful headlights which means you can keep on working, even when visibility isn't great.
The 5 gear transmission does take a little getting used to but once you're there, it's very good.
Overall, the Mountfield 1530M provides a lot of bang for your money. A fantastic machine.
---
3. Mountfield 827M Sit On Mower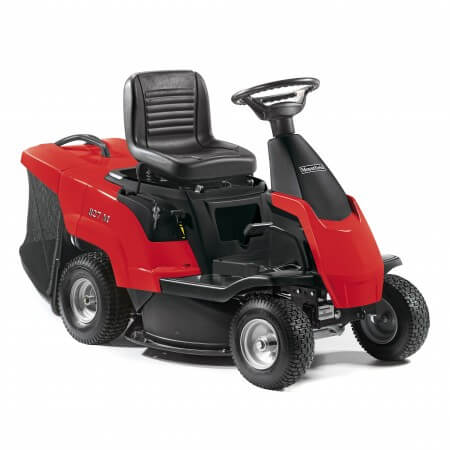 Engine: 224cc Petrol Engine;
Transmission: Manual;
Cutting Width: 66cm;
Grass Box Capacity: 150-Litres;
Garden Size: 2,000m2;
Warranty: 2 Years;
Overview
I'd say the Mountfield 827M is the best ride on mower for most people. It's well built and as far as price goes, it's on the more affordable end of the scale.
The hydrostatic transmission makes gives you excellent control over the speed and makes it very manoeuvrable in tight spaces. It's narrow enough to fit through most garden gates too, which can be a problem at times.
I found the new clutch could be a bit sharp at first but as it wears and you get used to it, it's a joy to use.
With the 66cm cutting width, six cutting heights which range from 30mm – 80mm and 150 litre grass collector, you'll be able you to tackle lawns of up to 2,000m2 in a relatively short period of time.
When it comes to emptying the grass collector, you can do it without getting off the machine. In fact, I tested it on a lawn which would take me three hours to cut with a petrol mower and it took just 30 minutes.
All the controls are within reach and I have to say, the seat is really quite comfortable. And when you're finished, cleaning the cutting deck is easy. Just attach a hose, spin the blades and it'll self-clean.
It will handle small inclines but because it's quite narrow, it creates a high centre of gravity. If you try to use it on steep inclines, you might run the risk of toppling it.
Overall, though, the Mounfield 827M is an excellent ride on mower.
---
4. Lawnflite 76SDE Small Rider Mower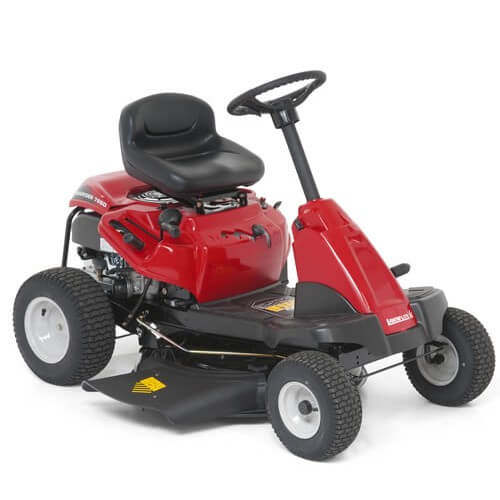 Engine: 402cc Petrol Engine;
Transmission: Transmatic;
Cutting Width: 76cm;
Grass Box Capacity: N/A;
Garden Size: 3,000m2;
Warranty: 2 Years;
Overview
For lawns of up to 3,000m2 were collecting and disposing of grass clippings could become an issue, the Lawnflite 76SDE mini-rider is worth consideration.
It's small enough to fit through most garden gates and its tiny, 46cm turning circle makes it incredibly manoeuvrable.
Powered by a reliable 11.6hp engine with electric start, it's easy to get going and the transmatic transmission allows you to choose a basic speed and then control it using the foot pedals without having to manually change gear.
With no grass collector, the Lawnflite is an ideal choice for lawns of up to 3,000m2 were collecting and disposing of cut grass can cause and issue.
For short grass, you can mulch the clippings back into the turf, allowing you to recycle the clippings back into the lawn. Or if the grass is long and wet, you can discharge it from the side.
If you'd like the option of collecting the clippings, you can buy a grass collector for it.
There are five cutting heights to choose from which range between 38mm – 95mm and the 76cm cutting deck floats and moves to follow the contours of the ground. This means you can mow the grass quickly without worrying about scalping areas of the lawn.
I have to say, the Lawnflite 76SDE is a joy to use and gets my full recommendation.
---
5. Mountfield 1538M SD Mulching Ride On Mower with Side Discharge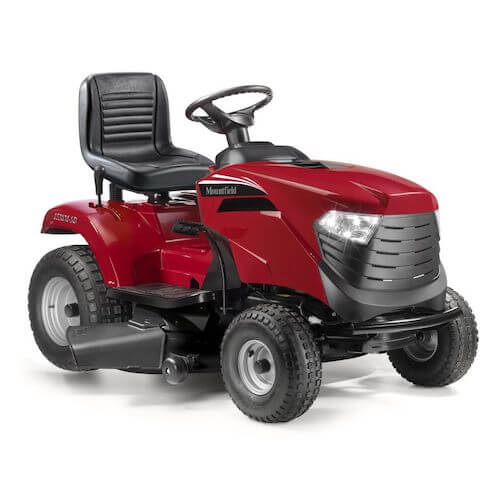 Engine: 452cc Petrol Engine;
Transmission: Manual;
Cutting Width: 98cm;
Grass Box Capacity: N/A;
Garden Size: 6,000m2;
Warranty: 5 Years;
Overview
If you have grassy areas that span an area of up to 6,000m2 (1.5 acres) and they contain paddocks or orchards, then the Mountfield 1538 SD is worth a look.
It's driven by the same engine and transmission as the Mountfield 1530M I reviewed above.
However, it has a wider cutting width of 98cm and lacks a grass collector. Instead, you can either mulch grass clippings when mowing formal lawns or side discharge longer, rougher grasses. This reduces the time it takes to mow large areas by up to 30%.
There are 7 cutting heights to choose from ranging from 25mm for more formal lawns and up to 80mm for rough or wet grass. The quality of the cut is very nice and the twin blades mulch the grass clippings very effectively.
Like other Mountfield ride-on mowers, it's an easy mower to use. The padded seat is comfortable and all the controls are where you need them in easy reach.
The reverse override safety feature does take a bit of getting used to if you've never had it. If you try reversing with the cutting blades engaged you'll need to press the reverse override button. If not, you'll stall.
It can be a nuisance but it's also an important safety feature so you'll have to get used to it. Once you do, pressing the override button becomes a habit.
Another excellent machine from Mountfield and it comes at a price which is hard to beat.
---
6. Stiga Park 220 Out Font Riding Mower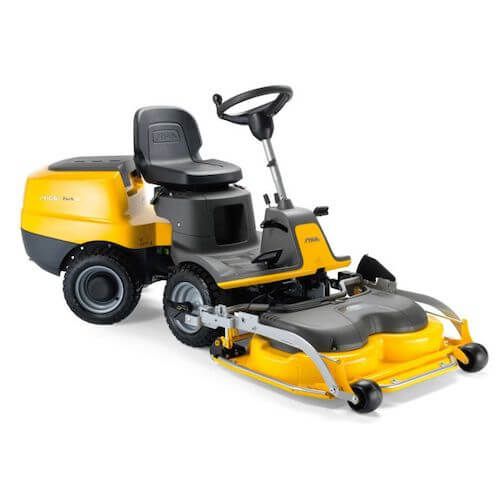 Engine: 344cc Petrol Engine;
Transmission: Hydrostatic;
Cutting Width: 95cm;
Grass Box Capacity: N/A;
Garden Size: 6,000m2;
Warranty: 3 Years;
Overview
If the shape of your lawns are awkward or free-flowing, you might consider an out front ride on mower like the Stiga Park 220.
The 414cc petrol engine with electric key start is a dream and being an articulated machine with rear-wheel steering, it's incredibly manoeuvrable. As such, it can cope with awkward corners and tight spaces where other, conventional ride-on mowers wouldn't.
The hydrostatic transmission also helps with its manoeuvrability.
And unlike traditional ride on mowers where the cutting deck is mid-mounted, the Stiga's is right out front.
This has three benefits;
You can follow your cutting line precisely
The grass isn't flattened by the front wheels before being cut and therefore the quality of cut is better, and
You can reach hard to mow areas with overhanging bushes or hedges.
And talking of the cutting deck, it has a cutting width of 95mm and features twin blades for excellent quality mulching. For long or damp grass you can also choose to discharge is from the rear.
With ten cutting heights ranging from 25mm for a mower formal cut up to 80mm for long or damp grass. And when you've finished mowing, a press of a button flips the cutting deck upwards so you can clean the underside.
I have to say, I loved testing the Stiga Park 220 and for more formal lawns, or oddly shaped lawns with tighter spaces, it's on of the best ride on lawn mowers I've reviewed.
---
7. Cub Cadet XT3QS127 Large Ride On Garden/Estate Tractor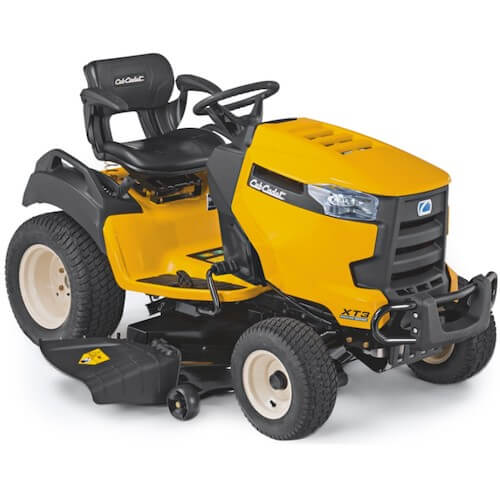 Engine: 726cc Petrol Engine;
Transmission: Dual Hydro-Gear;
Cutting Width: 127cm;
Grass Box Capacity: Optional;
Garden Size: 8,000m2 – 20,000m2;
Warranty: 3 Years;
Overview
For those with massive estates to look after, the Cub Cadet XT3QS127 is one of the most powerful domestic garden tractors you can buy.
Powered by a 726cc Kawasaki twin-cylinder engine, starting it is very easy with electric key start. This garden tractor will tackle the most difficult grasses and conditions you can throw at it. It also has the power to tow the heaviest attachments without even trying.
It's a monster that comes with so many high-end features, it's difficult to talk about them all.
But despite all that size and power, it's very nimble with a turning circle of just 38cm and hydrostatic transmission so it'll tackle tighter spaces without issue.
All the controls are nicely placed and the seat is super comfortable.
As standard, the Cub Cadet will mulch grass clippings or discharge them from the side. You can buy a grass collector but this comes as an optional extra but to be honest, if you own an amount of land which is vast enough to warrant investing in one of these machines, disposing of grass clippings probably isn't feasible anyway.
With a very wide 127cm cutting deck it'll mow large areas relatively quickly and its triple-blade system mulches very well. You can also offset the cutting deck so you can mow right up against walls and lawn edges.
There are 12 mowing heights to choose from. For more formal lawns it'll mow as low as 25mm. However, when you're tackling meadows and paddocks you can raise the height right up to 100mm.
To reduce fatigue, it comes with cruise control, an incredibly comfortable high-backed seat which has 10 height settings and ultra-light steering
And when the going gets tough the differential lock is there to provide all the extra traction you need.
The Cub Cadet is a beat of machine which does a hell of a lot more than just cut the grass. If you have more than 8,000 square meters of land, this has to be worth your consideration.
---
Do You Need a Ride On Mower?
---
Well, it depends on a couple of things;
How much land you own, and
Your budget
If you own a property with lawns of less than 1,000sq meters and you don't want to spend any more than £500 for example, then no, you don't need a ride on.
You'd be better off investing in the best petrol mower you can afford. Nowadays, the top rated cordless mowers rival petrol models for power and performance.
If you have large formal lawns, then, of course, nothing beats the best cylinder lawn mowers.
Or if you'd rather not cut the grass yourself, the best robotic lawn mowers can handle lawns of several thousand square meters.
However, if you own a few acres of land which you need to maintain then you really should invest in the best ride on mower you can afford.
The Different Types of Ride-On Lawn Mower
---
There are different types of sit on mowers. This often leads to confusion about which type is best for you and your lawn.
So if you're thinking to yourself, 'Which ride on mower should I buy?' Let me explain the differences.
Rear Engined Ride Ons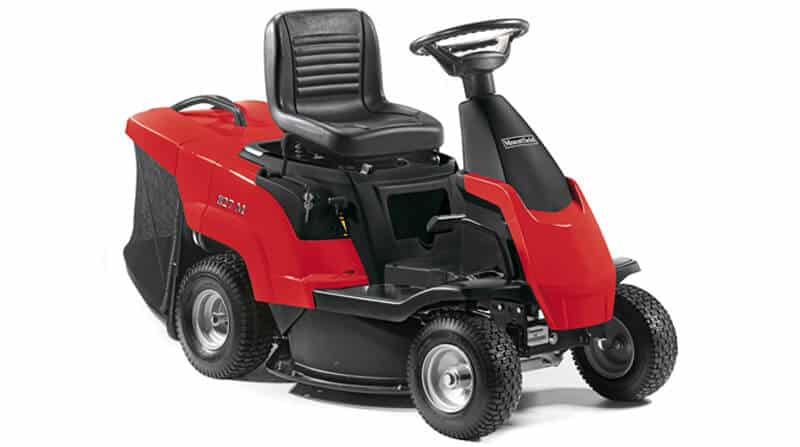 These are the most popular ride-on mowers and are designed purely for mowing large lawns.
Their cutting decks are usually mounted under the driver's seat and often have a large grass collector at the rear which is perfect for collecting wet or dry grass.
Rear Collect Tractors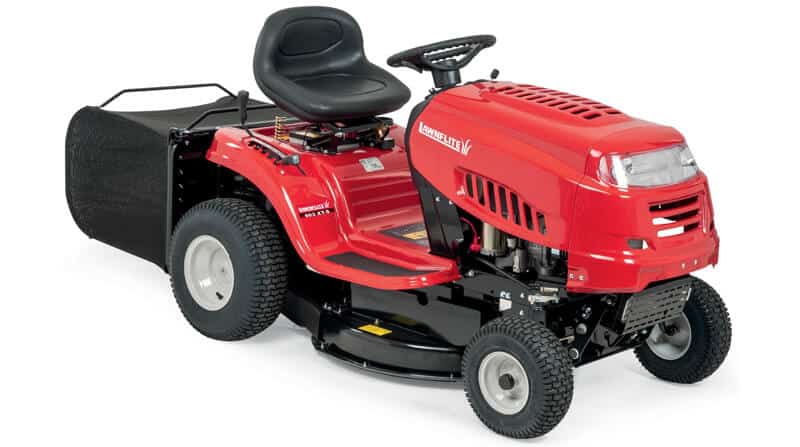 Also known as lawn tractors, these are best for maintaining larger areas of lawns and/or paddocks.
They range widely in power and capability with wide cutting decks. There is a range of drive systems available too, from geared to hydrostatic.
Front Cut Ride On Mowers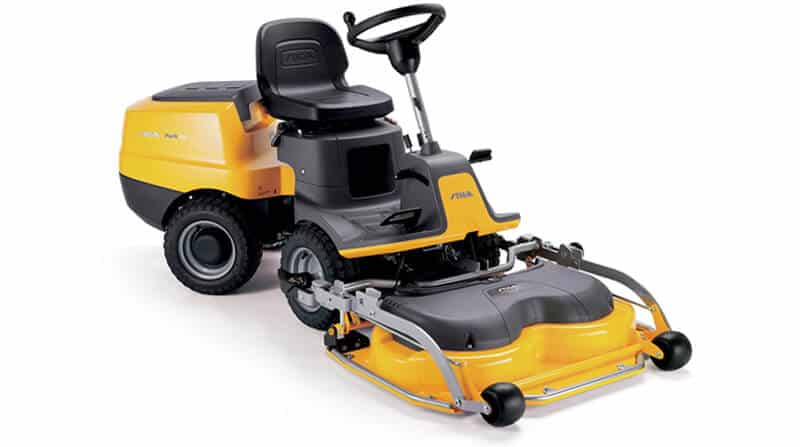 Also known as out front ride on mowers or sit on mowers.
They provide excellent visibility and because their cutting decks are out in front, you can cut grass under bushes and hedges. Most of these lawn mowers have mulching capabilities.
They're designed for large scale mowing with powerful engines and some come with four-wheel drive for challenging terrain.
Zero Turn Mowers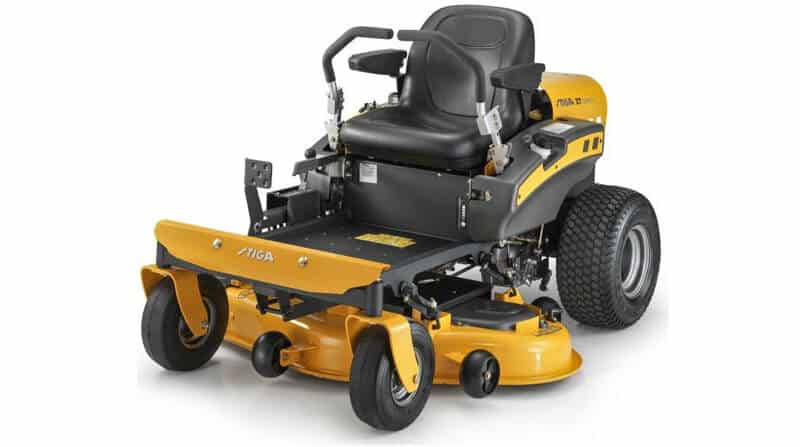 Zero-turn ride-on mowers are incredibly manoeuvrable as they turn on the spot so you can cut the grass in the tightest of areas.
Some have steering wheels but most come with levers or paddles which control forwards and backward as well as left and right. Nearly all come with hydrostatic drive to give the best speed control possible.
Garden Tractors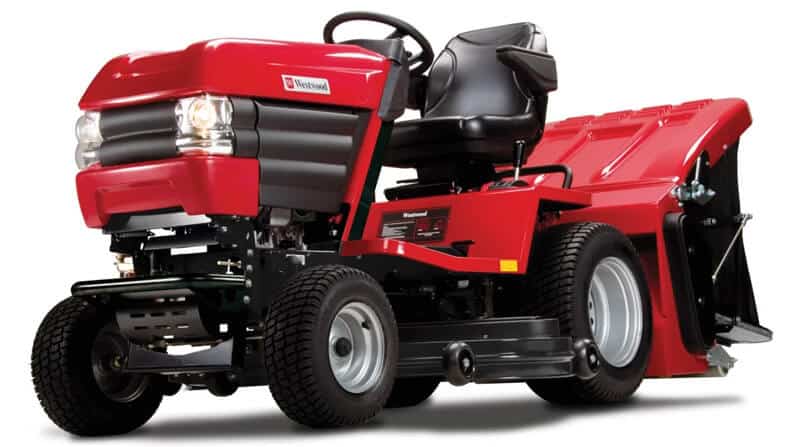 Also sometimes referred to as estate tractors, these are serious machines that bridge the gap between domestic machines and commercial agricultural tractors.
They're powerful, large scale machines capable of covering expansive areas of land. With large cutting decks, they not only able to cut grass, but are capable of other tasks like towing ploughs, cultivators, aerators etc.
In Conclusion
---
As daft as this sounds, when it comes to lawn mowers, many people aspire to own a ride on. To own enough land and have the money to buy one, for many gardeners is a sign that's they've 'made it'.
And I must admit, they can be really to use.
Ultimately though, the best ride on lawnmower is the one that does all the things you want it to at a price you can afford.
I hope this article has helped you some way in choosing the right model for you.