In this article, I'm going to show you what I think is the best robot lawn mower (or mowers, as I've reviewed a few).
Now I have to say, I love spending my time walking up and down my lawn cutting the grass. For me, there's something very therapeutic about it.
However, I'm well aware that not everyone is a lawn care nut like I am.
If there are a million other things you'd rather do than cut the grass and you'd rather let someone else (or someTHING else) do it for you, a robot mower might just be the answer to your prayers.
---
A quick comparison
Product
Image
Product
Details

Robomow RS635

Replace a Ride On Mower

Widest Cutting Width on the Market

Leaves an Exceptional Finish

Flymo 1200R

Easy to Use

Plenty of Safety Features

Very Quiet

Gardena Selino City

Simple, Intuitive to Set Up

Incredibly Manoeuvrable

Copes well with inclines

McCulloch Rob R1000

Simple and Easy to Use

Cheaper Than Other Mowers of This Size

Works Quietly

Husqvarna Automower 315

Handles Slopes Up to 40%

Smart Tech Adjusts Mowing to Growth Rate

Control Via Your Phone Through Bluetooth

John Deere Tango e5 Series II

Easily Handles Slopes Up to 36%

Handles All Kinds of Terrain

Works in Most Weather Conditions

Honda Miimo 520

Handles Slopes Up to 45%

Completely Waterproof

Set Multiple Starting Points
Best Robot Lawn Mower with Reviews
Here's a list of some of the best robot lawn mowers I found:
1. Robomow RS635 Pro SX Robot Mower - For Large Lawns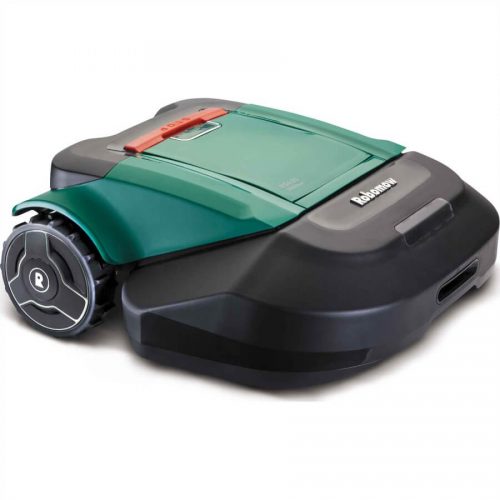 Maximum Lawn Area: 5,000m;
Run Time: 80 minutes;
Charge Time: 110 minutes;
Cutting Width: 56cm;
Slopes: 36%;
Weight: 20kg;
Warranty: 2 Years;
Overview
In my opinion, the Robomow RS635 Pro SX is the best robotic lawn mower for very large, undulating lawns with rough grass and heard to reach areas.
It's designed for lawns between 3,600m2 – 5,000m2 which is ride-on mower territory. However, it's cheaper to run, will save you hours of time, it's much quieter and far better for the environment.
When compared to other robot mowers, it's quicker and more powerful and its 56cm cutting width is the widest on the market. This means it can cut a lot of lawn in a relatively short period of time.
You get 80 minutes of run time before it heads back to its docking station to recharge before coming out again.
You can program it to mow the lawn at a schedule that suits you, there is a range of cutting heights to choose from and you can even control it from your phone via the Robomow App.
During my test, it didn't miss a beat. It was reliable, quiet and created a beautiful finish. For more information, read my full Robomow RS635 review here.
---
2. Flymo 1200R Robot Lawn Mower -Ideal For Most People
Maximum Lawn Area: 400m;
Run Time: 65 minutes;
Charge Time: 50 minutes;
Cutting Width: 17cm;
Slopes: 25%;
Weight: 7.4kg;
Warranty: 2 Years;
Overview
I have to admit, I've been quite critical of some of Flymo's lawn mowers in the past. Especially some of the hover mowers.
However, if you're looking for an affordable robot mower that performs well on medium-sized lawns, then the Flymo 1200R Robotic Lawn Mower is an excellent choice.
Firstly, it's one of the more affordable robot mowers on the market which is a big plus point.
It's easy to set up and program and covers a maximum lawn size of 400sq meters which will cover most 'average sized' gardens. It also handles slopes fairly and runs for around an hour before going back to its dock to recharge.
There are a reassuring number of safety features built-in which keeps your kids and pets safe.
And it's supremely quiet.
In fact, Flymo says you can use this at night and your neighbours won't even hear it.
For more information, read my full Flymo 1200R Review here.
---
3. Gardena Selino City Robot Mower - Ideal For Small Lawns
Maximum Lawn Area: 300m2;
Run Time: 65 Minutes;
Charge Time: 60 mins;
Cutting Width: 16cm;
Slopes: 25%;
Weight: 7.3kg;
Warranty: 1 Year;
Overview
There's a good argument against having a robot mower for small lawns. If you live a hectic lifestyle and you'd rather not task yourself with cutting the grass then the Gardena Selino City is well worth consideration.
It's very well built, has all of the safety features you'd expect.
Setting it up is very simple through its intuitive programming assistant that guides you through the programming and independently calculates a mowing plan based on the information you input.
Or, if you'd rather program it manually, you can do that too.
It'll work in any weather, copes well on inclines up to 25% and it's also one of the most manoeuvrable robot mowers on the market. Thanks to its swivelling rear wheel, it's perfect for complex gardens with small, tight, hard to reach areas.
The cut is excellent too.
Overall it's an excellent robot mower for small lawns.
---
4. McCulloch Rob R1000 Robot Lawn Mower - Entry-Level Mower
Maximum Lawn Area: 1,000m2;
Run Time: 65 Minutes;
Charge Time: 50 mins;
Cutting Width: 17cm;
Slopes: 25%;
Weight: 7kg;
Warranty: 1 Year;
Overview
The McCulloch Rob R1000 is an entry-level robot mower that's ideal for use on lawns that are up to 1,000 square meters.
If you feel 1,000 square meters is too big, they also make a smaller model for lawns up to 600m2.
As it's an entry-level model it's not rammed with flashy features although it does do all the things you'd expect from a robot mower.
Setting it up is straight forward, as is programming it to start mowing at the times you choose.
It easily handles slopes of up to 25%, leaves a nice finish and it works quietly.
The only catch is that it'll only mow in one zone so if you have multiple lawns that need cutting, choose another model.
Many robot mowers can handle multiple zones. That said, many other robot mowers are considerably more expensive.
Still, for the money, this is an excellent mower.
---
5. Husqvarna Automower 315 Automatic Mower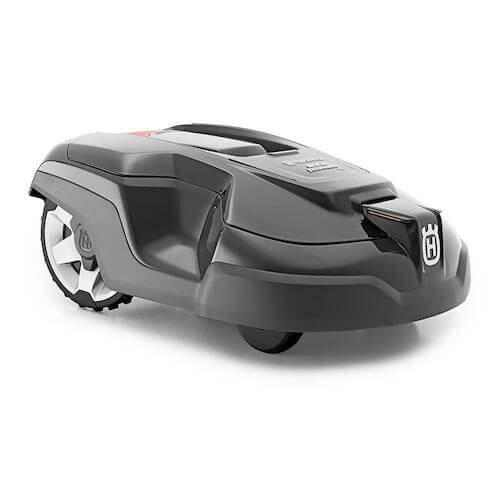 Maximum Lawn Area: 1,500m2;
Run Time: 70 Minutes;
Charge Time: 60 mins;
Cutting Width: 22cm;
Slopes: 40%;
Weight: 8.2kg;
Warranty: 2 Years;
Overview
Husqvarna is a big name in the lawn care industry and their Automower range are like the sports cars of robotic lawn mowers.
The Automower 315 is made for lawns of up to 1,500 square meters and can handle slopes of up to 40%. Which is pretty impressive.
Large wheels also mean it can cope well with uneven lawns too.
It has smart technology which changes the amount of mowing it does, depending on how quickly the grass is growing. This is a feature I haven't seen from other manufacturers.
Setting up is pretty much the same as most other robot mowers. You'll need to lay a perimeter wire and the menu system is pretty intuitive so it's not difficult, although it might take a bit of time.
You can connect it to your phone through Bluetooth and check and adjust settings, send start, stop and park commands etc. via an App.
It even has snap-on covers so you can change the colour if feel that way inclined.
---
6. John Deere Tango E5 Series II Heavy-Duty Robot Mower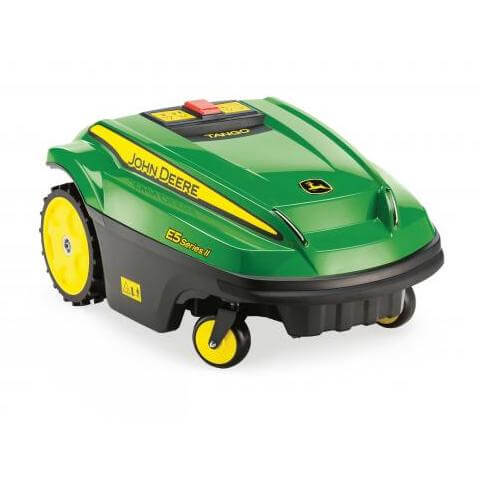 Maximum Lawn Area: 2,200m2;
Run Time: 90 Minutes;
Charge Time: 80 mins;
Cutting Width: 30cm;
Slopes: 36%;
Weight: 15kg;
Warranty: 2 Years;
Overview
John Deere is more known for manufacturing agricultural equipment. The Tango E5 Series II is the only robot mower they have produced.
That's not to say they haven't invested in it though.
They have built a very one of the best robot mowers you can buy for lawns up to 2,200sq meters.
It's built like a tank and can handle nearly any terrain and most weather conditions. It with slopes up to 36% with ease.
It has a unique star-shaped blade which cuts even the toughest grass without issue. And the cutting height ranges between 19mm and 102mm so it works beautifully on anything from manicured lawns to rough paddocks.
And unlike every other robot mower that requires you to have the docking station directly on the lawn, the Tango E5 has what John Deere call 'Corridor' Docking'.
This means the docking station can be placed 15 meters outside the perimeter wire so you can keep it hidden away, under a bush or under decking.
This is an incredible machine!
---
7. Honda Miimo 520 Robot Mower Incredible Build Quality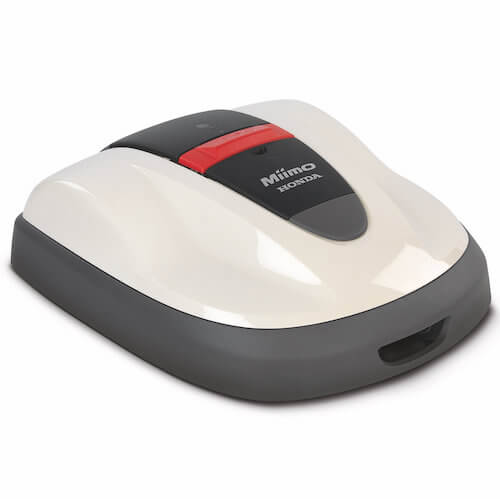 Maximum Lawn Area: 3,000m2;
Run Time: 70 Minutes;
Charge Time: 60 mins;
Cutting Width: 22cm;
Slopes: 45%;
Weight: 11.9kg;
Warranty: 2 Years;
Overview
There's always a good argument for investing in a Honda.
They have been at the forefront of robotics for years and if they can make their ASIMO robot walk, kick a football and carry things, they can make a robot cut a lawn without much trouble.
The Miimo 520 is a very well engineered robot mower that's capable of mowing lawns up to 3,000m2.
A 60-minute charge gives it 70 minutes of run time and it's waterproof so it'll keep going, even when it starts to rain. This also means you can give it a good hosing down every now and again without worrying about water leaking into it.
It has high levels of traction and grip which means it can handle fairly steep slopes of up to 45% and it won't get stuck on uneven ground.
The Miimo 520 can tackle even the most complex gardens. It'll navigate around ponds, features and narrow passages.
Most robot mowers start cutting the grass from their docking stations. However, with this machine, you can set up to 5 remote starting points so you can guarantee perfect coverage all of the time.
This is a smart mower that's built to last.
The only thing it lacks is the ability to connect it to your smartphone.
Considering what it costs, I expected it to have some kind of connectivity. If you want it, you'll need to invest in the Miimo 3000.
---
Why Choose a Robotic Lawn Mower?
---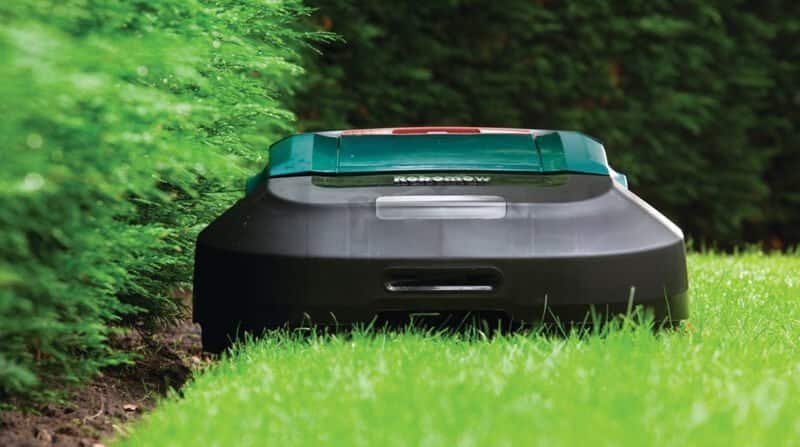 There are a few reasons for choosing a robot mower;
Firstly, and I kind of eluded to this in the introduction…
…If you hate cutting the grass and you'd rather let someone else or something else do it for you, then a robotic lawn mower is a dream come true.
Secondly, they save time.
The average person spends 9 hours every summer cutting the grass. If you have large lawns then this could be double, even triple.
A robot mower will give you this time back to spend in ways you prefer. The best robotic mowers are capable of mowing up to 5,000sq meters so the time savings could be pretty significant.
Thirdly, less able gardeners can struggle to push a lawn mower around, especially if they have large lawns. In this kind of circumstance, they're perfect.
And lastly, robot mowers are smaller than other types of lawn mower. That means they're easy to store. If you lack storage space, a robo-mower is a good option.
When You Might NOT Invest in an Automatic Lawn Mower
Of course, there are also cases when a robot lawn mower might not be the best investment;
Robot machines are expensive.
If your lawns are small then they're often easily tackled with an electric lawn mower or a good cordless mower. If your lawns are really small, a hand push mower will do the job.
The cost of a robot mower might simply not be worth the cost if your lawns are small.
That said, there are robot mowers for small lawns which are relatively cheap in comparison to other models.
Also, if your lawn is large, uneven and bumpy with thick tufts of grass, you'd be better with a petrol mower. A robotic won't have the power or the battery life to cope with it.
Another thing to consider is whether or not you have mains power outside as the charging docs need it. If you don't and you don't want to incur the cost of installing it, choose another type of mower.
Finally, if you have formal or ornamentals lawns you'd probably prefer to keep a robot off them. A good cylinder mower will always give you a better quality cut and finish.
How Robot Lawn Mowers Work
---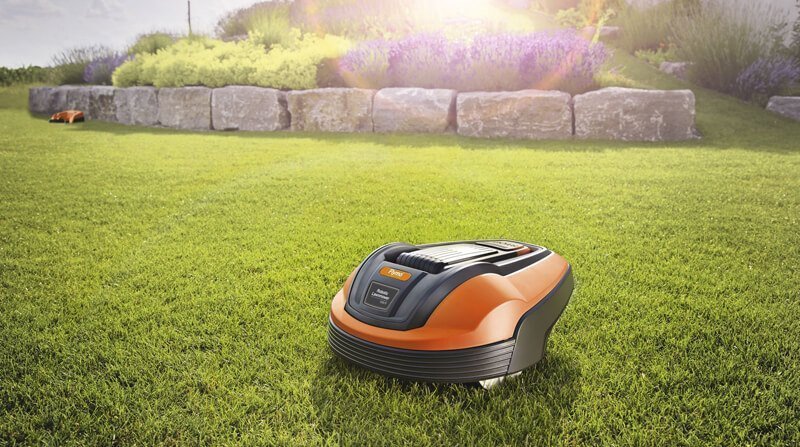 Robotic mowers need some initial set up but once that's done, they work completely autonomously.
You don't need to turn them on or off or constantly keep your eye on them. They will get to work on a schedule that you set, mow the lawn and then return to their docking station to recharge its battery.
They work by creating a map of your garden which prevents them from falling off the edges into your borders. Most have sensors too so they can detect any obstacles. If they encounter one they will stop, change direction and carry on. As such, it's best to keep your lawn free of obstacles, otherwise, you might find you have uncut areas of grass.
Most robot lawn mowers cut the grass in random patterns until they have covered the whole lawn. Very few go up and down the lawn as a human would.
There's no need to empty the grass clippings either as robot mowers are also mulcher mowers. They shred the grass clipping into tiny pieces and leave them on the lawn to degrade, keeping nutrients contained in the clippings in the turf.
Setting Them Up
In theory (and assuming you don't have any problems in the future), setting your robot lawn mower up should be the first and last time you interact with it.
The device will usually handle most of the set up itself, either via the control panel or a smartphone app.
You will need to lay a perimeter wire so the machine knows where the boundaries are. This wire also helps the mower to know where it is in relation to its station. The mower uses the perimeter to guide it back to its charging station.
These perimeter wires are pretty inconspicuous and some manufacturers will even lay them underground if you'd prefer them to be invisible.
With the perimeter wire set in place, you can program the machine. This involves setting the time, date, and how frequently you want it to mow the lawn.
Some machines can be controlled with a smartphone app so you can set them off if you think the grass needs trimming. Models that don't have a smartphone app can still do this via the control panel on the device itself.
In Conclusion
---
I hope you have found my robot lawn mower reviews helpful.
Trying to find the best robot lawn mower for you and your garden can be a confusing process.
There are lots of models on the market. Some are good, some, not so much.
I have tried to include a different model to cover a whole range of lawn sizes, as well as try to keep budgets and features in mind. So there should be a model in my list for you.