Knowing which grass seed to buy for your lawn can sometimes be pretty confusing.
Ultimately, the best seed for you is the one that:
Grows well in your lawn's environment. eg. soil type, shade etc.
Gives you the look you want, ie. a lush, green lawn
Will stand up to the level use your family will put on it
In this buying guide, we'll take a closer look at what I consider to be some of the best grass seed varieties to use, for all different lawn types. No matter if you're sowing a new lawn or overseeding existing lawns, my recommendations will give you beautiful results.
---
A quick comparison
Product
Image
Product
Details

Rolawn Medallion

A Very Reputable Supplier

Excellent Quality

Looks Fantastic & Copes With Wear

The Grass People Superstar

Harder Wearing

Quick to Germinate

Looks Decent

A1 Lawn Premiership Pro

Rapid Lawn Growth

Used for playing surfaces

Incredibly Hard Wearing

Rolawn Minster Pro

Tolerates Close Mowing

Slow Growing

Creates a Beautiful Lawn

A1 Lawn AM Pro-1

Used On The Finest Lawns

Slow Growth

Tolerates Close Mowing

A1 Lawn AM Pro-9

Creates Beautiful Lawns in Shady Areas

A Blend of Fine and Hard Wearing Grasses

Germinates Well
The Best Grass Seed with Reviews
If you've researched grass seed for any length of time, you have probably discovered there are hundreds of different mixtures and products on the market.

I've based my recommendations on grass type, price, germination rates and visual appearance. Oh, and my years of experience in buying and using grass seed.
Here's my list of the best grass seeds you can buy today:
1. Rolawn Medallion Grass Seed - Top Rated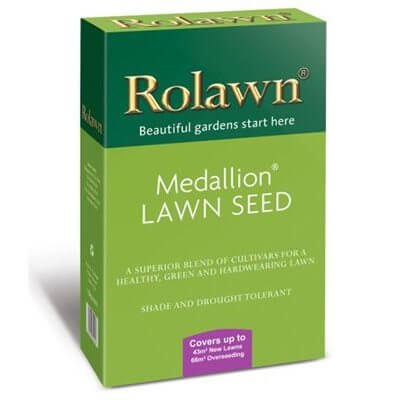 From a specialist lawn supplier
Same seeds used in the award-winning turf
High quality appearance, strength and low maintenance
Coverage: New lawns approx. 43m², overseeding approx. 66m²
Also available in larger 20kg bags
Overview
If you're looking for a grass seed that'll take some wear and tear but also look and feel luxurious, then Rolawn's Medallion Premium Lawn Seed is an excellent all rounder.
Rolawn products are the basis for many award-winning gardens, they're the official supplier the Royal Horticultural Society and they're also regularly featured on Alan Titchmarsh's Love Your Garden on ITV as well as supporting the BBC's Gardeners World Live Show.
Rest assured, you're in safe hands with Rolawn as they supply some of the best quality grass seeds in the UK. That said, expect to pay a bit more for them as a result because they're at the higher end of the price bracket.
The Seed Blend
Rolawn Medallion lawn seed mixture is made up of;
25% Dwarf Perennial Ryegrass – this gives the grass seed mixture its tolerance to wear and tear. It also grows fairly low and produces that pleasing thick, lush look.
45% Strong Creeping Red Fescue – is very tolerant to drought in both sunny and shaded areas. It's not very susceptible to pests or diseases either which makes it very hardy.
30% Slender Creeping Red Fescue – is very fine in appearance and gives this grass seed its luxury look and feel.
Provided you've prepared and fertilised the ground properly, it's quick to germinate, it grows evenly and reliably to produce a fabulous looking lawn that'll stand up to the wear and tear of normal family life.
I've always found it looks and copes best if you set your mowing height between 20mm and 30mm. The shorter end will give you a more formal look while the higher end will make it more resilient to wear. It'll also create more vivid stripes if you have a mower with a roller.
Like I said, it is slightly more expensive when compared to other brands but in this case, you definitely get what you pay for. I've been using Rolawn Medallion for years and I've always found it to be excellent.
---
2. The Grass People Superstar Hard Wearing Lawn Seeds
Premium quality grass seed created for UK climates
Produces a healthy long-lasting, hard wearing, lush and attractive lawn
Registered and certified by DEFRA
Approved & tested by the Sports Turf Research Institute (STRI)
Coverage: 2kg bag = 40m2 & 10kg bag = 200m2
Overview
If you have a busy family life and so your lawn takes a lot of wear and tear, then The Grass People Superstar Back Lawn Seed is very good.
The Seed Blend
It's is made up of two species;
30% Strong Creeping Red Fescue – Tolerant to shade and drought as well as disease.
70% Perennial Ryegrass – A very high percentage of Perennial Ryegrass makes this grass seed very tolerant to wear and tear.
Because it has a high rye grass content, it germinates and grows in pretty much any soil type, from sandy soil to clay soil.
If you're not a very keen gardener and you just need a lawn seed that'll grow and cope with fairly heavy wear, this product is a good choice.
It won't ever make your lawn look like a bowling green but it will create a very nice looking, very green family lawn. Mow it between 30mm – 40mm high and it'll not only look fantastic, but it'll also provide a nice soft surface for the kids to roll around on.
---
3. A1 Lawn Premiership Pro Fast Growing Grass Seed
Tetraploid Ryegrass has been used to create some of the finest playing surfaces
FERA Registered seed merchants
Coverage: 5kg = 142 m2
Available in larger bags
Overview
If you're looking for grass seed that's quick to germinate and grow, take a look at A1 Lawn's AM Pro-24 Premiership Pro.
This is an exceptional product which has been used to create some of the best Premiership Football pitches.
The Seed Blend
A1 Lawn's Premiership Pro contains;
40% Tetraploid Dwarf Amenity Ryegrass – Using the latest technology to create a grass seed that creates 4 roots systems instead of just one. This makes it very quick to establish and incredibly resistant to wear.
40% Amenity Dwarf Ryegrass (Esquire) – Needs hardly any encouragement to germinate and grow and is resistant to many diseases.
20% Dwarf Amenity Ryegrass (Sravinsky) – Also a fast-growing, very hardy grass.
A1 Lawn's Premiership Pro is an excellent product created from cutting edge technology to create a grass seed blend with a very quick germination process, fast growth and the ability to take heavy wear.
It's also very fine in appearance and tolerates fairly close mowing which ooms best between 20mm-30mm.
If you want a hard wearing lawn that'll also look as good as a premiership football pitch, this has to be your best option.
---
4. Rolawn Minster Pro Ornamental Grass Seed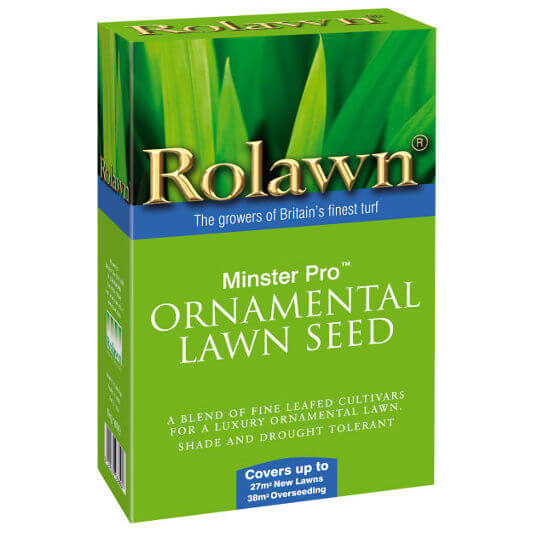 Shade & drought tolerant
Disease resistant
Suitable for low mowing heights
Salt tolerant - ideal for coastal areas
Germination can take between 7 and 21 days
Overview
If you want an ornamental lawn or you want to improve the visual appearance of your existing lawns by adding finer grasses, Rolawn's Minster Pro is fantastic.
I already talked about Rolawn's premium quality when reviewing their Medallion grass seed so you'll already know what I think about them as a company.
Their products and customer service are excellent.
The Seed Blend
Rolawn's Minster Pro is made up of just two species of grass;
50% Slender Creeping Red Fescue – Has very fine, bristle-like leaves that grow slowly and form in mats.
50% Chewings Fescue – Another slow-growing, fine-bladed grass with an excellent visual appearance.
Both seed types are used on sports surfaces all over the UK. They tolerate very close mowing which makes them perfect for formal lawns. If you're dedicated and mow every day, you could maintain it at a height as short as 6mm.
Fescues take a while to germinate and grow, especially if you're seeding during the spring. This is because fescues typically need a slightly higher soil temperature to germinate than Ryegrass.
That said, the result is definitely worth the wait.
Definitely not the best choice if you have an active family who plays on the lawn all summer. However, for a formal lawn as part of a formal garden, Minster Pro is fantastic.
---
5. A1 Lawn Am Pro-1 Ornamental Grass Seed
Tolerates Close Mowing
Used On The Finest Lawns
Sowing rate for this seed is 50g per m2
Coverage: 5kg bag = approx. 100 m2
Overview
Another fantastic option if you're considering a formal lawn is A1 Lawn's AM Pro-1.
It's quite a bit cheaper than Rolawn Minster Pro too; around £35 for 5kg compared to Rolawn's £21 per 1kg. This makes it a good option if you're seeding a large area and you don't want to blow the budget.
The Seed Blend
AM Pro-1 is made up of;
80% Chewings Fescue – A very fine-bladed dark green grass that looks beautiful.
20% Brown Top Bent – Another very fine-bladed grass with excellent shade resistance.
Both species of grass tolerate very close mowing with a cylinder mower and as such, you'll see them on golf courses, cricket pitches and bowling greens.
Again, if you're dedicated, you could maintain your lawn as low as 6mm.
Fescues are fairly slow to germinate and grow. Bents take even longer as they need a higher soil temperature.
However, the end result is beautiful.
It's worth noting though, that the inclusion of Brown Top Bent will mean it produces lawn thatch a slightly higher rate due to the way in which it grows. This means you'll have to scarify a little more often during the season to prevent thatch build-up and the problems that come with it.
That said, if you're committed enough to own a formal lawn, this won't be a problem.
---
6. A1 Lawn Premium Shady Lawn Seed
A highly specialised and proven blend of grass seed variants for areas of shade
Sowing rate for this seed is 35g per m2
Coverage: 5kg bag = approx. 142 m2
FERA / DEFRA registered seed merchant
Overview
If your lawn is covered in shade cast by buildings, trees, fences, hedges or bushes, chances are, it'll be patchy, the grass will be thin and you'll have a constant battle with moss.
For your lawn to look nice, it's really important to choose a grass mixture that'll cope well in that environment.
A1 Lawn AM Pro-9 Premium Shady Lawn Grass Seed is fantastic!
The Seed Blend
This product contains a mixture of the following;
20% Dwarf Perennial Ryegrass – Which is quick to germinate and grow, roots deeply and grows well in cool conditions cast by shade.
35% Strong Creeping Red Fescue – A hardy grass that'll cope well in shade. It's also very resistant to diseases often brought on by moisture on the surface of the grass.
15% Slender Creeping Red Fescue – Creates a thick, luxurious mat of foliage which is fairly vigorous.
3% Browntop Bent – Grows well even in poor conditions with limited sunlight and poorer soil.
12% Meadow Grass – Another grass that grows well in poorer conditions, especially in nutrient-deficient soils.
15% Sheeps Fescue – A very hardy, adaptable, yet fine leafed grass that can stand up to the harshest conditions, from drought to freezing temperatures.
With several very hardy species of grass, A1 Lawns AM Pro-9 Premium Shady Lawn Seed is a very specific mix that is perfectly suited to our often unpredictable climate and weather conditions.
As such, it doesn't just cope well in shaded areas, it looks fantastic. It's fairly quick to germinate and grows reliably. Just by overseeding existing lawns with it, you'll see a huge difference.
Keep the mowing height between 40mm-50mm high and you'll have a beautiful shady lawn where moss will be much less of a problem.
---
How to Choose the Best Seed For Your Lawn
The words 'best grass seed' means different things to different people. The best one for me might not be right for you.
So how do you choose?
Well, choosing the right product for you isn't complicated at all. I've covered this in more depth in my article; Four Different Types of Grass Seed: How to Choose the Right One For Your Lawn and I encourage you to read it.
However, to recap, here's what you need to consider;
How You Use Your Lawn
If it's purely an area for the kids to play football on, choose a hard-wearing seed mix.
For a luxury lawn that'll also cope with moderate wear and tear, a multi-purpose lawn seed will give you exactly what you need.
If you want an ornamental lawn that's more for looking at than actually using, choose an ornamental seed blend.
Unfortunately, you can have all three so think about what's most important to you.
The Environment Your Lawn Resides In
What's your lawns' soil type? Is it loamy, sandy soil or clay? What's the pH? Do you even know?
How about the weather?
If you're not bothered enough to find out, choose a lawn seed mix that contains plenty of Rye grasses as they grow in most soil types and weather conditions. A multi-purpose or hard-wearing seed mixture would be best.
Do you want an ornamental lawn that has fescues and bent grasses? These grass varieties grow best in sandy, slightly more acidic soils.
Is your lawn covered by a lot of shade by buildings, trees or bushes? A shady lawn seed might be your only choice unless you can reduce the amount of shade.
A Word About Grass Seed Quality
At the end of the day, lawn seeds are lawn seeds and no one seed is better than another. So when we refer to the quality, we're really referring to the purity of the seed mixes.
So if an ornamental seed mix claims to contain 50% Brown Top Bent and 50% Chewings Fescue, in theory, it should only contain those species.
EU standards dictate that a grass seed mix should be at least 70% – 80% pure. However, that leaves a huge 20% – 30% of potential contamination from other grass types and or weed seeds.
Poorer quality seed mixes only ever meet the minimum standards. Who knows what your new lawn would look like if you chose a product like this!
However, the best quality seed will meet the Higher Voluntary Standard set out the Seed Marketing Regulations Act 2011. That means it'll have a purity of around 96.5%
As you'd expect, all of the products I've recommended are of the highest quality and have been approved by DEFRA and/or the Sports Turf Research Institute.
In Conclusion
We all want a lush, green lawn but finding the best grass seed for a particular job or environment, many lawn owners can get confused.
I hope this article has helped you make your mind up about choosing the best lawn seed for your particular needs and gardening goals.
And remember different grasses can be added to an existing lawn to give it a certain look, characteristic or resilience.
For example, you can add shady lawn seed to patchy areas of your lawn that sit in shade for most of the time. And similarly, you can add ornamental seed to a general-purpose lawn to give it a finer appearance.
There is no 'one-size-fits-all' approach.
Popular read: My Favourite Battery Powered Strimmers