Whether your lawn is the size of a postage stamp or you own several acres of land, this article will help you find the best lawn mower for you.
During my years spent as a greenkeeper for several golf clubs, cricket grounds, National Trust properties and more recently, a domestic gardener, I have a unique experience of testing and using a vast range of lawn mowers.
From corded to cordless, from electric to petrol, rotary to cylinder and robot to ride on. My expert guide will help you decide which lawn mower is best for you and your lawn.
Lawn Mower Types
There are several types of lawn mower available and the best one for you will depend on many factors.
Here's a list of the different types of lawn mower, the pros and cons of each, and when you might choose one type over another.
1. Hand Push Mowers – Best for Small, Well-Kept Lawns Up to 100m²
These mechanical mowers are the most basic type.
They're also by far the cheapest.
Simply push them along and a bladed cylinder spins and slices the grass in a scissor-like action.
Because they use a cylinder blade that cuts grass in a similar way to scissors, they produce one of the cleanest and healthiest cuts you can get (as long as you keep the blades sharp!)
Hand push mowers are best for small, level, already well-manicured lawns.
They're also very lightweight when compared to other types of mower which is a good thing if you don't want to haul a big machine around the garden.
However, because they're so small and lightweight, they're not great for larger areas, you'd be mowing all day with one of these.
And they're terrible on bumpy, uneven lawns with coarse grasses. The blades get jammed, the grass collectors fall off and they'll make your life a misery.
View the best hand push lawn mower here.
2. Electric Lawn Mowers – Best For Small Lawns Up to 200m²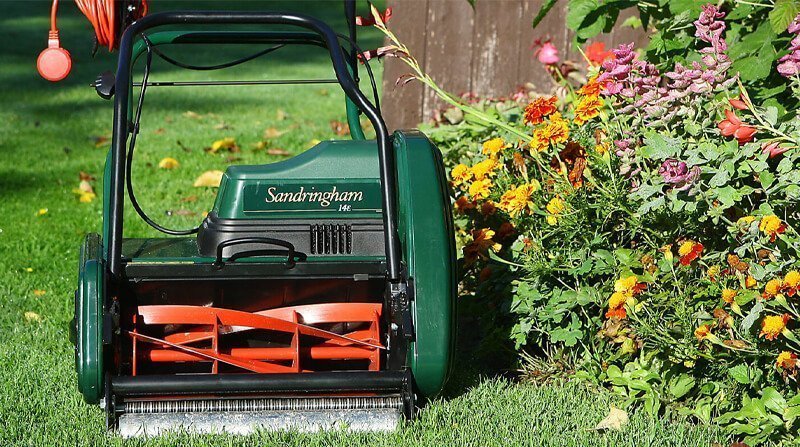 Electric lawn mowers are the most common type and are good for small to medium-sized lawns.
You can buy them in cylinder or rotary versions.
They generally offer good value for money and they come in a range of power outputs. Whether you have bumpy uneven lawns or a well-cared-for lawn, there's a model out there for you.
The downside to electric mowers is the fact that they're limited by a power cord.
They're generally only 10 meters long, although some models do have longer ones. Still, they're rarely long enough to mow the lawn without the need for an extension lead.
This often causes problems when mowing around obstacles like garden features and furniture. It's very easy to get tangled up and cutting through the power cord can result in electrocution.
Also, electricity and water don't mix which means cutting wet grass is out of the question.
View the best electric lawn mowers here.
3. Hover Lawn Mowers – Best For Small Lawns Up to 200m²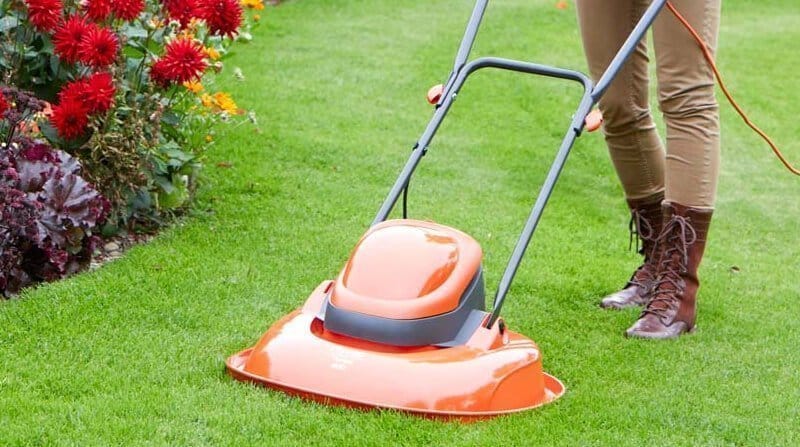 Hover mowers are also fairly cheap, which makes them a common choice.
Their big advantage is their manoeuvrability.
Instead of having fix wheels like most lawn mowers, a hover mower works by creating a cushion of air on which it floats, similar to a hovercraft.
This makes steering them incredibly easy.
If you have odd or irregular shaped lawns that a traditional, wheeled mower might struggle with, a hover mower might be a good choice.
They mainly come in electric versions which are suitable for small to medium-sized lawns. However, their limitations caused by their power cords are the same as any other electric mower.
That said, you can also by petrol models if your lawn is on the larger side, although they can be pretty heavy.
For many people, hover mowers have two main issues;
They're not great on bumpy uneven lawns. If they hit a high spot or a thick tuft of grass, they can scalp the lawn.
Their grass collectors are generally quite small, many don't come with them at all.
See reviews of the top rated hover mowers here
4. Cordless Lawn Mowers – Best For Small, Medium & Large Lawns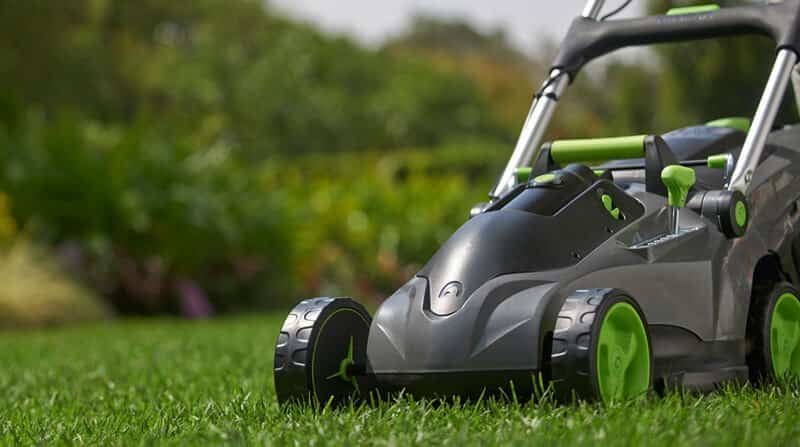 Cordless mowers bridge the gap between electric and petrol versions.
They use electric power but have the freedom of petrol mowers because they're not limited by a power cord. This means they're a good choice for medium to large lawns.
And similarly to cars, as battery technology improves, they're becoming more and more popular.
Batteries typically last for around 30-40 minutes on average. However, if your lawn is on the rugged side, expect the battery to run out of charge sooner.
That said, you can buy extra batteries.
You also need to remember to charge the batteries before using them, which usually takes a couple of hours. Some can take up to 5 hours.
See cordless lawn mower reviews here
5. Petrol Lawn Mowers – Best For Medium to Large Lawns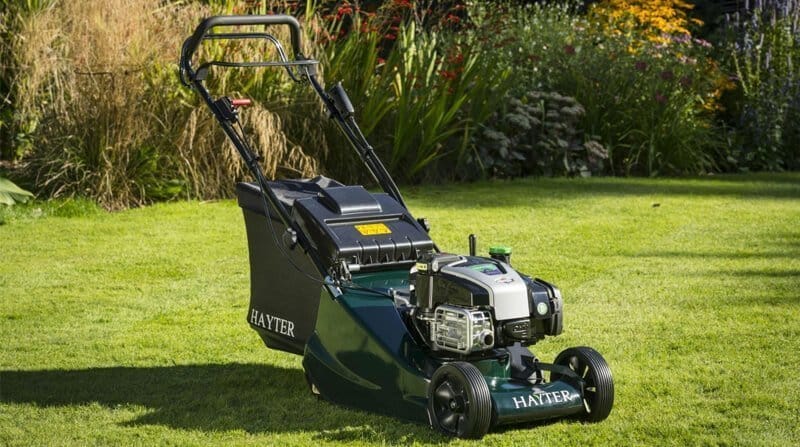 Petrol lawn mowers are the most common choice for larger lawns, although some can perform well on smaller lawns too.
They're not limited by the length of a power cord or by the run time of a battery. If it runs low on fuel, just top it up.
They're generally much more robust and have far more power than electric or cordless models too. This makes them the obvious choice for more unruly lawns.
Petrol lawn mowers can be expensive though.
There's the constant need for fuel and you also need to service them before every season. If you can't do it yourself, get your local lawn mower shop to take care of it for you.
However, this does mean added cost.
View top-rated petrol lawn mower reviews here
6. Ride-On Lawn Mowers – Ideal For Lawns Large Lawns of 1,000m² +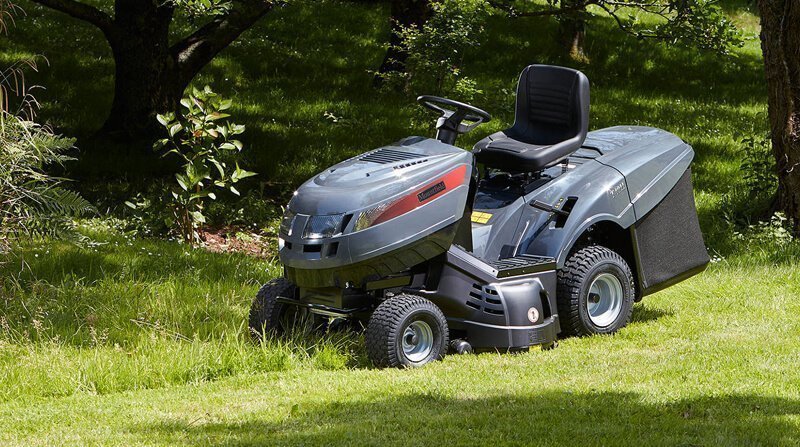 When your lawn is too large for a petrol mower, a ride-on machine is often the only other option.
They tackle really big lawns much more quickly and efficiently than other types of lawn mower.
And as an added bonus, they're just fun to ride around on.
They come with a whole range of features and higher-end models don't just mow lawns. They can tackle paddocks and meadows as well as pull ploughs, tow trailers and other things.
That said, they're expensive so I wouldn't invest in one unless it makes sense to do so.
Completely impractical on smaller lawns but fantastic for bigger plots.
View my ride-on mower reviews here
7. Robot Lawn Mowers – For Lawns of All Sizes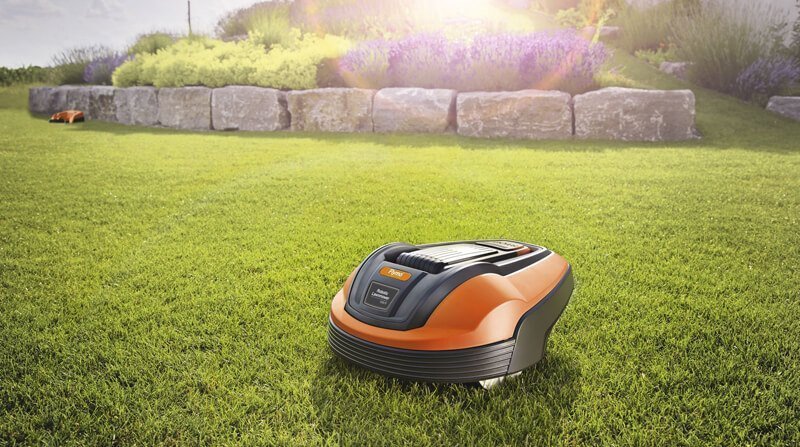 When robot mowers first came to market the general opinion was that only people with more money than sense would buy them.
However, robot technology is developing quickly and as a result, these machines are becoming more and more popular.
In fact, there are a few reasons why you might choose a robot mower;
The first one is if you hate mowing the lawn. In this case, a robot mower could be your new best friend.
On average, a person spends 9 hours each summer cutting the grass. If you have large lawns, it could be double, even triple that. A robot could give you that time back.
Set it up once and it'll come out and mow the lawn automatically on a schedule that you decide.
You can buy them for all sizes of lawn too, from small lots to massive lawns of up to 5,000sq meters.
Another very good reason for choosing a robot mower is if you're disabled, or if for whatever reason, you're not able to push a mower around.
The fact is, robot mowers aren't as silly as some people might think.
They're not great with unruly lawns though so if yours resembles more of a paddock, a robot probably isn't a wise choice.
And they're expensive, expect to pay around £500 for a basic model. Bigger, more advanced versions will set you back several thousand.
View reviews of some of the top robotic lawn movers here