In this Robomow RS635 review, we're going to take a deep dive into Robomow's flagship robot lawn mower to answer two simple questions…
Is it worth the £3,000 price tag?
And should you buy it?
The Quick Answer:
The Robomow RS635 Pro SX is one of the top robot lawn mowers I have used.
Yes, it's expensive but it's built to handle massive lawns that many people tackle with ride-on mowers.
But the bottom line is that it delivers an exceptional finish and the more it mows, the better the finish gets.
It's a fantastic advert for the future of robotic mowing that could save you 3-5 hours a week.
---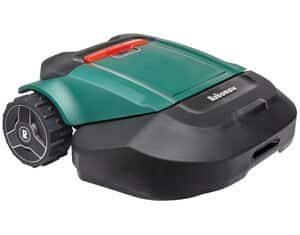 Robomow RS635: The Best Robot Lawn Mower For Large Gardens
Replace a Ride On Mower
Widest Cutting Width on the Market
Very Reliable
Leaves an Exceptional Finish
A Quick Overview of the Robomow RS635 Pro SX
---
Let's start this Robomow RS635 with a look at their promotional video. Then we can take a closer look:
---
Key Features
Maximum Lawn Area: 5,000m; Run Time: 80 minutes; Charge Time: 110 minutes; Cutting Width: 56cm; Slopes: 36%; Weight: 20kg; Warranty: 3 years;
---
Pros
Very well built
Handles huge lawns
Leaves an exceptional finish
Near maintenance free
Very quiet
Low running costs
3-year warranty
Who is this Robomow Model For?
---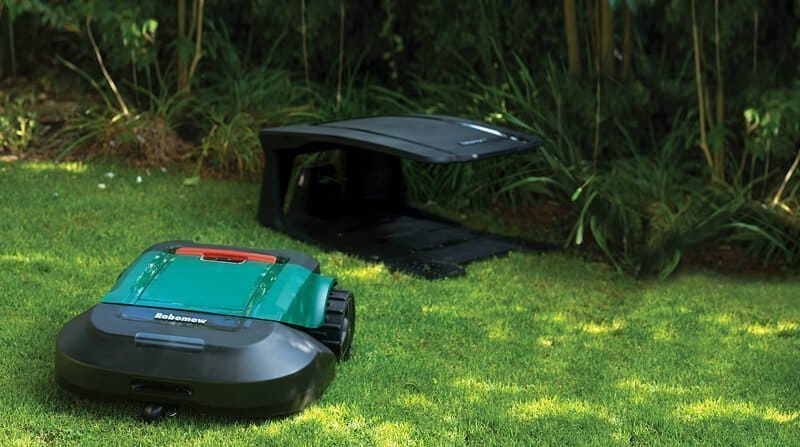 Robomow has been building robotic lawn mowers for more than 20 years and the RS635 Pro SX is their flagship model.
It's for those people with lawns up to 5,000sq meters. Although Robomow says it's ideal for lawns of 3,600sq meters. For it to work well over 5,000sq meters, your lawn should be relatively flat.
Now, at around three grand, this model isn't cheap. However, many people choose to tackle this size of lawn with a ride on mower. Lawns of this size are too big for electric mowers as the power cords aren't long enough, cordless mowers don't have the battery power and although petrol lawn mowers will do it, it'd take countless hours.
So the Robomow RS635 Pro SX is competing with ride on mowers.
You can buy a ride-on mower for the same kind of price and in many cases, they cost even more.
But the two main advantages this robot mower has over its ride-on cousins are;
It's far cheaper to run. Around 34kWh per month which equates to around 3.5 litres petrol which a ride on can guzzle in no time. Plus, you can add £300-£500 per year to the cost of running a ride on in servicing fees.
It could save you 3-5 hours a week. Cutting the grass manually takes time, especially during the growing season when you might cut twice a week. The Robomow will do it for you and give you those hours back to spend as you wish.
So although £3,000 might seem a lot, you'll probably save that in running costs over the years. Plus, it could save you as many as 80 hours between the months of April and September.
If you like the idea of saving both time and money, investing in a robot mower like the RS635 might make sense.
---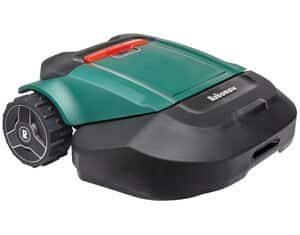 Robomow RS635: The Best Robot Lawn Mower For Large Gardens
Replace a Ride On Mower
Widest Cutting Width on the Market
Very Reliable
Leaves an Exceptional Finish
Robomow RS635 Pro SX Design & Features
---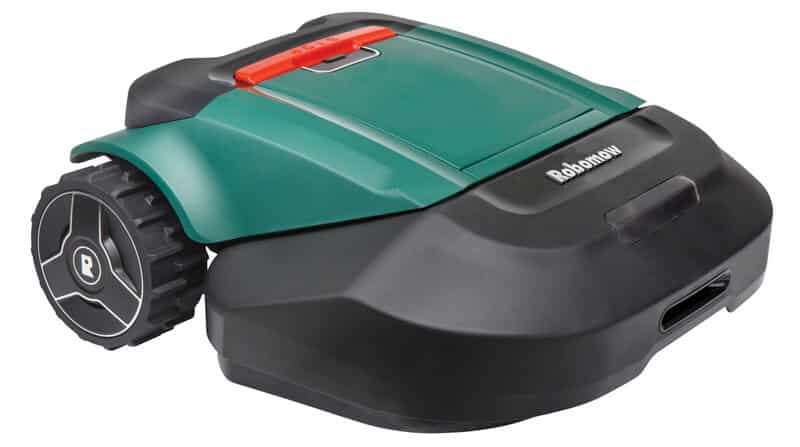 I've broken this section down into three parts;
Mowing features
Mowing modes, and
Safety features
Mowing Features
The Robomow RS635 comes packed with all the features you'd expect from a top of the range model.
Cutting Blades
Turn the machine over and you'll see two large, razor-sharp triangular steel blades. This gives you one of the widest cutting widths on the market at 56cm.
They're stronger and driven by more powerful motors than you'd get on other robot mowers. This means they can even cut through rough grass easily and still leave an excellent finish.
The blades mulch the grass clippings into tiny pieces, leaving them on the lawn to be absorbed back into the ground. This keeps moisture and nutrients in the turf, where they essentially act as a lawn fertiliser.
Floating Cutting Deck
This is a feature that's unique to Robomow.
The floating cutting deck moves with the contours of your lawn, similar to a hover lawn mower. This ensures the blades always remain parallel with the ground.
This prevents scalping and also ensures an even cut over the whole lawn. Many ride on mowers have a fixed cutting deck and will scalp any uneven parts of a lawn, opening it up to weeds and moss to invade.
Multi-Zone Mowing
Thanks to its multi-zone mowing ability, the Robomow can travel between 6 different lawn areas (provided they are connected by passageways).
The wheels are robust enough to cope with concrete and harder areas.
So instead of having to pick it up and move it manually, you can leave this intelligent garden machine to roam freely.
Just make sure you follow the instructions carefully and the lawns combined don't exceed the 5,000sq meter limit.
If this sounds complicated, Robomow offers an installation service. It costs £300 but it will save you the time and effort.
Rain Sensor
This model also features a rain sensor which tells it to head back to its docking station when it starts to rain.
If it hasn't left the station when the rain starts, it'll stay there until the rain stops or until it's next scheduled mowing session.
You can also alter the sensitivity of the rain sensor. So if you're happy for the mower to work under a few droplets, it will, only returning to its dock when the rain gets heavier.
Mowing App
If you like the idea of connecting your mower to your mobile device you can do so with the Robomow App.
You can monitor progress, change settings and receive alerts.
And if you fancy using it as a remote control toy, you can even control it from your phone.
However, in order for this feature to work, the base station needs to be within the range of your WIFI signal.
Mowing Modes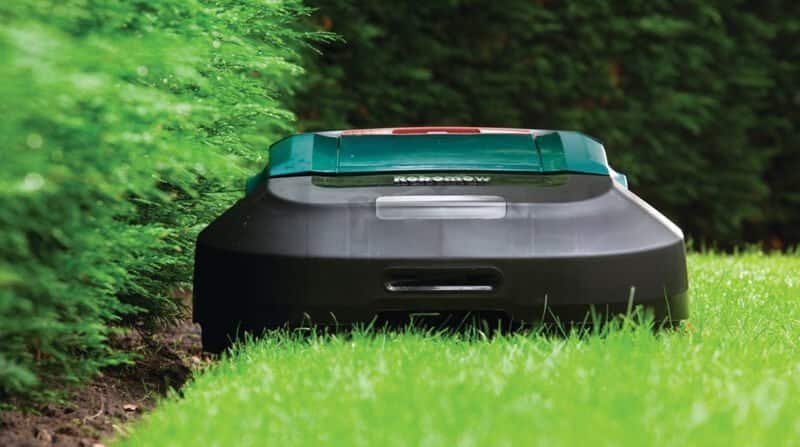 Different times of the year and different situations call for different settings.
The Robomow RS635 has a range of mowing modes to choose from so that no matter what conditions or circumstances it faces, it can mow your lawn to the highest standard.
Turbo Mode
Turbo mode is ideal if the grass has a sudden rate of growth. It tells the mower to mover quicker and spin its blades faster to get through the lawn.
Eco Mode
Eco mode uses less energy than any other mode.
It's perfect during the summer months when the rate of grass growth slows down.
The work rate of your mower will slow down and it'll take longer to mow the whole lawn, but that's OK, there won't be much to cut anyway.
Edging Mode
Edging mode instructs the RS635 to follow the perimeter wire to cut the edges of your lawn.
The blades reach beyond the wheels so it is the best robot mower I have tested for trimming any open edges of a lawn.
However, this doesn't solve the problem of mowing closed edges. If your lawn meets the edge of a wall or a fence, you still might have to get the strimmer on those edges.
Safety Features
Robomow machines have a number of safety features.
Lift & Tilt Sensors
To prevent injury, the RS635 Pro SX has sensors that stop the blades from spinning if or when the machine is lifted or tilted.
Bump Sensors
If the Robomow encounters any obstacles while mowing, its bump sensors will cause it to stop, turn around and go a different route.
No need to worry about it running over your toes!
And if you need it, there's a big red STOP button on the top.
Pin & Alarm System
It also features an anti-theft system which comprises a pin and alarm system.
If anyone tries to pick it up and walk off with it, an alarm will go off and you'll get a notification sent to your phone (provided you have the app set up and it's in WIFI range).
Also, it can't be used without a pin code so if it does get stolen, it'll be useless.
---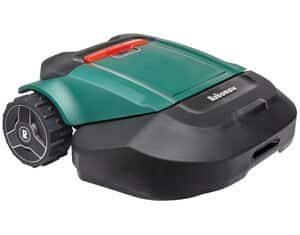 Robomow RS635: The Best Robot Lawn Mower For Large Gardens
Replace a Ride On Mower
Widest Cutting Width on the Market
Very Reliable
Leaves an Exceptional Finish
Robomow RS635 Pro SX Performance
---
So we've covered the features, but how does the Robomow actually perform in practice?
In a word…
Brilliantly!
The Set-Up
It's fair to say that if you have large areas of lawn, the initial setup will take some time.
It took me a full afternoon.
If you have one large lawn with nothing in it to mark off, then set up is dead simple.
Still, laying the perimeter wire and setting this machine up for a lawn of 5,0000sq meters isn't a quick job. This is especially true if you have trees and obstacles in the lawn that you want to mark off. You'll use several hundred meters of perimeter wire which needs staking down every 1.5 meters or so.
That said, it's a pretty simple process. Plus, they do have very useful videos on their site showing you how to do it.
Watch the video below to see how to do it;
However, if you have several areas of lawn that you want your robot to travel between, things start to get a little more complex.
It not overly complicated, you just need to pay close attention to the instructions.
Alternatively, Robomow offers an installation service where they send out a specialist installer who does the job for you.
It costs £299 but if you struggle to set it up on your own, it's another option.
Everyday Operation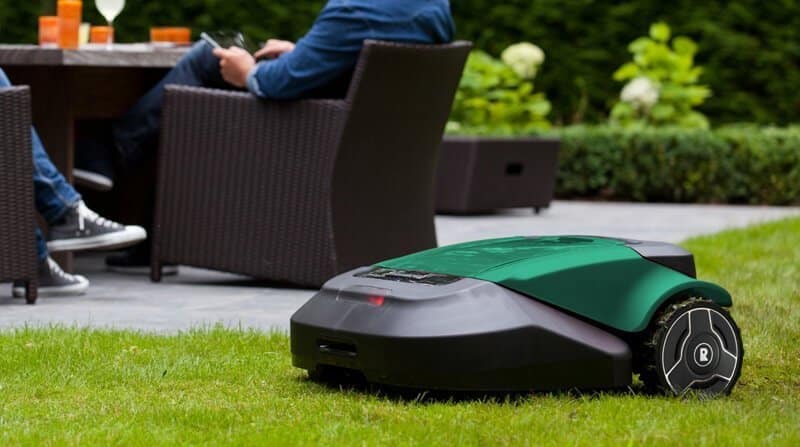 Over the course of 3 months, the Robomow worked relentlessly, coming out to mow for around 80 minutes before going back to recharge. Then once it's recharged it came out again to carry on.
It took around 12 hours to fully mow the lawn I tested it on. At first, it did leave strips of uncut grass in areas that looked a bit untidy but as time went on, these were taken care of.
For best results, I set the mower up to work 6 days a week. It's important to give it 24 hours off per week to re-balance the battery's cells. Robomow says this is to ensure the batteries last as long as they should.
I chose to mow every day because I wanted to see how much it costs to run, which isn't a lot. It used an average of 34kWh per month. At the time of writing, that's less than a fiver.
I also wanted to see how mowing every day affected the health and appearance of the lawn.
Mowing every day does three things:
It stops the grass from growing upwards so it's forced to grow sideways. This creates a denser, thicker and healthier lawn.
The cuttings get mulched into the tiniest pieces and consumed by the lawn almost immediately. This keeps nutrients and moisture in the lawn which keeps it healthy.
Your lawn will always have that 'fresh cut look'. This isn't possible when you only cut the grass once a week with a traditional lawn mower.
When used like this over the summer, you'll notice the look and condition of your lawn improve significantly. And I'm glad to say that's exactly what happened.
Like I said, the Robomow took a bit of time to 'settle in'.
However, as time when on and the machine spent more and more time cutting the grass, the finish just got better and better. The constant mowing (combined with a good lawn care regime) encouraged new growth and the lawn got noticeably healthier and better looking, even within just a month.
It does all this very quietly too.
The birds don't scatter like they do when I fire up a ride on lawn mower to cut this size of lawn. They just carry on about their business.
Maintenance
Keeping on top of maintenance is dead simple.
Every couple of weeks I just turned it upside down and brushed it down before giving it a wipe.
If you have lots of leaves and muddy areas, the tread on the wheels can get a bit clogged up. That said, it's noting a stiff brush can't easily handle.
Robomow recommends changing the blades every season. Because robot mowers cut the grass for hours on end, the edges will start to dull. How quickly this happens though, depends on how often you have the mower go to work and the type of grass your lawn is made up from. Course grasses will be harder on the blades.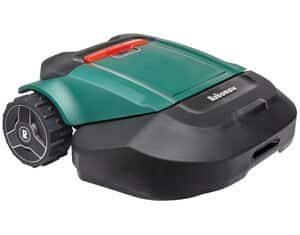 Robomow RS635: The Best Robot Lawn Mower For Large Gardens
Replace a Ride On Mower
Widest Cutting Width on the Market
Very Reliable
Leaves an Exceptional Finish
Flaws But Not Deal Breakers
---
I've really struggled to come up with something I don't like about the Robomow RS635.
It's such an impressive piece of garden machinery and during the 3 months I tested it, it didn't miss a beat.
The only 2 things that might affect a purchasing decision are;
The cost – it'll set you back three grand
It doesn't leave stripes
And to be frank, those are hardly reasons to avoid it.
This machine is competing against ride on mowers, which, you could easily spend three grand on, plus running and maintenance costs.
And ride on's don't generally leave lawn stripes anyway.
Robomow RS635 Pro SX Review: Should You Buy it?
---
If you have expansive areas of lawn and you like the idea of not having to mow it yourself, then the Robomow RS635 gets my top recommendation.
The three biggest reasons to invest are;
It's comparable in price to a ride on mower but costs less to run and maintain. You could potentially save yourself £300-£500 in fuel and servicing costs.
Performance is just as good and in some cases, it's even better than a ride on. It can handle even rough grass and works well on slopes where some ride on's might struggle.
You'll save potentially 3-5 hours a week because you won't have to do the work yourself.
It's also better for the environment, much quieter and it'll leave your lawns looking much more manicured than a ride on mower ever will.
---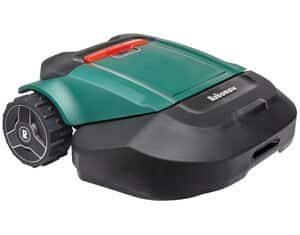 Robomow RS635: The Best Robot Lawn Mower For Large Gardens
Replace a Ride On Mower
Widest Cutting Width on the Market
Very Reliable
Leaves an Exceptional Finish