In this Hayter Harrier 48 review, we're going to take a good look at what I think is one of the best petrol mowers around. Especially if lawn stripes are important to you.
Short Hayter Harrier 48 Review
If you're looking for one of the best petrol lawnmowers you can buy, then the Hayter Harrier should be high on your list.
OK, it's not cheap. But it's designed and manufactured in the UK, the build quality is impeccable, it's packed with features and cuts beautifully.
I've been using Hayter lawn mowers for years and I love them. Invest in one and you'll get years of quality, reliable service from it.
A Quick Overview of the Hayter Harrier 48
---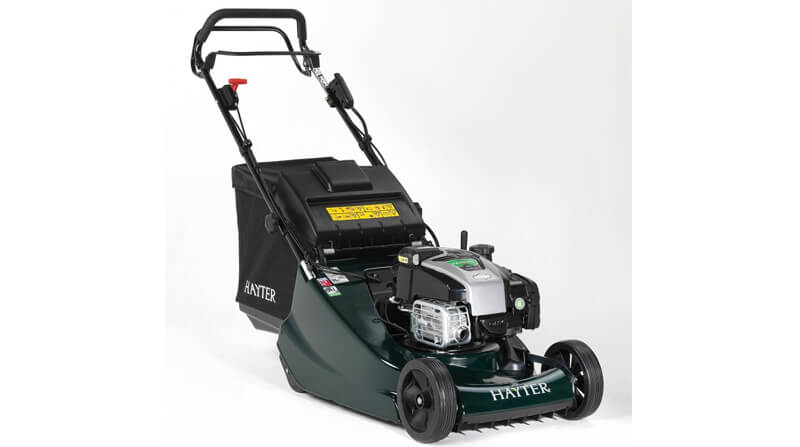 ---
Key Features
Engine: 163cc, 4-stroke; Cutting Width: 48cm; Grass Box Capacity: 70 Litres; Weight: 43.8kg; Self-Propelled: Yes; Warranty: 5 Years;
---
There are several versions of the Hayter Harrier 48. However, I've based this review on the new 2019 model.
The Hayter Harrier 48 AutoDrive VS ES Instart (code: 476A).
That said, previous year's models are still available online.
Pros
Provides That Classic Striped Finish
Easy to Start and Use
Incredibly Reliable
Mow Right to the Edges of Lawns
Easy to Clean
5 Year Warranty
Cons
It's Heavy
Pretty Expensive
Doesn't Mulch Grass Clippings
---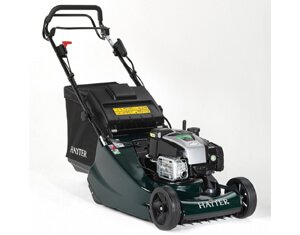 Hayter Harrier 48 AutoDrive VS ES Instart (code: 476A)
Award-Winning Lawn Mower
Incredible Build Quality
Creates a Beautiful Striped Finish
Who is The Hayter Harrier 48 For?
---
The Hayter Harrier range is designed and built for the serious lawnsmith with medium to large lawns.
They also make the Harrier 41 for small to medium lawns and the Harrier 56 for large to extra-large lawns.
If your lawns are immaculate and you need a machine that'll produce a sublime, reliable cut while at the same time create the most beautiful striped finish, the Hayter Harrier is for you.
Design & Features
---
(Click to Play Video)
The Harrier 48 AutoDrive VS ES Instart (code: 476A) is Hayter's top domestic model for 2019 and have improved the working design from previous models.
163cc Briggs & Stratton 675iS Instart Engine
Briggs & Stratton engines are the best of the best when it comes to lawn mower engines and the B&S 675iS which Harrier have used is a beast.
It combines power and performance with instant electric starting. There's no cord pulling needed, just press a button and you're away.
Variable Speed AutoDrive
As you'd expect, this is a self-propelled machine with variable speed which you can set between 1.8mph – 3.3mph.
This means you can set it to match your walking pace or to suit the conditions you're mowing in (a slower pace for cutting long or wet grass for example).
This is especially useful on inclines as this machine weighs in at around 44kg so it's pretty hefty.
Cutting Features
The Harrier has a mass of mowing features.
It has a cutting width of 48cm and a massive 70-litre grass collection bag. This makes it a good option for medium to large lawns.
The rear roller creates the stripes that all lawnsmiths want. It's made from polymer with a fibreglass weave which makes it incredibly durable. Plus, it's ribbed to improve traction and split into two pieces to improve turning and manoeuvrability.
There's tons of adjustment too in terms of how hight you mow the grass. You have 7 settings to choose from ranging from 13mm – 60mm.
Combined with the height adjustment, Hayter has developed what they call 'Vari-Pitch™ cutting technology'. This adjusts the forward pitch angle of the cutting deck as you raise or lower the cutting height to improve airflow under the mower in more challenging cutting conditions. Like when mowing long or wet grass.
The mower also features what Hayer call Trim Side. This basically means that the right-hand wheel, rear roller and cutting blade are all positioned inline with each other so you can mow right up to the edges of your lawn.
Easy Wash Port
Cleaning your Harrier 48 after use is easy with the inclusion of an easy wash port.
Attach your hosepipe to it and spin the mower blade. It'll wash the underside of the cutting deck to remove any debris or grass clippings.
This is especially useful after mowing wet grass.
Hayter Harrier 48 Performance
---
As I've already said, I've used Hayter Harriers for years so I'm very familiar with just how good they are.
Assembly
Putting the lawnmower together is as easy as any other. It's just a case of attaching the handle, assembling the grass box and filling the engine with oil (SAE 30) and fuel (unleaded petrol).
The battery which powers the instant electric start does need charging though. It takes around 14 hours to charge fully so you'll not be able to just unbox it and go.
I hated this.
When I get a new toy I want to play with it straight away!
Operation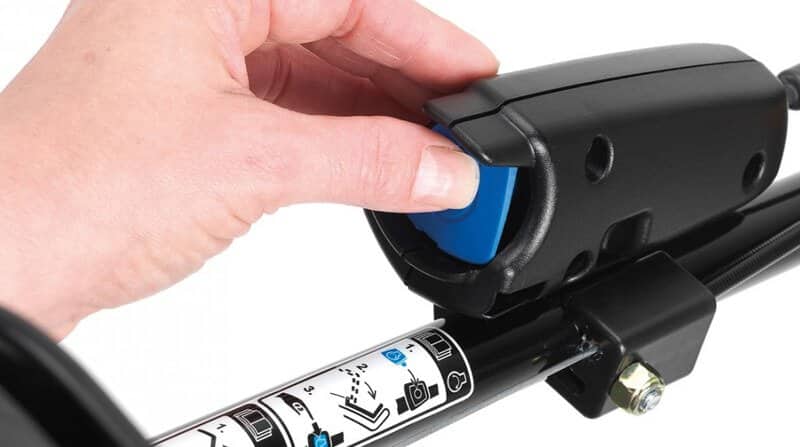 After building the Hayter Harrier and waiting for the battery to charge, it started up without hesitation.
As it's an electric start, there's no need to prime the engine like you'd have to do on other lawn mowers.
That's because it's fitted with what Hayter call 'ReadyStart® Technology'. This recognises the engine temperature and primes the starting process accordingly.
One of the first things you'll notice about the Hayter Harrier is the weight.
The engine, self-drive motor, aluminium cutting deck and all the quality that's built into this machine adds up to nearly 44kg.
For some, this might seem a bit too heavy.
That said, the self-drive is incredible and takes the bulk of the weight away from you while in operation. All you have to do is steer it.
Plus you're in control of how fast you mow. The mower speed ranges from 1.8mph – 3.3mph so you can set it to a speed which suits you.
The weight also helps with something else…
…Striping.
It helps the rear roller to flatten the grass further in the direction you mow. As a result, the striping effect is much more prominent.
It looks incredible!
Manoeuvring the mower is easy too, even in tight spaces.
That's because the rear roller is spilt so it can turn very easily without leaving any tell-tale marks in the lawn.
Setting the mowing height consists of adjusting the lever on the top of the mower on the left-hand side as you stand behind it. It has a very smooth action and the single lever adjusts all four wheels simultaneously.
And I have to say, Hayter has done well with their 'Vari-Pitch™ technology'.
Normally, cutting wet grass on at a low mowing height can cause a mower to leave clumps of wet clippings on the lawn. This not only looks a mess but can cause the onset of problems and disease.
This happens because there is a lack of airflow under the mower to push the clippings into the grass collector.
However, this Vari-Pitch design increase air flow. This makes sure the mower collects all the clippings to leave a nice finish.
Also, the 70-litre grass collector is vast. Even after letting the grass grow a little taller on my own lawns, I've never had to empty it halfway through a cut.
Maintenance and Servicing
Keeping the Hayter Harrier clean is a breeze because you're able to connect a hose to the top of it so it essentially cleans itself.
This is especially useful if you've cut wet grass and the clippings are stuck all over it.
I gave it 30-60 seconds after each cut and it was spotless.
In terms of servicing, you could do it yourself and it isn't particularly difficult. However, to keep the 5-year warranty intact, it must be serviced by an authorized dealer.
So for the first 5 years, I'd advise you do just that.
---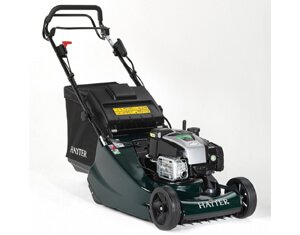 Hayter Harrier 48 AutoDrive VS ES Instart (code: 476A)
Award-Winning Lawn Mower
Incredible Build Quality
Creates a Beautiful Striped Finish
Flaws But Not Deal Breakers
---
The Hayter Harrier 48 is an incredible lawn mower.
Like I said earlier, I've been using them for years but for me, there's one thing that prevents it from being perfect.
And that's the fact that it doesn't mulch grass clippings.
Mulching mowers cut the grass clipping up into tiny pieces and blow them back into the lawn where the decompose and act as a natural fertiliser. In fact, they're one of the best lawn feeds around.
It's also good for the environment because it means less use of chemical fertilisers.
That said, it's really not a big deal unless you're completely against the use of using fertilisers.
For others, the cost and weight of the thing might be more of a concern.
But the best petrol lawn mowers are expensive and if you want impeccable stripes, you need weight.
---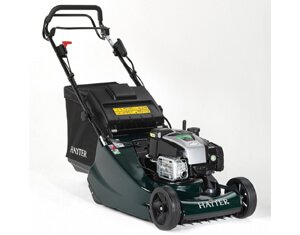 Hayter Harrier 48 AutoDrive VS ES Instart (code: 476A)
Award-Winning Lawn Mower
Incredible Build Quality
Creates a Beautiful Striped Finish
My Overall Hayter Harrier 48 Review: Should You Buy it?
---
Here's my confession…
This Hayter Harrier 48 review could be considered a little biased because, well, I own one.
After spending a bit of time with it I fell in love with it and stumped up the cash to buy one for myself.
That said, at between £900 and £1,000 depending on where you get it from and whether there's a promotion on or not, it's expensive.
If your lawns aren't perfectly manicured and you're not bothered about creating that striped finish, it really isn't worth the money.
You'd be better of looking at the Einhell GC-PM 46 S or the Mountfield SP53 or even the Honda IZY HRG 466 SK and save yourself £500-£600.
Also, if you really like the idea of the Hayter Harrier but it's just too far out of your price range, the Webb WERR17SP is a very good alternative at less than half the price.
You will sacrifice on build quality and a few features but still, it's a very good machine.
However, if your lawn is your pride and joy and only the best will do, then the Hayter Harrier 48 is worth EVERY. SINGLE. PENNY!
But you might also want to consider the Allett Classic 17L.
---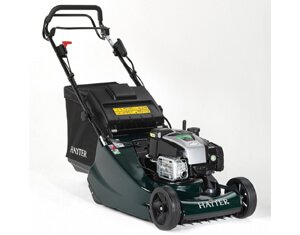 Hayter Harrier 48 AutoDrive VS ES Instart (code: 476A)
Award-Winning Lawn Mower
Incredible Build Quality
Creates a Beautiful Striped Finish