In this Honda IZY HRG 466 SK review, we're going to take a good look at why I think it's one of the best petrol lawn mowers in terms of build quality and reliability.
My Very Short Honda IZY HRG 466 SK Review
If ease of use, rock-solid build quality and reliability are important to you then the Honda IZY HRG 466 SK is an incredible lawn mower.
OK, it's not cheap but it'll provide you with years of reliable service and an excellent quality cut thanks to several very nice features.
A Quick Overview of the Honda IZY HRG 466 SK EP
---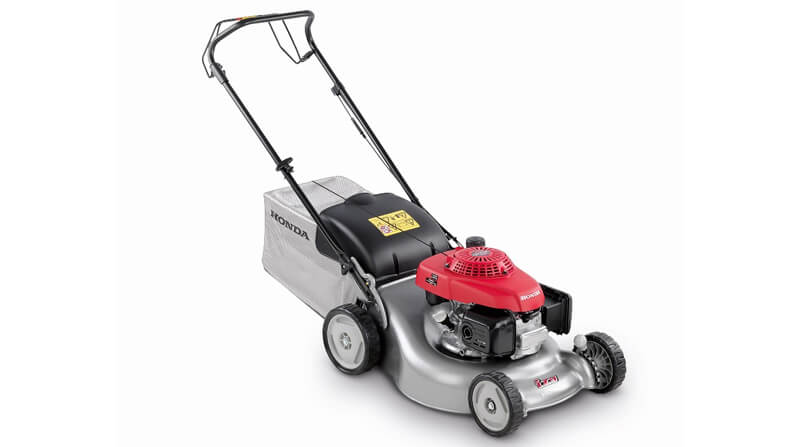 ---
Key Features
Engine: 160cc, 4-stroke; Cutting Width: 46cm; Grass Box Capacity: 55 Litres; Weight: 32kg; Self-Propelled: Yes; Warranty: 5 Years;
---
The Honda IZY range includes different sizes as well as both self-propelled and push mowers.
This review is for the HRG 466 SK which is the 46cm self-propelled version which Honda says is suitable for lawns up to 800m2.
Pros
Efficient, Reliable Engine
Easy to Start and Use
Incredibly Durable
Works Well on Uneven Terrain
Easy to Clean
5 Year Warranty
Cons
It' Might Be Heavy For Some
Fairly Expensive
Doesn't Create a Striped Finish
---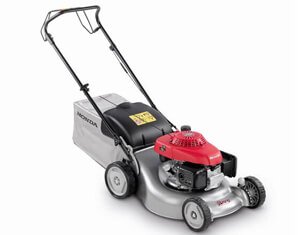 Honda IZY HRG 466 SK
Very Reliable
Excellent Build Quality
Durable
Design & Features
---
The Honda IZY HRG 466 SK has plenty of features;
160cc OHV Honda Engine
Honda engines have a reputation for being bulletproof, they just keep going.
This particular engine is Honda's GCV160 overhead valve, 4-stroke engine. It features an auto-choke which makes starting that much easier.
Self-Propelling
It's a self-propelled mower so there's no hauling it around your garden. All you have to do is engage the self-drive and steer.
This is especially useful on inclines where it's 32kg weight might otherwise feel quite heavy.
Cutting Features
The Honda has a pressed steel, powder-coated cutting deck which has been treated to resist corrosion and UV abrasion.
It has a substantial 46cm cutting width which features Honda's intelligent blade design. Should it hit a solid object, the blade is designed to bend instead of smash into a million pieces.
You can choose from 6 mowing heights which range from 20mm – 74mm.
There are also 2 options for mowing your lawn;
You can collect the grass clippings in the fairly big 55-litre grass collection bag.
When cutting long or wet grass you can remove the back and let it discharge the clippings from the rear.
---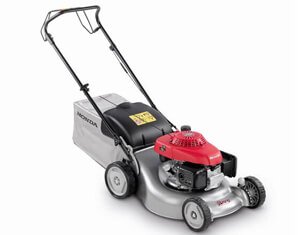 Honda IZY HRG 466 SK
Easy to Start
Large Collection Bag
Fairly Lightweight
Honda IZY HRG 466 SK Performance: How it Did in Our Test
---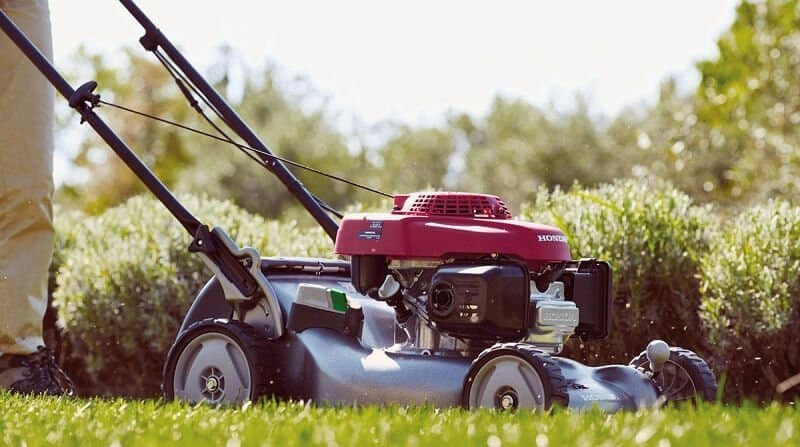 Having worked in the lawn care industry for more years than I care to remember, I have used Honda lawn mowers for a long time.
And from experience, they're one of the most well-built and most reliable machines you can buy.
Assembly
Setting up the Honda IZY is easy.
After unboxing it all you have to do is unfold the handles and tighten them up and assemble the grass collector which is just a case of clipping the bag to the frame. There are three height settings for the handle so you can set them at a height which makes using the mower comfortable.
After that, it's just a case of filling the engine with oil and fuel and making sure the spark plug is connected.
Operation
After I spent 15 minutes assembling the Honda it was time to start it for the first time.
This is simply a case of turning on the fuel tap before engaging the operator presence control lever and pulling the recoil cord.
There's no need to prime the engine and it has an automatic choke so starting it is a doddle. It fired up on the first time of asking.
Setting the mowing height consists of adjusting two levers, one on the front and rear. These are easy to move with a nice smooth action.
Six mowing heights ranging from 20mm – 74mm provides plenty of adjustment too.
It weighs 32kg so it's definitely not the heaviest lawn mower around and getting it from your shed to your lawn shouldn't pose any problems.
That said, it's still heavy enough to reassure you of its build quality which is, I have to say, excellent.
When you engage the self-drive, that 32kg feels like it disappears and it takes care of the forward motion so all you have to do is steer it.
The cutting deck is made from powder-coated pressed steel so the whole thing feels very robust, while at the same time, fairly lightweight. This makes manoeuvring it pretty easy, even in tighter spaces.
It cuts well too.
Even when I pitched it against an uneven lawn with wet, foot-high meadow grass (which I don't recommend you do, that's what grass strimmers are for!) it got through it without much fuss.
The grass bag did a good job at collecting the rough, wet clippings thanks to Honda's high airflow system.
On nicer, more well-kept lawns, the finish was very nice.
The Honda also works quietly.
They have developed a low noise blade, together with other features which means the mower is 30% quieter than the current EU standards.
Cleaning & Maintenance
After every use, I simply tilted the Honda and rinsed the underside with a garden hosepipe. The cutting deck is resistant to corrosion so this isn't an issue.
Keeping the mower serviced and in good working order is simple enough too.
That said, to keep the 5-year warranty intact though you'll need to have it serviced by an authorised dealer.
---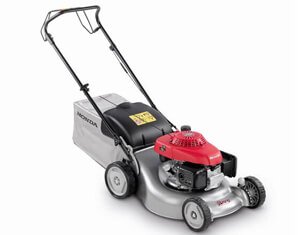 Honda IZY HRG 466 SK
Easily Manoeuvered
30% Quieter than EU Standards
High Quality Cut
Flaws But Not Deal Breakers
---
I really like the Honda ISY HRG 466 SK but there are a few things to bear in mind;
Firstly, for some, it might be considered expensive. In which case I'd suggest you take a look at the Mounfield SP53 or the Einhell GC-PM 46 SP.
However, you're paying for build quality and reliability with the Honda.
Secondly, the wheels are set wider than the mowing blade. This means you have to be careful the wheels don't fall off the edge of your lawn into open borders. This could result in the blade scalping the edges.
If you have a mowing strip or another type of lawn edging that allows you to mow right over it, then there will be no risk of scalping. However, if you have open edges, you'll need to finish off with a strimmer or another lawn edging tool.
And lastly, the Honda IZY is a wheeled lawn mower, it doesn't have a roller and so it won't stripe your lawn. If you want to create stripes on your lawn, the Hayter Harrier and the Allett Classic are good but expensive options.
However, the Webb WERR17 'Supreme' is an excellent alternative and is slightly cheaper than the Honda.
My Overall Honda IZY HRG 466 SK Review: Should You Buy it?
---
If you're not bothered about creating lawn stripes you're more concerned about build quality and reliability, the Honda, in my mind is an obvious choice.
Yes, it's fairly expensive but for the money, you'll get a lawn mower from one of the biggest names in the game.
It's super easy to use, cuts incredibly well and works quietly.
It'll last for years and Honda has backed that up with their 5-year warranty.
Overall, it's an excellent piece of kit.
---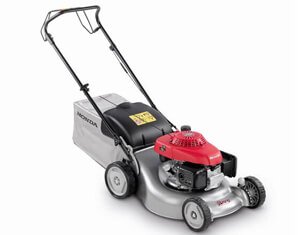 Honda IZY HRG 466 SK
One of the Best Brands in Lawn Care
It'll Last For Years
5-Year Warranty