In this Webb WERR17SP petrol lawn mower review, we'll look at why I think it is an excellent petrol mower.
My Very Short Webb WERR17SP Review
The Webb WERR17SP is a fantastic petrol lawn mower.
It has many of the same features as the Hayter Harrier, which I consider to be the Rolls Royce of petrol rotary lawn mowers.
It's not as big or heavy and it does lack some of the nicer features of the Hayter.
But that being said, it's at least half the price.
It's British made, easy to use, reliable and leaves a beautiful striped finish.
In fact, if I didn't have the budget for the Hayter or couldn't justify the cost, this is the mower I'd choose.
A Quick Overview of the Webb WERR17SP 'Supreme'
---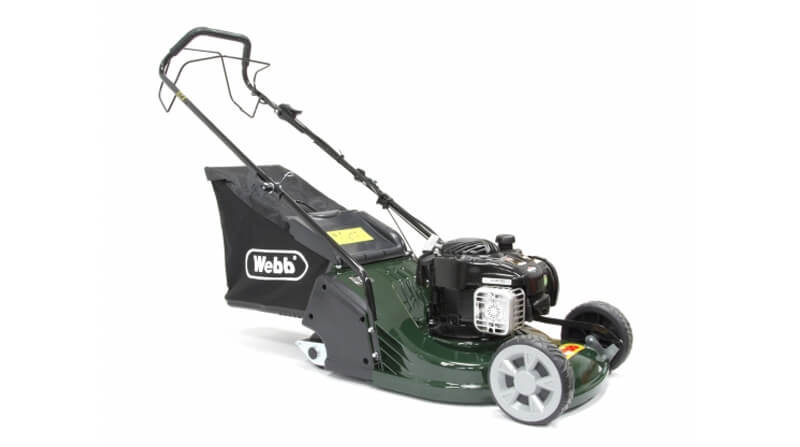 ---
Key Features
Engine: 140cc, 4-stroke; Cutting Width: 43cm; Grass Box Capacity: 55 Litres; Weight: 32kg; Self-Propelled: Yes; Warranty: 2 Years;
---
Pros
British Made Quality
Easy to Start and Use
Self-Propelling
Quiet Operation
Leaves a Beautiful Striped Finish
Cons
Only Has Single Speed Self Drive
Assembly Instructions Are a Bit Vague
---
Webb WERR17SP 'Supreme'
– British Made Quality
– Easy to Use
– Creates a Very Nice Striped Finish
Who is the Webb WERR17SP For?
---
This Webb petrol lawn mower is for those lawn owners with medium to large beautifully manicured lawns.
It's also an excellent alternative to the Hayter Harrier which, like the Allett Classic, I consider to be the Rolls Royce of petrol rotary lawnmowers.
However, it's expensive.
So, if you don't have the budget for the Hayter or you can't justify the cost, the Webb WERR17SP is less than half of the cost.
Design & Features
---
The Webb WERR17SP is well made and has all the features you'd expect from some of the best lawn mowers.
140cc Briggs & Stratton 500E Series Engine
Briggs & Stratton are known for making some of the best lawn mower engines on the market.
The Webb is powered by their 140cc 500E Series engine which is compact, lightweight and easy to operate.
It's also very quiet.
Self-Propelled
This is a self-propelled machine which removed the work of having to push its 32kg weight around the garden. This is especially useful if your lawns are on an incline.
If you have flat lawn and you're fit and able, you can save yourself even more money by investing in the hand push mower.
Cutting Settings
As you'd expect, the Webb comes with a pretty good range on mowing features.
It has a 43cm cutting width and 55-litre grass collection bag which makes it good for medium to large lawns.
Collecting the grass clippings isn't your only option either. You can set the mower up to discharge clippings out of the rear which is handy when you're cutting long grass.
Or you can use it as a mulching mower using the mulching plug to shred the clippings and blow them back into the lawn where they break down and act as one of the best lawn feeds around. This is a feature the Hayter lacks.
You have 6 height settings which range from 23mm – 77mm which is adjusted via a single lever.
The rear roller is what creates the striping effect and it has been split to improve manoeuvrability when turning.
Also, the front wheel is set within the cutting width. This means that mowing the edges of your lawn without scalping is easy. There should be no need to use a strimmer or other kind of lawn edger to finish off.
Webb WERR17SP Petrol Lawn Mower Performance
---
I've spent quite a lot of time with this Webb lawnmower and it's such a good machine for the money.
Assembly
Putting this lawn mower together is relatively straight forward.
You'll need to put the handles together as well attach the Operator Presence Control cable and the self-propelled drive cable to their corresponding levers.
This isn't difficult to do, more a bit fiddly. Unfortunately, the instructions don't do a great job of explaining it either
You'll also have to fit the spark plug and put the grass collector together before filling it with oil and fuel.
Operation
Starting the mower for the first time was easy. A few presses of the engine primer bulb primed the carburettor and it was ready to go.
Holding the brake lever and a couple of tugs of the pull cord and it fired up without any issues.
Setting the mowing height is dead easy. There's plenty of adjustment with 6 settings and the lever on the left side of the mower as you stand behind it works smoothly.
Manoeuvring the mower is easy enough too. It does weigh in at 34kg but the self-drive feature takes care of the weight so you don't have to manually haul it around the garden. All you need to do is steer it.
The weight also contributes to how well the mower creates that classic striped finish. It helps the rear roller flatten the grass as you mow, making the effect more prominent.
Speaking if the roller, it's ribbed to improve traction and split to help make turning easier.
In terms of the grass clippings, I've used the 55-litre collection bag which does a reasonable job of compressing the clippings. I've also used the rear discharge when blasting through long grass. However, I love the mulching option.
It just works really well, mulching the grass clippings and blowing them back into the lawn where they break down and put the nutrients back into the turf.
All of this contributes to a feature-packed, well-priced lawn mower that's a joy to use.
Cleaning & Maintenance
Cleaning and maintaining the lawn mower is easy.
I just hosed it down after each use. The underside of the cutting deck does have a few ribs and crevices where grass and dirt can build up so I found it best to hose down after every cut. This is always best practice though, no matter what lawn mower you have.
Servicing involves replacing the spark plug, oil and fuel as well as the air filter each season.  It's a good idea to sharpen the blade too.
This isn't difficult to do but if in doubt, get your local lawn mower shop to do it.
---

Webb WERR17SP 'Supreme'
– British Made Quality
– Easy to Use
– Creates a Very Nice Striped Finish
Flaws But Not Deal Breakers
---
As you can probably tell, I really like the Webb WERR17SP but for me, there are a couple of issues.
The first one is the assembly instructions.
They're just not good enough. The images in the manual are not only small, but they're also black and white so they're not the clearest.
It's also one of the main complaints from other users too.
Webb could easily make a simple explainer video to show users how to do it but they haven't.
Apart from that, the only other thing I'd like if I had my way is variable speed control on the self-drive. But that's me being picky.
---

Webb WERR17SP 'Supreme'
– British Made Quality
– Easy to Use
– Creates a Very Nice Striped Finish
My Overall Webb WERR17SP Review: Should You Buy it?
---
If you'd love the Hayter Harrier but either you don't have the budget or you're unable to justify the cost then yes, it's an excellent lawn mower.
Putting the Hayter Harrier aside…
…If you have nicely tended lawns and you want a mower that's reliable, good quality, cuts well and leaves those beautiful lawn stripes then again, yes. You should definitely consider this Webb petrol mower.
The only thing that might put you off is putting it together. If you're not great at wielding a spanner you might need to get some help.
Or look for a mower that's not so fiddly to assemble.
---

Webb WERR17SP 'Supreme'
– British Made Quality
– Easy to Use
– Creates a Very Nice Striped Finish