In this Mountfield SP53H petrol lawn mower review, we're going to take a good look at one of Mountfield's most popular models and why I think it's one of the better petrol lawn mowers for most people.
My Very Short Mountfield SP53 Review
The Mountfield SP53 provides the perfect balance between price and quality.
It's well built, easy to start and very reliable. During my test, it worked incredibly well and with three ways of dealing with grass clippings, it's versatile too.
And what's even better, it won't break the bank.
OK, it doesn't create that striped finish that many lawnsmiths strive for. That said, a lawn doesn't need stripes to look beautifully manicured.
If lawn stripes are important to you, have a look at the following reviews;
A Quick Overview of the Mountfield SP53
---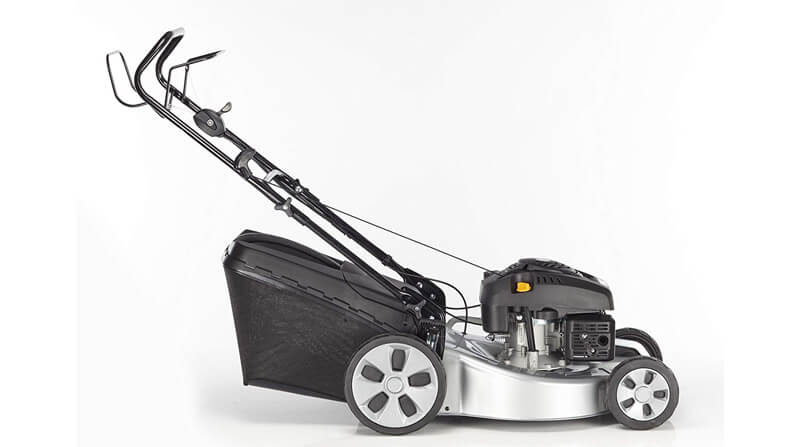 ---
Key Features
Engine: 160cc, 4-stroke; Cutting Width: 51cm; Grass Box Capacity: 60 Litres; Self-Propelled: Yes; Weight: 35kg; Self-Propelled: Yes; Warranty: 2 Years;
---
The SP53H is the big brother to the Mountfield SP41. It also has a few more useful features. That said, this is also an excellent machine.
Pros
Very Well built
Wide Cutting Width
Easy to Start and Use
3 Ways of Dealing With Grass Clippings
Leaves an Excellent Finish
Cons
It doesn't cut right to the edges
Won't leave a striped finish
---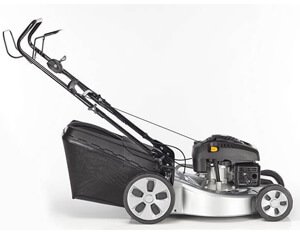 Mountfield SP53H Petrol, Self-Propelled Rotary Lawn Mower
Easy to Use
Large 53cm Cutting Width
3 Ways of Dealing With Grass Cuttings
Leaves an Excellent Finish
Design & Features
---
The Mountfield SP53 is a 'middle of the road' lawn mower.
By that I mean it's well priced but good quality and has plenty of features to help you get the best finish when cutting the grass.
160cc OHV Engine
This Mountfield petrol lawn mower is powered by a 160cc overhead valve engine. It has an auto-choke system which is designed to make the machine easy to start.
Self-Propelled
As a general rule, petrol lawn mowers are fairly heavy which means pushing them up and down the lawn can be tiring work. Especially if your lawns are sloped.
The SP53 weighs in at 35kg so the fact that its self-propelled means you don't physically have to push it. All you have to do it concentrate on steering it.
Cutting Settings
This mower has a pretty wide cutting width at 53cm so it's ideal for medium to large lawns.
With full-throttle control you can adjust the engine's power output depending on how long, thick or wet the grass is.
There's plenty of height adjustment too with 5 height settings which range from 27mm – 90mm.
You also have three options for dealing with grass clippings;
Grass Collection Bag
Firstly, you can simply collect the grass using the large 60-litre collection bag. This means you can either put it on the compost pile on in the green waste bin.
Rear Discharge
Alternatively, you can leave the bag off and the cuttings will be discharged out of the rear of the machine. This makes cutting long grass much quicker because you won't have to stop every two minutes to empty the bag.
Mulching
Lastly, you can use it as mulcher mower as it comes with a mulching attachment. This is perfect for when you're cutting the grass in summer when it's dry. Mulching the grass cuttings means the cuttings will decompose back into the lawn, keeping vital moisture and nutrients in they need to be. Also, mulched clippings are blown into the lawn so you'll not even see them.
Anti-Scalp Plate
To keep it from digging in and scalping the lawn in uneven or bumpy areas, the Mountfield has been fitted with an anti-scalp plate.
---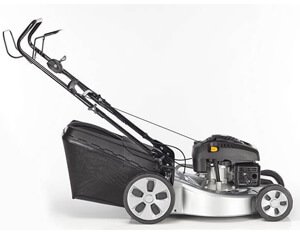 Mountfield SP53H Petrol, Self-Propelled Rotary Lawn Mower
Easy to Use
Large 53cm Cutting Width
3 Ways of Dealing With Grass Cuttings
Leaves an Excellent Finish
Mountfield SP53H Performance
---
After spending several weeks with the Mountfield SP53, I have to say, I'm pretty impressed.
Assembly
Unboxing it and assembling it is very straight forward. It's just a case fitting the handles using the quick-release, hand-tightening bolts, fitting the spark plug.
Putting the grass collection box together is easy too.
My machine had big warning labels all over it reminding you to fill it with oil (SAE30) before starting it.
Filling it with oil and fuel is also very easy with the filler holes on top of the engine. On some lawn mowers, the filler caps can be put in silly places that make filling them up more difficult than it needs to be.
No such issues here.
Operation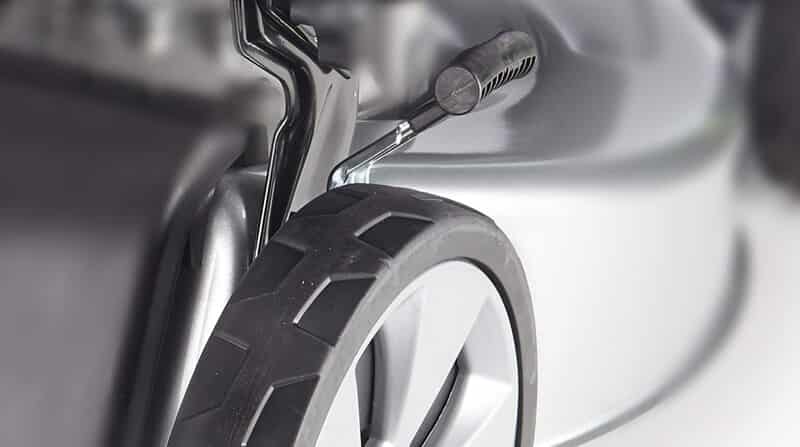 With the mower built and the engine filled, it started on the first pull – I was very impressed by that!
Setting the mowing height is dead easy. The lever is on the rear right wheel as you stand behind it. Selecting one of the five height settings is very smooth with no catching or jamming.
The self-propulsion is a nice addition and is especially helpful if you have sloped lawns.
It feels very well built too with its powder-coated steel chassis and cutting deck. At 35kg it feels heavy enough to reassure you of its build quality without being too heavy to move it without the self-drive.
Thanks to the 280mm rear wheels, the Mountfield feels stable over bumpy and uneven ground which makes it easy to move around. The front scalp plate also helps because the mower doesn't get stuck or dig in at the front.
In terms of dealing with grass clippings, I've used all three ways and they work fantastically.
The mower powered through grass which was a good 5 inches tall and the rear discharge worked perfectly, leaving the cuttings on the ground.
A 60-litre grass box is plenty big enough for most large gardens but the whole thing can start to feel a bit heavy when blasting through wet grass.
However, the mulching feature is my favourite.
It mulches the grass clipping into tiny pieces and blows them back into the turf where they can break down and act as a natural lawn feed.
The best part about it is that the clippings are blown into the turf and not left on the surface. As such you can't see them and the finish is excellent.
Maintenance
Keeping the Mountfield in good working order isn't difficult to do.
I just rinsed the cutting deck after each cut (especially when the grass was wet as it sticks everywhere). However, in dry conditions, a brush works perfectly well.
Be careful to tilt the machine on the correct side though. This is indicated in the engine manual.
As I said earlier, topping it up with oil and fuel is also very easy as the filler caps are on top of the engine.
It's advisable to change the oil and fuel each season too. This is also explained in the engine manual.
---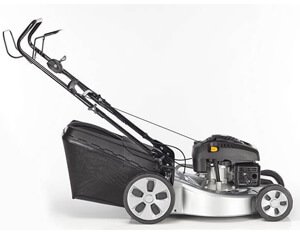 Mountfield SP53H Petrol, Self-Propelled Rotary Lawn Mower
Easy to Use
Large 53cm Cutting Width
3 Ways of Dealing With Grass Cuttings
Leaves an Excellent Finish
Flaws But Not Deal Breakers
---
As much as I like the Mountfield SP53H, it's not perfect.
Firstly, if you like a striped finish to your lawn when you have cut the grass, this won't do it because it doesn't have a rear roller, just wheels.
If you're not bothered about a stripy lawn this comment will be irrelevant. However, if this is important to you, have a look at the following reviews;
Speaking of the wheels, they're set outside of the width of the cutting blade. This means you need to be very careful when cutting the edges of your lawn. Should the wheels fall off the edge of your lawn you could end up scalping the edges.
If you have a mowing strip at the edges of your lawn, this won't be an issue as you can just roll the mower right along. If you don't, you'll need to finish the edges with edging shears, a strimmer or another edging tool.
It would also be nice to have some speed control. You have either a choice of idle or full steam ahead with nothing in between. It's not a major issue and it's not like it pulls you along. It would just be nice to have that bit extra control over the speed.
My Overall Mountfield SP53H Petrol Lawn Mower Review: Should You Buy it?
---
I have to say, I really quite like the Mountfield SP53.
It's not really that expensive but it's packed full of features you'd expect from a top end machine like the incredible Honda IZY.
Again, it's not perfect and there are a couple of things I'd change.
That said, the issues I've highlighted are small and shouldn't stop you investing in this machine if you have a medium to large sized lawn.
That said, if you have intricately shaped lawns, it's just too big. No matter how well the self-drive works.
If you're in the market for a petrol mower that's a little smaller, have a look at my review of Einhell's GC-PM 46 S.
Mountfield SP53H Reviews From Other Users
The Mountfield SP53H is also very well reviewed by other users:

Naturally, though, there are a few complaints.
Firstly, some people comment that the 60-litre grass collection box is too small. The speed at which this fills up depends on how long the grass is and how often you mow your lawn. Obviously, if you only cut the grass every 2 weeks it'll fill up pretty quickly.
If you mow your lawn every week, especially in spring and autumn, it won't fill up as quickly and a 60-litre capacity should be plenty.
One or two people have complained that the height adjustment doesn't work very well. That said, my personal experience of the height adjustment is one of ease. This is backed up by many reviewers saying the height adjustment is the best they have ever used.
Overall, it's an excellent machine.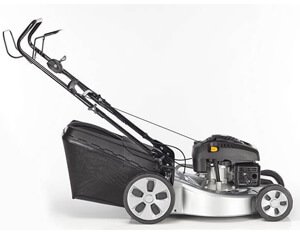 Mountfield SP53H Petrol, Self-Propelled Rotary Lawn Mower
Easy to Use
Large 53cm Cutting Width
3 Ways of Dealing With Grass Cuttings
Leaves an Excellent Finish