In this Einhell GC-PM 46 S review, we're going to take a good look at why it's made my list of the best petrol mowers.
My Short Einhell GC-PM 46 S Review
The Einhell GC-PM 46 S is a very good budget petrol lawn mower for gardens up to 1,400sq meters.
Just because it's classed as a 'budget' doesn't mean it's no good.
It's a self-propelled machine with high torque, comes with a choice of engines and is engineered by the Germans.
And they're renowned for their quality engineering.
It cuts well, it's reliable and shouldn't break the bank.
A Quick Overview of the Einhell GC-PM 46 S
---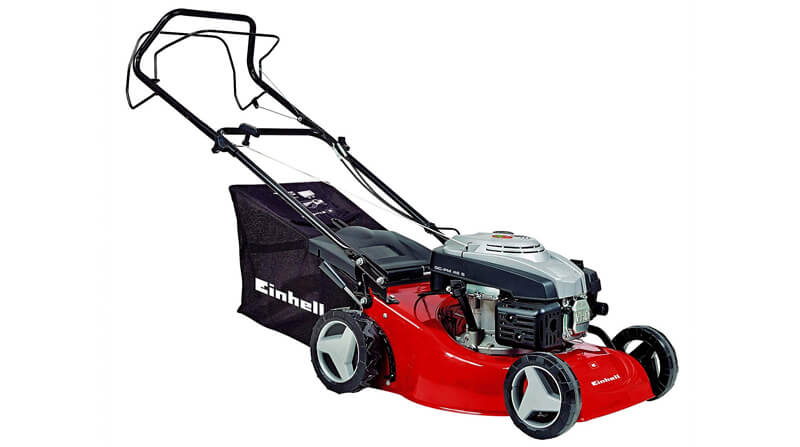 ---
Key Features
Engine: 139cc, 4-stroke; Cutting Width: 46cm; Grass Box Capacity: 50 Litres; Weight: 34kg; Self-Propelled: Yes; Warranty: 2 Years;
---
Pros
Fairly Well Priced
Easy to Start
Reliable Engine
High Torque
Cuts Very Nicely
Cons
Doesn't Mow Right to the Edges
Doesn't Leave Lawn Stripes
---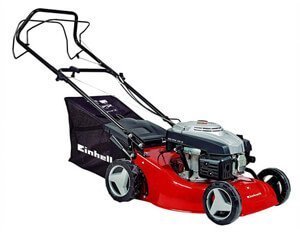 Einhell GC-PM 46S Petrol Lawn Mower
– Cheap, Self Propelling Lawn Mower
– Large 46cm Cutting Width
– Robust Machine
Design & Features
---
The Einhell GC-PM 46 S is a 'budget' machine – it's not expensive when compared to other lawn mowers of its size and capabilities.
It also bridges the gap in terms of the size and power difference between two other excellent mowers I've reviewed. The Mountfield SP41 which has a 41cm cutting width and 100cc engine and the Mounfield SP53 which has a 53cm cutting width and 160cc.
139cc 4-Stroke Engine
The Einhell is powered by a 139cc 4-stroke engine which generates 3,000rpm and a high amount of torque. This comes in handy when cutting wet or long grass.
You can also buy this model with a 125cc Briggs & Stratton 450E Series engine although it is more expensive.
Self-Propelling
A lawn mower that is designed for lawns up to 1,400sq meters really needs to be self-propelling.
That said, many petrol lawn mowers in this price bracket lack this feature but it comes as standards on the Einhell.
You can also disengage the drive from the rear wheels to more easily manoeuvre it in smaller spaces.
Cutting Settings
The GC-PM 46 S has a fairly wide cutting width of 46cm which is combined with a 50-litre grass collection bag.
You can also remove the back and let the mower discharge the clippings from the rear. This is especially useful when the grass is long as it prevents the grass collector from clogging up.
There are also 9 height settings which give you plenty of control over how high you mow your lawn, ranging from 30mm – 80mm.
---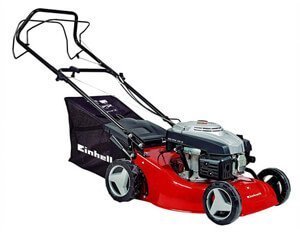 Einhell GC-PM 46S Petrol Lawn Mower
– Cheap, Self Propelling Lawn Mower
– Large 46cm Cutting Width
– Robust Machine
Einhell GC-PM 46 S Performance
---
I've spent 12 weeks with this machine and over that time I really quite liked it.
It's not perfect but then neither are the expensive ones.
Assembly
Putting the mower together is easy enough.
It's simply a case of fitting the handles, attaching the fixing the actuator cables to the handles with the supplied clips and fitting the grass collector. The grass collector is already made so there's no need to assemble it yourself.
Once you've built it you'll need to fill it with oil and fuel and you're ready to go.
The filler caps are in places that make sense too so filling the engine with oil and fuel shouldn't be a messy job.
That said, I always find a plastic funnel makes putting the oil in so much easier.
Operation
With the mower built and, filled with oil and fuelled up, it started on the first pull of the cord.
Whenever the engine is cold you'll need to prime the carburettor first by pressing the primer a few times.
Once the engine is hot, you won't need to bother with the primer, it just fires straight up.
Setting the height is dead easy via the lever on the back wheel. There's tons of adjustment too with 9 settings.
The chassis and cutting deck is made from powder-coated steel so it's a pretty robust machine. This also adds to its reassuringly heavy feel.
At 34kg it is a bit of a lump but it's easy enough to manage, especially when you engage the drive on the back wheels. It pretty much takes care of all of the weight for you, even on inclines.
All you have to do is steer.
Its 3,000rpm and high torque came in handy when I pushed my luck through foot long, coarse and wet grass. It sliced through it without fuss.
The grass collector couldn't cope very well at that point and it was easier to remove it and collect it later.
That said, I'd never advise you to use a lawn mower to cut grass like that. That's what strimmers are for.
I just tried to push the Einhell for the sake of this review.
When the grass is a sensible height though (as it should be when you cut it), the 50-litre capacity grass box is plenty big enough.
Even when cutting overgrown grass, I have to say, the finish was pretty good.
Cleaning & Maintenance
Keeping the mower in good working order is easy.
I kept it clean by tilting the mower back using the handle and rinsing the underside with a garden hose. Especially after cutting wet grass as it sticks everywhere.
A brush did the job just fine after mowing a dry lawn.
Changing the fuel, oil and spark plug is pretty much the same as on any other mower.
---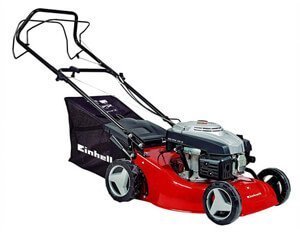 Einhell GC-PM 46S Petrol Lawn Mower
– Cheap, Self Propelling Lawn Mower
– Large 46cm Cutting Width
– Robust Machine
Flaws But Not Deal Breakers
---
As I said right at the beginning of this review, the Einhell isn't perfect;
Firstly, if you have an oddly shaped lawn with wavy edges and obstacles to mow around, you might struggle.
The self-drive only works at one speed which is a bit too quick in small spaces. You have the option to disengage the rear wheels but then you've got to manoeuvre a 34kg weight around which then has a tendency to create tramlines in the lawn.
So it'd be nice to have some control over the speed at which it moves. This would also give you a bit more control depending on the situation, ie: long, wet grass vs. short, dry grass for example.
Also, the wheels are set wider than the cutting width so you'll need to be careful you don't scalp the edges of the lawn if a wheel drops off. It also means you'll have some finishing off to do with an edging tool.
Having said that, this is the case for many lawn mowers.
And lastly, it has wheels instead of a rear roller so it won't create a striped finish.
If you like lawn stripes and you want to be able to create them, have a look at the following reviews;
My Overall Einhell GC-PM 46 S Review: Should You Buy it?
---
If you have small lawns or tight spaces were good manoeuvrability is key, I think there are better choices. The Mountfield SP41 or even the lightweight Hyundai HYM400P-2 push petrol mower would be good choices.
However, if you have a medium to large lawn which isn't so complex in terms of shape and you want a decent petrol mower that doesn't cost the earth then yes, I'd recommend this Einhell mower.
Or if build quality and reliability are most important for you, have a look at the Honda IZY HRG 466 SK. However, you'll pay substantially more for it.
It's not perfect but it is well built, cuts well and is very reliable thanks to it German engineering, offering excellent value for money.
---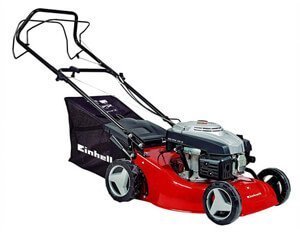 Einhell GC-PM 46S Petrol Lawn Mower
– Cheap, Self Propelling Lawn Mower
– Large 46cm Cutting Width
– Robust Machine