In this Allett Classic 14L review, I'm going to go into detail and explain why I think it's one of the best petrol mowers for ornamental lawns.
My Very Short Allett Classic 14L Review
The Allett Classic in an expensive machine.
That said, if you invest your time, money and energy into an ornamental lawn, you need the right lawn mower for the job.
It's reliable, starts every time and it's easy to use.
More importantly, though, it cuts grass beautifully to leave your lawn with an immaculate, striped finish which resembles a professional bowling green.
A Quick Overview of the Allett Classic
---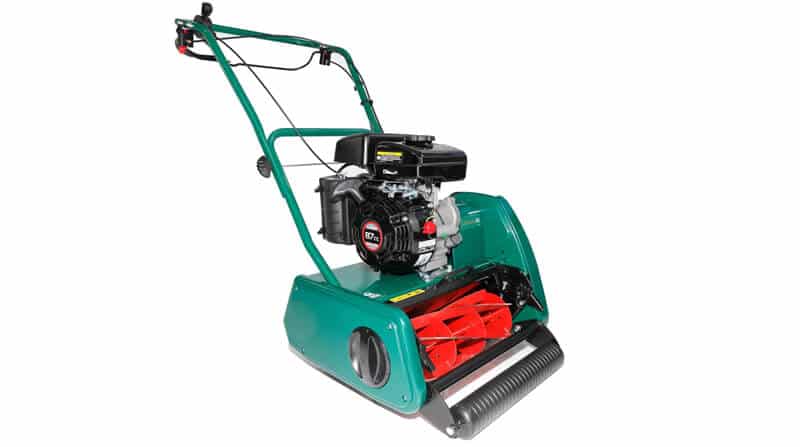 ---
Key Features
Engine: 87cc, 4-stroke; Cutting Width: 35cm / 43cm; Grass Box Capacity: 32 Litres / 40 Litres; Weight: 38kg / 41.5kg; Self-Propelled: Yes; Warranty: 1 Year;
---
There are two versions of the Allett Classic, the 14L and the Allett Classic 17L.
Both are exactly the same, apart from the cutting width.
Pros
British Made
Incredible Build Quality
Easy to Start and Use
Cuts Beautifully
Leaves an Immaculate Blowing Green Finish
Can Also Be Used as a Scarifier (attachment not included)
Cons
It's Expensive
You'll Need a Funnel to Fill the Engine With Oil
It's Heavy
---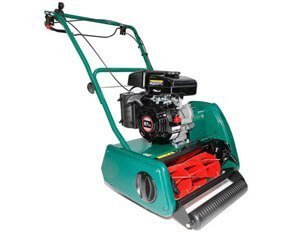 Who is the Allet Classic Petrol Lawn Mower For?
---
The consumer magazine, Which? said they couldn't award the Allet Classic with 'Best Buy' status because it doesn't cut long grass very well.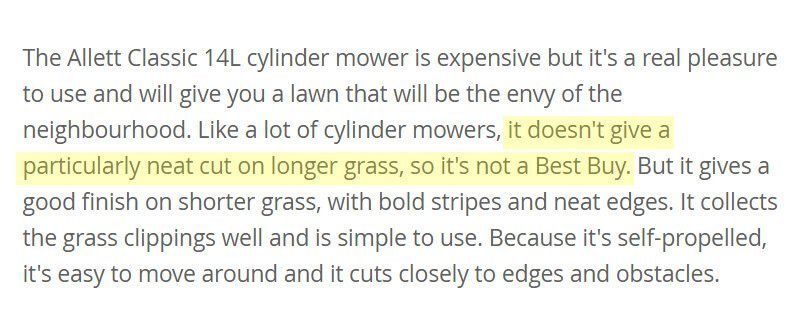 This, to me, is a rather silly statement because Allett builds petrol cylinder mowers that aren't designed to cut long grass.
So I want to start this review by explaining whether or not this is a machine you should even be considering.
So, if you spend time, money and energy into creating and maintaining formal or ornamental lawns, then yes, the Allett Classic is well worth the investment.
It cuts neatly, cuts short and leaves that bowling green finish.
If on the other hand, your lawn is in any way uneven, has long, coarse, or 'tufty' grasses in it, this mower won't serve you well. The Hayter Harrier 48 might be a better option.
---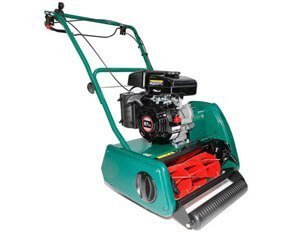 Design and Features of the Allett Classic
---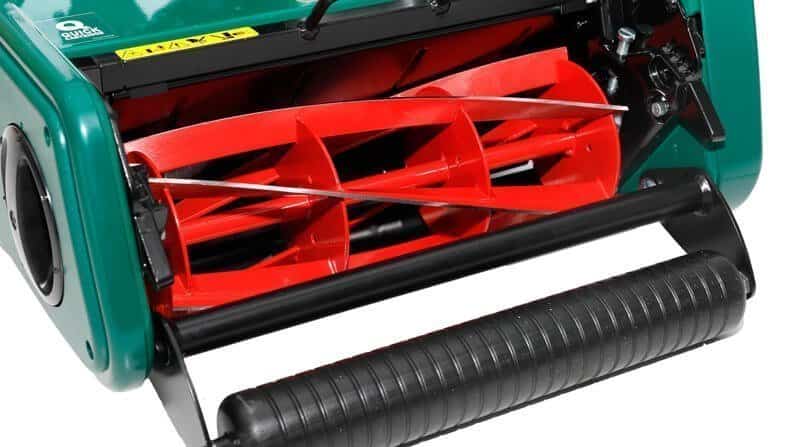 The Allett Classic comes with the design features you'd expect from a high-end petrol cylinder mower.
89cc Loncin 4-Stroke Engine
This model is powered by a high-end, air cooled, 4-stroke, 89cc engine from Loncin Industries.
Because it's designed to mow fine, ornamental grasses, it doesn't need the power of a 160cc engine like the Mountfield SP53 or Honda IZY.
Self-Propelled
In order to get the best possible finish, the Allett Classic is a self-propelled cylinder mower.
This makes manoeuvring its 38kg weight much easier because you just have to steer it rather than pushing it like you would a push mower.
It also makes creating straight lawn stripes easier too as it naturally wants to move in straight lines.
Cutting Settings
The Allett Classic 14L has a 14-inch (35.6cm) cutting width which makes it good for small to medium lawns. The 17L is better for medium to large lawns.
Unlike the majority of the petrol mowers I've tested and reviewed, this has a cylinder with 5 blades which delivers 66 cuts per meter.
Like I said earlier, this mower is designed for short, ornamental grasses so the range of cutting heights is much smaller than other mowers. The Allett Classic gives you 5 height adjustments which range between 6mm – 32mm.
There is also one height setting for scarifying, should you invest in that piece of equipment.
The grass box is 32 litres.
---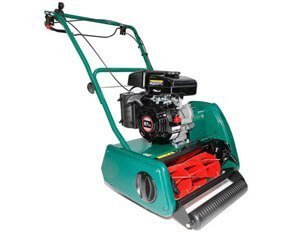 Allett Classic 14L Performance
---
I have personally owned an Allett Classic for a long time and I love it as much now as I did when I first got it.
Assembly
Assembling the Allett Classic 14L is super simple.
It comes folded up in the box and all you have to do is extend the handle and tighten up the wing nut.
You can also adjust the height of the handle by undoing the wing nut, removing the adjustment rod and inserting it into one of the three holes.
With the handles assemble and adjusted, all you have to do is fit the cable clips and clip the cables into them.
You then need to fit the grass box cradle by squeezing the ends together and locating the pins into the mounting holes. After that, the grass box just drops in.
Now you just need to fill it with oil and fuel.
Filling it with fuel is dead easy. It takes regular unleaded fuel and the filler cap is right on top of the engine.
Adding oil is a little trickier. It takes SAE30 oil but the oil filler cap is at a funny angle on the front of the engine so you'll need a funnel.
Operation
The Allett Classic is an 'old school' machine which means starting it is also old school.
It involves turning the engine on, putting the choke to the 'On' position and increasing the throttle before giving the recoil cord a pull.
For safety, you'll need to push the red safety catch forward and lift the right-hand lever to engage the cutting blade. You'll also need to press the left-hand lever to engage forward motion.
If you're not used to using a petrol mower, this might seem complicated but it's actually very easy to do.
Setting the mowing height is also made very easy with the big dial on the side of the machine. Which is very smooth and easy to operate.
Manoeuvring the machine is easy thanks to the self-drive. That said, its 38kg weight can make getting it from the shed to your lawn can be a heavy job.
However, it's that weight that flattens the grass and helps to create those classic lawn stripes that lawn enthusiasts strive for.
The 32-litre grass box is more than big enough.
If you're the type of lawn owner that invests in one of these mowers, I'd imagine you'd spend quite a lot of time mowing the lawn so you'll only ever take the top off the grass.
The mower features both a front and rear roller so there is never any risk of dropping off the edge of your lawn and scalping it. You can roll right over the edges and always keep them neat, reducing the need to use the strimmer or another lawn edging too.
A cylinder blade also cuts very differently to a rotary mower. They cut in a scissor-like fashion 66 times per meter. This delivers a beautifully clean cut compared to a rotary blade which is similar to swinging a knife which much rougher and far less accurate.
Maintenance
Keeping your Allett Classic is good working order is fairly easy.
After every use, I spray the underside and around the cutting blade with a hose. It's really the only way to do it.
Draining and replacing the fuel and oil is easy.
Unlike many lawn mowers that need to tilting to drain the oil, the Loncin engine has a drain plug. So all you need to do it undo it.
I really don't know why all lawn mower engines don't have this feature.
This makes doing your winter servicing that much easier.
---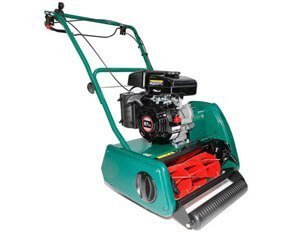 Flaws But Not Deal Breakers
---
I really can't complain too much about the Allett Classic.
That said, there are a couple of things you do need to be aware of.
Firstly, it weighs in at 38kg, the bigger version weighs 41.5kg which is pretty heavy. This isn't an issue when mowing the lawn as the self-drive takes the weight away from you.
However, getting it from the shed to your lawn could present a challenge – especially if you need to pick it up and carry it.
And secondly, you WILL need a funnel to fill the engine with oil due to the position of the filler cap. If you try without a funnel, you'll get oil everywhere.
It'd be nice to have some speed control over the self-drive too. It doesn't pull you along and it is easy to control but you're stuck to a single speed.
My Overall Allett Classic 14L Review: Should You Buy it?
---
As I've already mentioned in this Allett Classic 14L review, I actually own the 17L.
However, it's important to note that this petrol cylinder mower isn't for everyone. If you have anything but a bowling green type, or a short formal lawn then choose another model.
It doesn't have the power to blast through long, rough or wet grass, it's not designed for that. Also, it doesn't cut high enough for those types of lawns.
If you buy the Allett for that kind of work you'll ruin it and waste several hundred pounds.
The Hayter Harrier would be a better option as it'll give you more adjustment, a bigger collection bag and more height adjustment.
And that brings me onto my next point, the Allett is an expensive machine. If you don't have the budget or you can't justify the cost, have a look at the following reviews:
However, if you do have flat, well manicured, formal lawns which you spend a lot of time and money to keep in pristine condition, the Allett Classic is a wonderful machine.
---