I've written this Hyundai HYM400P-2 review because I believe it's one of the best cheap petrol mowers around.
Granted, Hyundai isn't necessarily a brand you'd think of when buying a lawn mower.
But that doesn't mean it's not good.
My Very Short Hyundai HYM400P-2 Review
The Hyundai HYM400P is far from the best petrol lawn mower on the market.
That said, a cheap petrol push mower is never going to be.
However, it's very light and I found that for small, well-kept lawns it's a very decent machine that cuts really quite well and leaves a nice finish.
And it comes with a very reassuring 3-year warranty, which is virtually unheard of for a product of this price.
If you're looking for something better quality with a few more features for not a lot more money, take a look at my Mountfield SP41 review.
A Quick Overview of the Hyundai HYM400P-2
---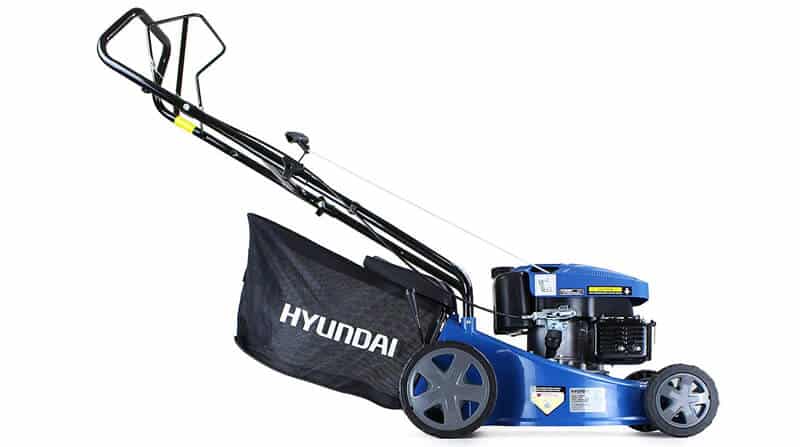 ---
Key Features
Engine: 99cc, 4-stroke; Cutting Width: 40cm; Grass Box Capacity: 40 Litres; Weight: 18.5kg; Self-Propelled: No; Warranty: 3 Years;
---
Pros
It's Cheap
Light Weight
Easy to Use
Reliable Engine
Cuts Nicely
Good For Smaller Lawns
Cons
Doesn't Cut to the Edges of Your Lawn
Instruction Aren't Great
Engine Can be Tricky to Start For the First Time
Doesn't Have the Power to Tackle Thick, Wet Grass
---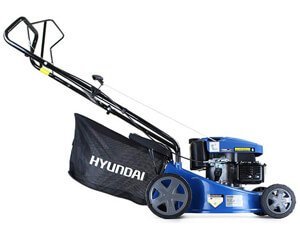 Hyundai HYM400P: The Best Cheap Petrol Lawn Mower
Very Cheap
Well Reviewed by Users
Weighs just 18.5kg
Cuts Nicely
Design & Features
---
The Hyundai is a basic, entry-level petrol mower. As a result, its features are basic too.
99cc OHV Engine
It features a 99cc overhead valve engine which is plenty powerful enough for lawns of up to 400sq meters.
Long, thick and wet grass can cause it to struggle.
That said, if you can get rid of overgrowth with a garden strimmer, it'll perform reliably.
Hand Propelled
Unlike many of the petrol lawn mowers I've reviewed which are self-propelled, the Hyundai isn't.
This means you'll have to push it yourself which isn't a big deal as it only weighs 18.5kg.
It might get tiring on inclines though.
Cutting Settings
The HYM400P-2 has a 40cm cutting width and a 40-litre grass collector. For lawns up to 400sq meters, that should be plenty, depending on how long you let the grass grow.
If you use it on larger lawns, you might find it needs emptying too often.
You can also just remove the grass collector and discharge the clippings from the rear of the mower. This is useful when the grass is long and you don't want to spend your whole morning emptying the grass basket.
Six height settings give you a range of cutting height which ranges from 25mm for a nice smooth finish, to 75mm for longer grass.
Durable and Rust Free
The chassis and cutting deck are made from Polypropylene. This means it's strong and it won't rust like steel or other metals.
It also makes it light.
---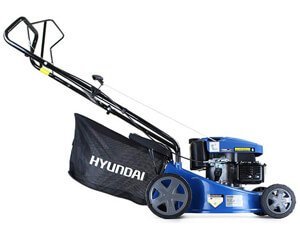 Hyundai HYM400P: The Best Cheap Petrol Lawn Mower
Very Cheap
Well Reviewed by Users
Weighs just 18.5kg
Cuts Nicely
Hyundai HYM400P-2 Performance
---
After spending a fair amount of time with the Hyundai, I have to say, it's a fairly decent machine.
It's not perfect as you'll see but for the money, it's not bad.
Assembly
Assembly consists of fitting the handles and the wheels.
The instruction manual does an OK job of explaining how to do it but Hyundai has created a video which makes it that much easier to follow along.
I've included it above so you don't have to go digging through the internet to find it.
The grass collect comes already assembled which is good as sometimes they can be tricky to put together.
Filling it with oil and fuel is easy enough but I always prefer to use a cheap plastic funnel to prevent spillages.
Operation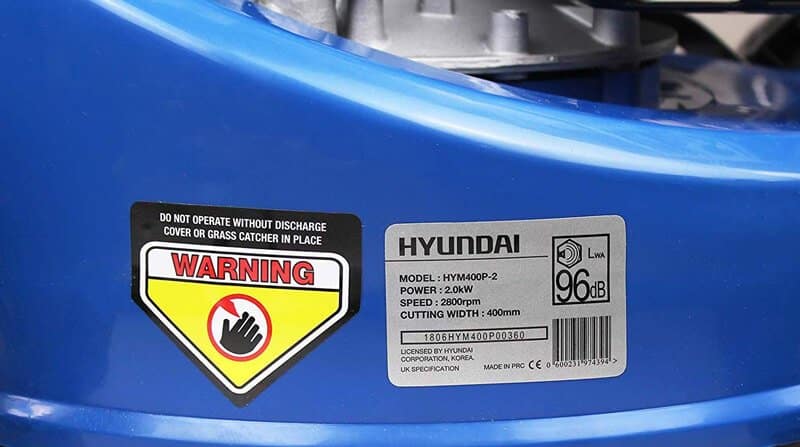 Starting the engine for the first time requires that you press the primer bulb at least five times to prime the carburettor.
After the first use, it only needs 2-4 presses.
However, I had issues starting it for the first time.
After calling Hyundai I had to adjust the choke cable. It wasn't difficult to do but still, I probably shouldn't have had to.
That said, it started first time, every time after that.
Setting the mowing height is easy via the lever on the rear right wheel (as you stand behind it).
With the engine and mowing height set, mowing the lawn is easy. Despite not being self-propelled, it's easy enough to manoeuvre due to the fact that it only weighs 18.5kg.
Even on inclines, it's really not that heavy.
I found it performed well on most lawns but it did struggle on neglected lawns that resembled more of a paddock than a lawn.
That said, it wasn't designed for this anyway.
Maintenance & Servicing
Keeping this mower clean is as simple as brushing it down after use.
If the grass is wet, it's easier to rinse it off with a hose as it sticks to the underside of the mower and around the wheels etc.
It's also recommended you service it at the start of every season by replacing the air filter, oil and fuel.
It's all very easy to do and again, Hyundai has a video explaining how to do it:
---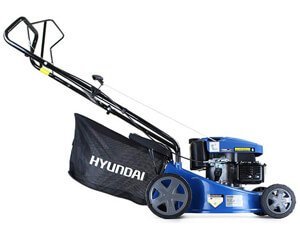 Hyundai HYM400P: The Best Cheap Petrol Lawn Mower
Very Cheap
Well Reviewed by Users
Weighs just 18.5kg
Cuts Nicely
Flaws But Not Deal Breakers
---
Firstly, and as I've already mentioned, I did have a bit of a struggle starting the mower for the first time. A quick call to customer care sorted the issue quickly and to be fair, I doubt this will be the case for all of their mowers. It was more likely a one-off issue.
Secondly, like many lawn mowers, the wheels on the Hyundai HYM400P are set outside of the cutting width.
This means you'll need to be very careful when mowing the edges of your lawn. If the wheels drop off the edge you could scalp them. So you'll want to finish off the edges with a pair of lawn edging shears or strimmer.
If you have a mowing strip, this isn't an issue as you'll be able to roll the mower right over the top.
Also, there's no roller so if having a striped finish is important to you, have a look at the following reviews:
And lastly, despite 99cc being perfectly adequate for most lawns, it might not be powerful enough for some lawns. If your lawn resembles more of a paddock, 99cc won't cut it.
My Overall Hyundai HYM400P Review: Should You Buy it?
---
To be honest, it depends.
If you're on a budget and you have a small, reasonably well looked after lawn then I think it'll serve you well.
It's cheap, reliable, it cuts well and the three-year warranty is a nice bonus.
However, for lawns that are any more than 400sq meters, bumpy or are more like a paddock, it just won't cope.
That said, if you can stretch your budget just a little bit, the Mountfield SP41 or the Einhell GC-PM 46 S are much better choices in terms of quality and number of features.
And if you really want to push the boat out in terms of quality, the Honda IZY HRG 466 is a cracker. However, you'll pay substantially more for it.
---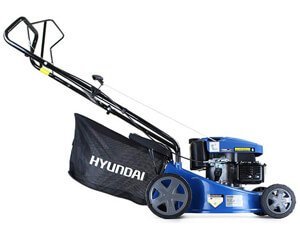 Hyundai HYM400P: The Best Cheap Petrol Lawn Mower
Very Cheap
Well Reviewed by Users
Weighs just 18.5kg
Cuts Nicely