In this Mountfield SP41 Petrol lawn mower review, we're going to take a look at one of Mountfield's most popular models. You'll also see why I think it's a contender for the best petrol mower for smaller lawns.
Short Mountfield SP41 Review
The Mountfield SP41 is an excellent, self-propelled petrol mower which is fairly cheap but cuts beautifully.
Its 39cm cutting width, 40-litre grass bag and lightweight make it a joy to use on small to medium-sized lawns.
Starting it is easy and the engine is reliable so you should get many years of good use from it.
It doesn't have a rear roller so if a striped finish is important to you, you might want to choose another model. Also, the instruction manual isn't the best. That said, there are instructional videos on YouTube.
A Quick Overview of the Mounfield SP41
---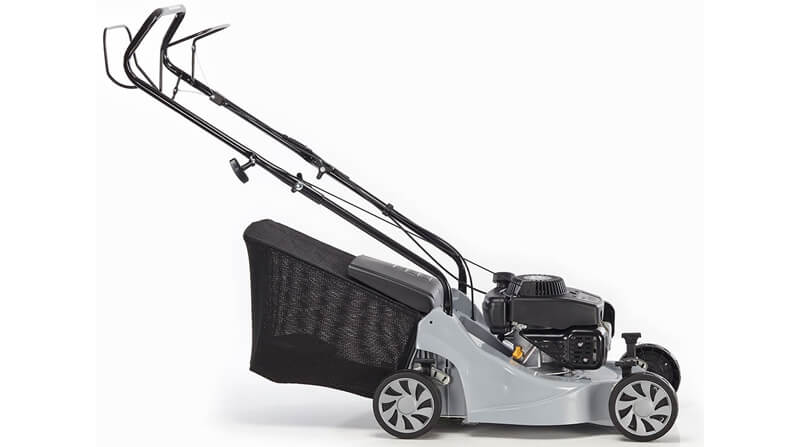 ---
Key Features
Engine: 100cc, 4-stroke; Cutting Width: 39cm; Grass Box Capacity: 40 Litres; Self-Propelled: Yes; Weight: 20kg; Self-Propelled: Yes; Warranty: 2 Years;
---
The SP41 is the little brother to the Mountfield SP53, which also has a few more useful features. That said, this is also an excellent machine.
Pros
Well Priced
Easy to Start and Use
Reliable Engine
Leaves an Excellent Finish
Good For Smaller Lawns
Cons
It doesn't cut right to the edges
Won't leave a striped finish
Instruction Manual Isn't Great
---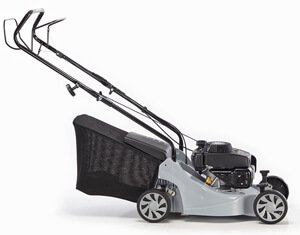 Mountfield SP41 Petrol, Self-Propelled Rotary Lawn Mower
Easy to Use
Well Priced
Reliable Engine
Leaves an Excellent Finish
Design & Features
---
The Mountfield SP41 could be classed as an entry-level petrol mower.
It's small, fairly basic, but well priced while at the same time being good quality.
100cc OHV Engine
This Mountfield mower is powered by a 100cc overhead valve engine which is easy to start and economical to run.
Self-Propelled
Many entry-entry level petrol mowers lack this feature and if you're fit and healthy, you don't necessarily need it.
However, for many people, pushing them up and down the lawn can be tiring work, especially when mowing up and down inclines.
This model is self-propelled so it does the work for you. All you have to do it steer it.
If you feel you can handle the 20kg weight and you'd prefer to save yourself some money, Mountfield make the same mower without the self-propelling feature.
Which is the Mountfield HP41.
Cutting Settings
This mower has a 39cm cutting width and a 40-litre grass collection bag which makes it a good option for small to medium sized lawns up to 400sq meters.
You might find it's a bit small for larger lawns though.
There are 5 height adjustment settings which range from 25mm – 70mm.
You have two ways of dealing with grass clippings;
Grass Collection Bag
For collecting the grass clippings all you need to do it attach the collection bag. You can then either put them on the compost pile on in your garden waste bin.
Rear Discharge
If your grass is long, you can leave the bag off so the cut grass is discharged out of the rear of the machine. This makes cutting long grass much quicker because you won't have to stop every two minutes to empty the bag.
---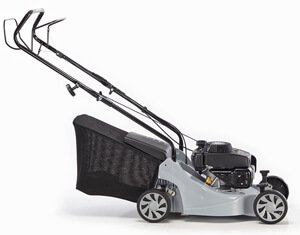 Mountfield SP41 Petrol, Self-Propelled Rotary Lawn Mower
Easy to Use
Well Priced
Reliable Engine
Leaves an Excellent Finish
Mountfield SP41 Performance
---
I've spent several weeks with the Mountfield SP41 and for medium sized lawns, it's really quite good.
Assembly
Assembling this mower is pretty straight forward. Unfortunately, the instruction manual does a pretty poor job of explaining how to do it.
The good news is that Mountfield has an instructional video on their YouTube channel which shows you exactly how to do it.
I've embedded it above so you don't have to go looking for it.
It's just a case fitting the handles using the quick-release, hand-tightening bolts, fitting the spark plug.
Putting the grass collection box together is easy too.
My machine had big warning labels all over it reminding you to fill it with oil (SAE30) before starting it.
Filling it with fuel is also very easy with the filler holes on top of the engine. That said, filling it with oil is a little trickier because of where the filler cap is located.
I used a plastic funnel to make it easier.
Operation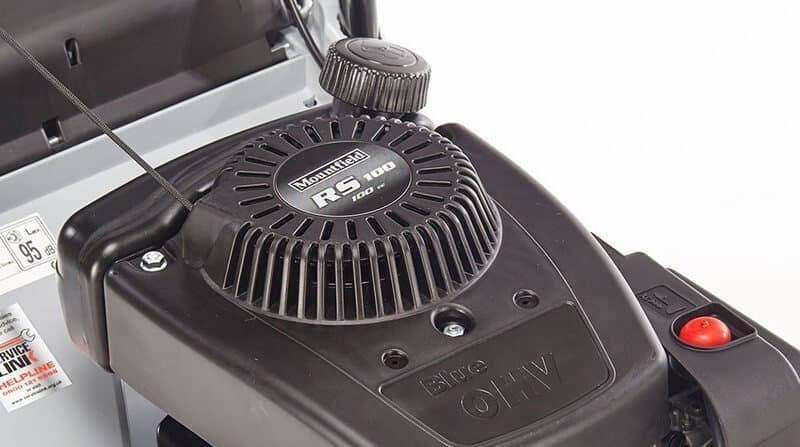 Once I had built the mower and filled the engine with oil and fuel, it was time to start the engine.
You need to prime the engine by pressing the big red priming button. It says on the mower to press it three times but new mowers can sometimes have an air lock in the system so I find it's a good idea to give it 10 presses, sometimes more.
For me, the engine started first time however, if it doesn't press the primer button a few more times and try again.
Setting the mowing height consists of adjusting three levers. There is a lever for the rear wheels and the front wheels need adjusting individually. The mechanism is smooth and it takes seconds.
The chassis and cutting deck are made from Polypropylene so it feels well built but also light enough to manoeuvre it easily. The self-drive from the rear wheels makes it feel lighter still.
This made pushing it up and down the lawn a breeze, even on inclines. It's not the easiest to manoeuvre around tight curves but then, no lawn mower is.
The mower easily dealt with long, wet grass and removing the collection bag to discharge the clipping from the rear of the machine helped me get through much quicker. It did try using the collection bag but I found I had to keep emptying it too often.
However, when I got the grass down to a manageable height, the 40-litre collection bag was plenty big enough.
Maintenance
Maintenance is simple.
Keeping it clean just involves brushing or rinsing the cutting deck. If the grass is dry when you cut it, a brush will do. If it's wet, rinsing it is better.
You'll want to change the fuel, oil and maybe the spark plug at the beginning of each season. This is easy enough to do.
---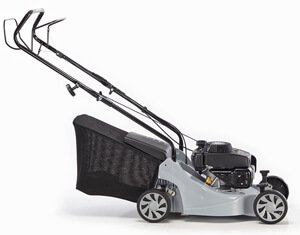 Mountfield SP41 Petrol, Self-Propelled Rotary Lawn Mower
Easy to Use
Well Priced
Reliable Engine
Leaves an Excellent Finish
Flaws But Not Deal Breakers
---
the Mountfield SP41 is a very good petrol mower.
There are a few things to bear in mind though;
If creating a striped finish when you mow the lawn is important to you, choose another machine. This mower has wheels instead of a rear roller so it won't leave stripes.
That said, if you simply want to get the job done and you're not fussed about stripes, ignore this criticism.
However, if lawn stripes are important to you, these reviews might help;
Also, the wheels are set wider than the cutting width. This means the mower won't cut right up to the edges. As a result, you'll need to finish the edges with a grass strimmer or some other edging tool.
If you have a mowing strip at the edges of your lawn, this won't be an issue as you can just roll the mower right along.
Lastly, I've already mentioned this, but you can easily spill oil when filling the engine if you're not super careful. This is because the filler cap is set at an angle on the side of the engine. A small plastic funnel will help with this.
---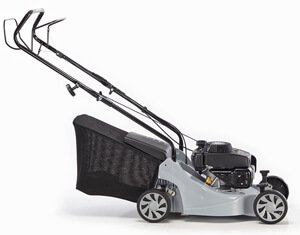 Mountfield SP41 Petrol, Self-Propelled Rotary Lawn Mower
Easy to Use
Well Priced
Reliable Engine
Leaves an Excellent Finish
My Overall Mountfield SP41 Petrol Lawn Mower Review: Should You Buy it?
---
I have to say, I really quite like the Mountfield SP41.
I'd definitely recommend this over my pick for best cheap petrol mower, the Hyundai HYM400P-2. It's just better built and has more features.
It's pretty cheap but it feels quality and is super simple to use but most importantly, the cut is excellent.
There are a few things I'd change in an ideal world but none of the issues I've talked about should put you off investing in this machine.
Especially if you have a smaller lawn.
If you're in the market for something just a little bigger, have a look at my Einhell GC-PM 46 S review or my Honda IZY HRG 466 SK review.