In this article, we're going to look for the best cordless lawn mower.
I'm going to review several models in this guide. Not only that, but we're also going to look at the pros and cons of battery-powered mowers and when you might choose one over the other types of lawn mowers.
Having been in the lawn care industry for a lot of years, I have a unique knowledge and experience when it comes to finding the best lawn mower for the job.
So if you're looking for a new cordless mower, read on.
The Best Cordless Lawn Mowers: My Top Picks
---
If you want to know which I think are the best cordless mowers without reading through this whole guide, here are my top picks.
You can either;
Click the big green buttons to go and buy the products, or
Click on the 'Read My Review' links and it'll take you directly to my review for that product.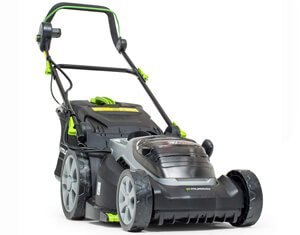 Murray IQ18WM37: The Best For Most People
– Briggs & Stratton Battery System
– Excellent Features
– Cuts Well
---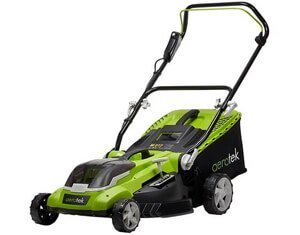 Aerotek: Another Surprisingly Very Good Option
– Easy to Use
– One Hour Charge Time
– Cuts Well
---

Flymo Mighty-Mo 30Li: The Best Cheap Cordless Mower
– Very Lightweight
– Ideal For Tiny Lawns
– Pretty Cheap
---

Bosch Rotak 430LI Ergo Flex: The Best of For Larger Lawns
– 40 Minutes of Mowing
– Comes With 2 Batteries
– Very Well Reviewed
---

GTech Falcon: An Excellent Upgrade to the Original
– Highly Reviewed By Thousands of Users
– Leaves a Nice Finish
– Much Improved From Previous Model
---
EGO-Power-LM2122ESP: The Ultimate Cordless Lawnmower
– As Powerful as a Petrol Mower
– 30 minute Charging
– 5 Year Warranty
---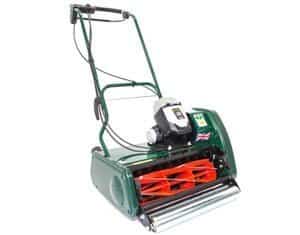 Allett Liberty 43: The Best Cordless Cylinder Mower
– For Lawns Up to 500sq Meters
– Packed With Features
– Cuts Incredibly Well
Cordless Lawn Mower Reviews: A Closer Look at My Top Picks
---
Let's take a look at what I think are the top contenders for the best cordless lawnmower.
You might be surprised at some of my picks as they're not necessarily from brands or manufacturer's you'd expect.
1. Murray IQ18WM37 Review: The Best Cordless Lawn Mower For Most People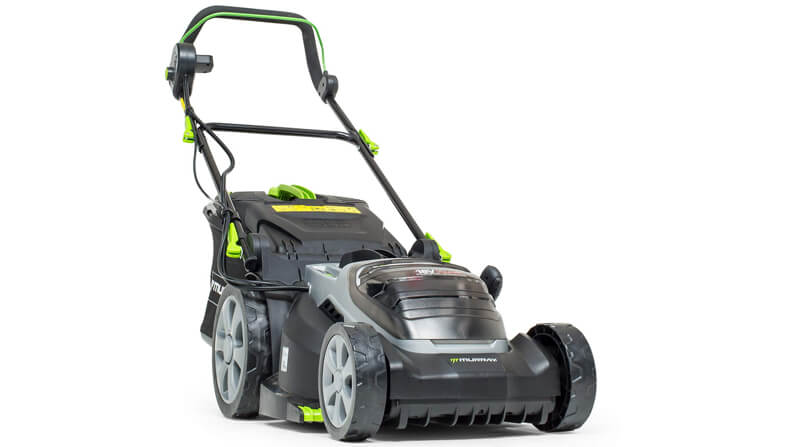 ---
Key Features
Run Time: 32 minutes; Charge Time: 55 minutes; Cutting Width: 37cm; Cutting Height: 25mm-75mm; Grass Collector Capacity: 40 Litres; Weight: 12.5kg; Warranty: 5 Years;
---
The Murray IQ18WM37 is my top pick as one of the best cordless lawn mowers for most people.
It comes with the right balance of price, size, features and build quality.
The mower feels very well built and is powered by a Briggs & Stratton battery system which features two 18v Lithium-Ion batteries to deliver 32 minutes of use. It also comes with a twin charger for parallel charging which fully charges both batteries in 55 minutes.
You can also use the batteries in other power tools in the Murray range. When you're not cutting the grass, you can use the batteries in their grass strimmer, hedge cutter and leaf blower.
It features a brushless motor which reduces wear and expands the operating life of the machine. All while keeping it super quiet when in use.
The deck size is 37cm and cutting heights range from 25mm – 75mm via the very smooth, single large lever.
The grass collector has plenty of capacity too at 40 litres. For longer grass, you can remove the collector completely and discharge the cuttings from the rear.
When I tested it, I cut several hundred square metres of fairly long grass in half an hour and it still only half way empty.
It's one of the comfiest to use thanks to the soft-grip handles and the fact that it only weighs 12.5kg makes it very easy to manoeuvre. The blade is excellent and left a very acceptable finish. Although a rear roller would have been nice.
And to top it all off, the mower itself comes with a 5-year warranty and the batteries come with a 3-year warranty.
Overall, for the mower, battery and charger system, this cordless model offers excellent value for money.
2. Aerotek Cordless Lawn Mower Review: Another Very Good Cordless Model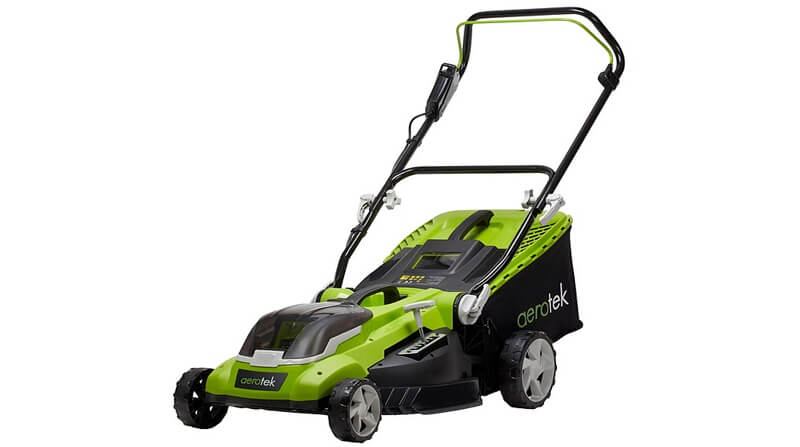 ---
Key Features
Run Time: 35 minutes; Charge Time: 1 hour; Cutting Width: 40cm; Cutting Height: 25mm-75mm; Grass Box Capacity: 50 Litres; Weight: 13.4kg; Warranty: 2 Years;
---
I must admit, I'd never really heard of Aerotek before but I came across this particular model during my research.
It's very highly reviewed amongst users so I thought I give it a try. And I'm glad I did.
Like Murray, the Aerotek cordless lawnmower is part of a bigger range of power tools which use the one battery.
It's very straight forward to assemble and charging the battery takes just an hour.
Provided your lawn is in fairly good nick, the Li-Ion battery will give you 35 minutes of mowing which is enough cutting time to mow small to medium sized lawns.
It's also very easy to operate. Simply lift the smoky grey flap on the top of the mower, plug the battery in and off you go.
At 13.4kg the Aerotek is light and easy to move around but it still feels robust and well made.
The deck size is a decent 40cm and the six cutting heights range from 25mm – 75mm.  This is combined with a 50-litre capacity grass collection box. When you'd rather keep the nutrients from the grass cuttings in the lawn, simply attach the mulching plug.
I have to say, it leaves a very good finish too.
Thanks to its brushless motor, this lawn mower is not only quiet, there's no maintenance to do apart from keeping it clean at the blade sharp. Cleaning it is easy too as it's fairly smooth underneath.
When you're not using it, the handles collapse in a kind of scissoring motion so you can store it away nice and small.
Like I said at the beginning of this review, Aerotek probably isn't the first name you think of when considering a new lawn mower.
That said, this is a cracking little machine and I was surprised at how well it performed.
3. Flymo Mighty-Mo 300Li Review: Good For Small Lawns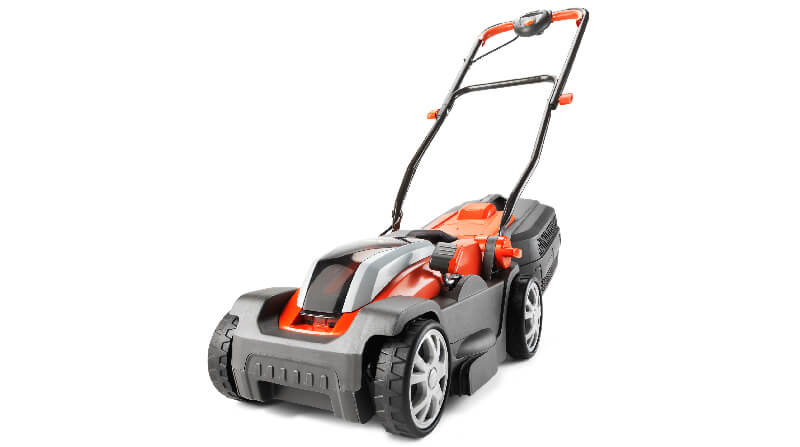 ---
Key Features
Run Time: 30 minutes; Charge Time: 2 hours; Cutting Width: 30cm;Cutting Height: 25mm-65mm; Grass Collector Capacity: 30 Litres; Weight: 9.9kg; Warranty: 1 Year;
---
The Flymo Mighty-Mo 300Li is Flymo's first cordless lawn mower and is a massive seller in the UK.
It's the smallest and cheapest model on my list.
The words 'small' and 'cheap' are probably the reasons it's such a hit.
With a weight of less than 10kg and a 30cm cutting width, manoeuvring it around even the smallest lawns is a doddle.
You get 30 minutes of battery life from a 2-hour charge.
Five cutting heights range between 25mm – 65mm and the grass collection box has a capacity of 30-litres This should be more than enough for small urban lawns.
It has to be said, the finish it leaves is rather good. Much better than I was expecting if I'm being honest.
I have to say, it does feel a bit cheap. But that's because it is.
Also, although the battery works perfectly well when you mow the lawn regularly, it's quick to drain when cutting longer grass.
Overall though, it's a good choice for small lawns and when you don't want to spend a lot. It's cheap, incredibly light and very easy to manoeuvre and provides good value for money.
Just don't expect too much from it.
4. Bosch Rotak 430 LI ErgoFlex Review: The Best Cordless Mower For Larger Lawns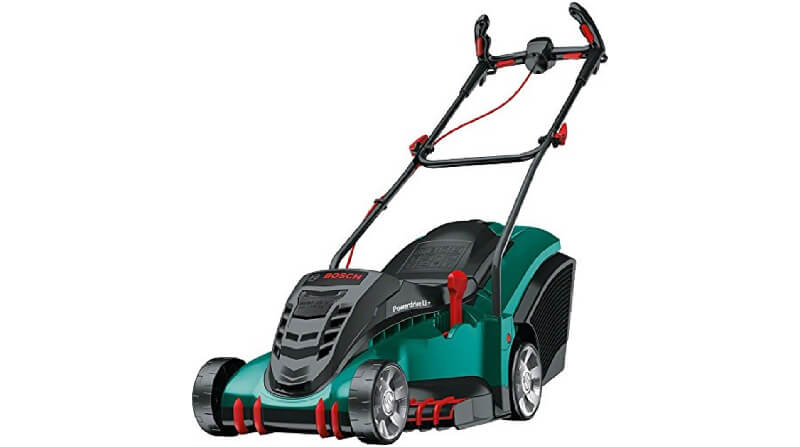 ---
Key Features
Run Time: 40 minutes; Charge Time: 2 hours; Cutting Width: 43cm; Cutting Height: 20mm-70mm; Grass Box Capacity: 50 Litres; Weight: 13.9kg; Warranty: 2 Years;
---
It has to be said, Bosch makes some pretty good stuff and the Rotak 430 Li ErgoFlex is another such tool.
This particular model comes with two batteries, each one giving you 30-40 minutes worth of mowing time. The batteries take a couple of hours each to charge but will be 80% of the way there in an hour.
Talking of the batteries, you'll need to turn them on before the mower will work. I just plugged it in and tried to start the mower and nothing happened. It took some digging through the instruction manual to find out why.
Considering the size of this mower, it's incredibly light at just 13.9kg so it's really easy to move around. This is also helped by the super comfy Ergo Flex handles.
It has a 43cm deck size and a 50-litre grass collection box. As such so you can mow a fairly large area before stopping to empty the bag.
The height adjustable cutting deck offers 6 cutting heights so you can mow as low as 20mm and as high as 70mm.
The grass combs worked well too (the red fins). They're designed to guide the grass into the blade when mowing along edges where the grass meets a wall or raised decking. This reduces the need to finish off with a strimmer.
The Bosck Rotak 430 Li ErgoFlex also has a rear roller between the back wheels. This means you can mow right to the edge of your lawn without the risk of scalping it. It also means you'll be left with a nice striped finish.
Overall, this cordless lawnmower easy to use and manoeuvre, it cuts well and the two batteries make it a great choice for large lawns.
5. G-Tech Falcon 2.0 Review: An Excellent Upgrade to the Original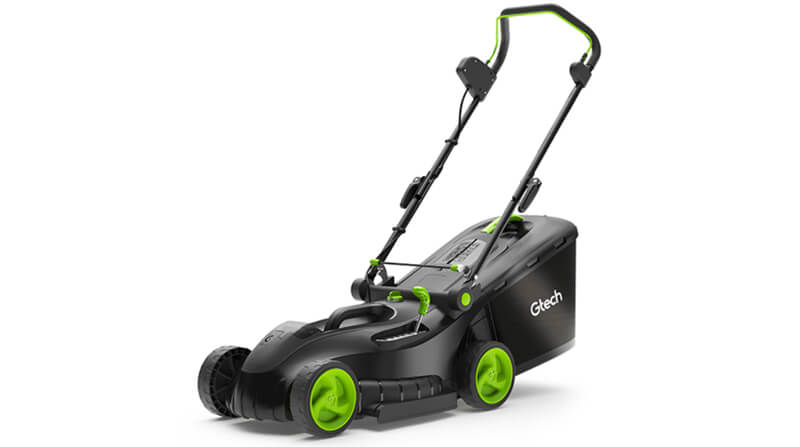 ---
Key Features
Run Time: 40 minutes; Charge Time: 5 hours; Cutting Width: 43cm; Cutting Height: 30mm-80mm; Grass Bag Capacity: 40 Litres; Weight: 16.95kg; Warranty: 2 Years;
---
I have to admit, I wasn't a fan of the first G-Tech Falcon.
It took five hours to charge the battery, the handles flexed and moved far too much and there were a few other issues.
Still, it didn't stop it becoming one of the fastest-selling cordless mowers in history.
Now though, they have released their Falcon 2.0 and I'm happy to say it is much, much better than the original.
They've introduced a 48v Lithium Ion batter and reduced the charge time to just an hour to give you a battery life of 40 minutes. In addition, they've increased the grass collector size to 50 litres and completely re-designed the handle bar assembly so now they're much sturdier. It also folds down for easy storage.
And they've made it lighter at just 13.5kg.
As a result, it's very easy to use and manoeuvre and the standard of cut is excellent.
G-Tech hasn't only improved their existing features, they've added some impressive innovations.
Firstly, they've fitted the Falcon 2.0 with a carbon steel blade. It's actually half a blade fitted with a counterbalance. This reduces vibration and battery consumption while still cutting with the efficiency of a standard rotary blade.
Another great feature is the variable motor speed which changes depending on the length of the grass. Not only does this make the battery life much longer, but it's also brilliant for keeping noise down to a minimum.
It does come at a cost though because it's not cheap at around £500. That said, the price hasn't put people, it's still an incredibly popular model.
6. EGO Power + LM2122ESP Review: The Ultimate Cordless Rotary Mower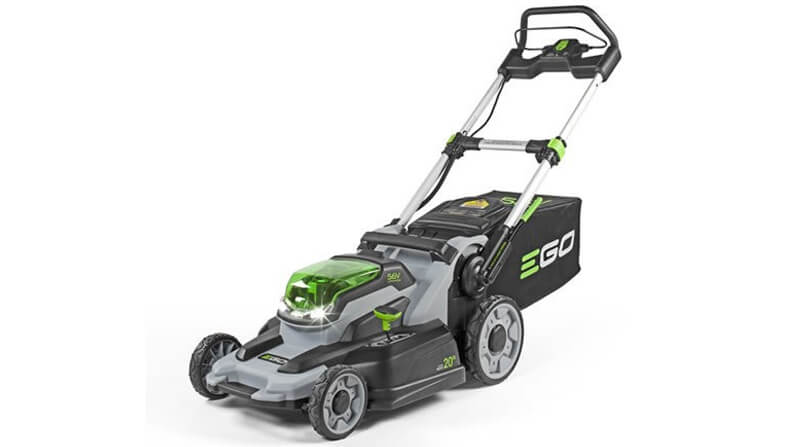 ---
Key Features
Run Time: 50 minutes; Charge Time: 30 minutes; Cutting Width: 52cm; Cutting Height: 28mm-94mm; Grass Box Capacity: 70 Litres; Weight: 29kg; Warranty: 5 Years;
---
You can't really talk about battery power without including EGO Power +. They make some of the best cordless mowers in the industry.
The Ego Power + LM2122ESP is a beast!
It's exceptionally well built and the power equals that of many petrol mowers of its size. All without the fuel, noise and servicing costs.
That said, you can buy it without the battery and charger if you already have other tools and batteries in the EGO range.
It's packed with features too.
The motor is brushless which increases the operating life of the machine. It also means is pretty quiet.
The 52cm cutting deck size combined with the 28mm-94mm cutting heights means it can mow long grass with ease. Plus, the massive 70-litre grass collector means it can tackler larger lawn with fewer trips to the compost heap. For more manicured lawns, you're able to mulch the grass cuttings and recycle their nutrients back into the turf.
It's a self-propelled cordless mower with adjustable speed so you can set it to your preferred walking speed.
The cutting speed is variable and increases and decreased automatically depending on the length of grass. This ensures the delivery of enough power as and when it's needed.
It even has LED headlights which lights up your lawn so can work longer into the day. And when you're finished with it, it's very easy to store away.
The Ego Power + is an incredible cordless rotary mower. If you're after the best that money can buy, this is it.
7. Allett Liberty 43 Review: The Best Cordless Cylinder Mower For Ornamental Lawns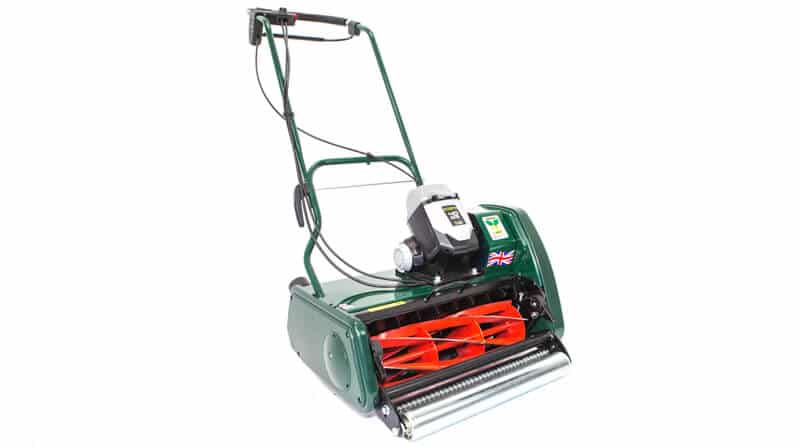 ---
Key Features
Run Time: 40 Minutes Charge Time: 100 minutes; Cutting Width: 43cm; Cutting Height: 6mm-32mm; Grass Box Capacity: 62 Litres; Weight: 38.5kg Warranty: 2 Years;
---
If you're the proud owner of a formal or ornamental lawn, then only the best cylinder mower will do.
In which case, let me introduce you to the Allett Liberty 43.
It's the top model in their cordless electric cylinder mower range and is a sublime cylinder mower for lawns of up to 500sq meters.
They also make the Liberty 30 and the Liberty 35 if you need a smaller machine.
It has a 410-watt motor, powered by a 10A 40V Lithium-Ion battery. A 100-minute charge will give you around 40 minutes of use.
It cuts beautifully thanks to the 6 bladed cutting cylinder which gives you 79 cuts per meter.
And to make sure you cut every single blade of grass, there is a fixed rake behind the front roller which stands the grass up right before it's cut.
That said, if you want an even better cut, you can upgrade to a 10 bladed cutting cylinder.
Mowing heights range from 6mm – 32mm. So you can either create a bowling green finish or create the most beautiful lawn stripes thanks to its front and rear roller. The roller also allows you mow right to the edge of your lawn without scalping it.
It weighs in at 38.5kg so it's by far the heaviest machine on this list but that weight contributes to the intensity of the striping effect. It's also self-propelled so pushing it around the garden is no problem at all.
And the Liberty 43 isn't just a lawn mower.
You can change the blade cylinder for other cartridges (for an additional cost) and take care of all aspects of caring for an ornamental lawn.
These attachments include an; aerator, lawn brush, dethatcher, scarifier, verticutter.
The Allett isn't for everyone though.
Firstly, it's expensive though at around £1,200.
Secondly, if your lawn is bumpy, uneven for full of meadow grass, it'll be useless. The blades will jam and you'll risk wrecking it.
However, if you have well-cared for ornamental lawns which you're serious about maintaining, the Allett Liberty 43 is one of the best cordless cylinder mowers there is.
Why Choose a Cordless Lawn Mower?
---
The size of gardens in the UK is always shrinking, especially in cities and built-up areas.
Petrol mowers are completely unnecessary in small gardens like these.
You could use an electric mower or hover mower but they're limited by a power cord. It also means wrestling with it. This isn't only a pain, it can also be dangerous.
That's where cordless lawn mowers have a big advantage over regular, electric mowers. And that is the fact that they're not limited by the length of a power cord.
Plus, they don't emit emissions like petrol mowers.
Why You Might Not Want to Choose a Cordless Mower
As good as cordless lawn mowers are, they're not the best choice in some situations.
If you have large, unruly lawns then a cordless lawn mower might not be the best choice. Sure, you won't be hampered by a power cable but you'll probably run out of charge before you finish the job.
This, of course, can be combatted by buying more batteries but that adds to the cost. For large lawns, either a petrol mower, a ride on mower would be a better choice.
If you have small, formal lawns then you might not need a powered mower at all. Maybe a simple push mower will do?
And finally, if you'd rather not cut the grass at all you might choose to invest in a robot mower. Program in the settings and it'll come out and cut the grass automatically without any more input from you.
Things to Consider When Choosing a Cordless Mower
---
When deciding on the best cordless lawn mower for you and your garden, there are a few things to consider;
Lawn Size
The size of your lawn will dictate everything else.
For example, you won't need 50 minutes of runing time for a lawn of 30sqm. Nor will you need a wide cutting width as it'll be too hard to manoeuvre in a small space.
On the other hand, if you have large lawns, don't choose a narrow cutting width. You'll spend hours marching up and down your lawn.
The Run Time of the Battery
The main deciding factor will come down to the size and quality of your lawn. If your lawn is on the larger side you'll need a machine with a battery that runs for long enough to complete the job.
Also, cutting through long or wet grass will be harder on the battery. As a result, it'll run out of charge quicker.
The Charge Time of The Battery
The best batteries not only last longer, but they're also quicker to charge.
Good lithium-Ion batteries take around an hour to charge. However, some cheap batteries can take as long as 5 hours.
This means cheaper batteries can cost up to five times more to charge than a good one. Which, in the long run, makes that mower more expensive to use.
The Cutting Width
Generally, the larger your lawns, the larger the deck size you should choose.
For example, a 20-inch cutting width is 25% bigger than a 15-inch cutting width. As a result, it'll take you 25% less time to mow the lawn.
So if you have a larger lawn, choose a wider cutting width.
Bear in mind though that a larger cutting width means a bigger, heavier machine which can be cumbersome on small lawns. If you have a smaller lawn, choose a smaller cutting width. This will make the mower easier to handle.
Height Adjustment
The level of height adjustment often isn't even considered when someone buys a new lawn mower.
Some mowers cut higher or lower than others. If you like a lower cut, make sure you choose a model which cuts low enough.
Additional Features
Some machines come with added features such as extra batteries, the ability to mulch grass, self-propulsion etc.
Consider which, if any of these mower features are important to you and factor them into your decision.
Warranty and Support
Manufacturers have to offer a 12-month guarantee by law (Disclaimer: I'm a gardener, not a lawyer so I'm not the person to come to for advice on this), however, some offer 2-year guarantees some companies offer more than that.
If warranty and support are important to you, consider this before you make a purchase – especially if you spend a lot of money.
In Conclusion
---
Cordless lawn mowers are becoming ever more popular and there are lots of them on the market. So many in fact that I can't possibly review them all.
The fact is, there are a lot of good models on the market (and some pretty rubbish ones too). I have tried to find the best cordless lawn mowers depending on the circumstance you might find yourself in, be it budget, needing a roller to leave a striped finish or the size of your garden.
This is what helped me to narrow down my choice to only 7 models.
Just understand that the 7 mowers I have chosen aren't the only ones to choose from. There are hundreds. So let this article just be a guide rather than a rock-solid, 'You must buy this mower…' kind of article.